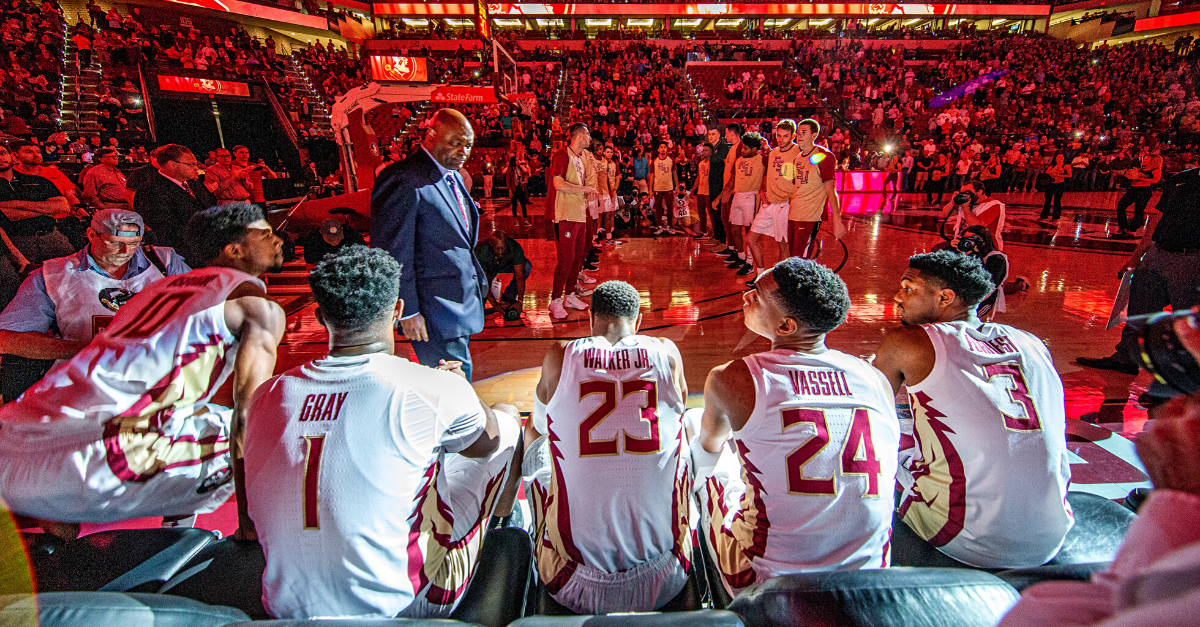 AP Photo/Mark Wallheiser
Editor's Update: The 2020 basketball season was canceled due to the spread of COVID-19 and coronavirus outbreak. Florida State finished the shortened season with a 26-5 record and were crowned ACC Tournament champions.
The Florida State men's basketball team is proving Tallahassee houses much more than a football school. The Seminoles are coming off two of the better years in program history, and in 2018, the 'Noles heated up just in time for the NCAA Tournament. They defeated Missouri, Xavier, and Gonzaga before falling to Michigan, 58-54, in the Elite Eight. It was their first Elite Eight appearance since 1993.
The following year, Leonard Hamilton's crew came out of the gate strong with a 12-1 record. FSU struggled at the beginning of the conference portion of their schedule, going 1-5 in the first six games. Things got back on track for the remainder of the ACC season. The Seminoles went 12-1 and played their way into the ACC Tournament Championship, but fell to Duke 73-63. Florida State received an at-large bid to the NCAA Tournament, but wasn't able to repeat their success from the previous year and lost to Gonzaga in the Sweet 16.
The 'Noles have been on a roll thus far in the 2019-20 season, amassing a 15-2 record through January and a top-10 ranking in the AP Poll. The team is led by sophomore Devin Vassell, senior Trent Forrest, and junior M.J. Walker. Vassell leads the team in scoring, Forrest in assists and steals, and Walker is a valuable scoring threat.
As proven by their solid start, Florida State is well equipped to compete with anyone. ACC play includes matchups against Miami, Louisville, Notre Dame, Clemson, Duke, and Syracuse. Each game brings a different challenge that FSU looks forward to facing. Leonard Hamilton's strong coaching performance has a deep run in March well within reach.
FSU Men's Basketball Schedule 2019-20
Oct. 22: BARRY UNIVERSITY (exhibition)
—
Nov. 1: COLUMBUS STATE (exhibition)
Nov. 6: at Pittsburgh*
Nov. 10: at Florida
Nov. 15: WESTERN CAROLINA
Nov. 20: CHATTANOOGA  — Emerald Coast Classic (Tallahassee, FL)
Nov. 23: SAINT FRANCIS (PA)
Nov. 25: CHICAGO STATE — Emerald Coast Classic (Tallahassee, FL)
Nov. 29: Tennessee — Emerald Coast Classic (Niceville, FL)
Nov. 30: Purdue — Emerald Coast Classic (Niceville, FL)
—
Dec. 3: at Indiana — ACC/Big Ten Challenge
Dec. 8: at Clemson*
Dec. 17: NORTH FLORIDA
Dec. 21: at USF
Dec. 28: NORTH ALABAMA
Dec. 31: GEORGIA TECH*
—
Jan. 4: at Louisville*
Jan. 8: at Wake Forest*
Jan. 15: VIRGINIA*
Jan. 18: at Miami*
Jan. 25: NOTRE DAME*
Jan. 28: at Virginia*
—
Feb. 1: at Virginia Tech*
Feb. 3: NORTH CAROLINA*
Feb. 8: MIAMI*
Feb. 10: at Duke*
Feb. 15: SYRACUSE*
Feb. 18: PITTSBURGH*
Feb. 22: at North Carolina State*
Feb. 24: LOUISVILLE*
Feb. 29: at Clemson*
—
Mar. 4: at Notre Dame*
Mar. 7: BOSTON COLLEGE*
ACC Men's Basketball Tournament: Begins March 10 in Greensboro, NC
* — Denotes Atlantic Coast Conference Game
**— Games will be televised on either FOX, ESPN, ESPN2, ESPNU or ACC Network