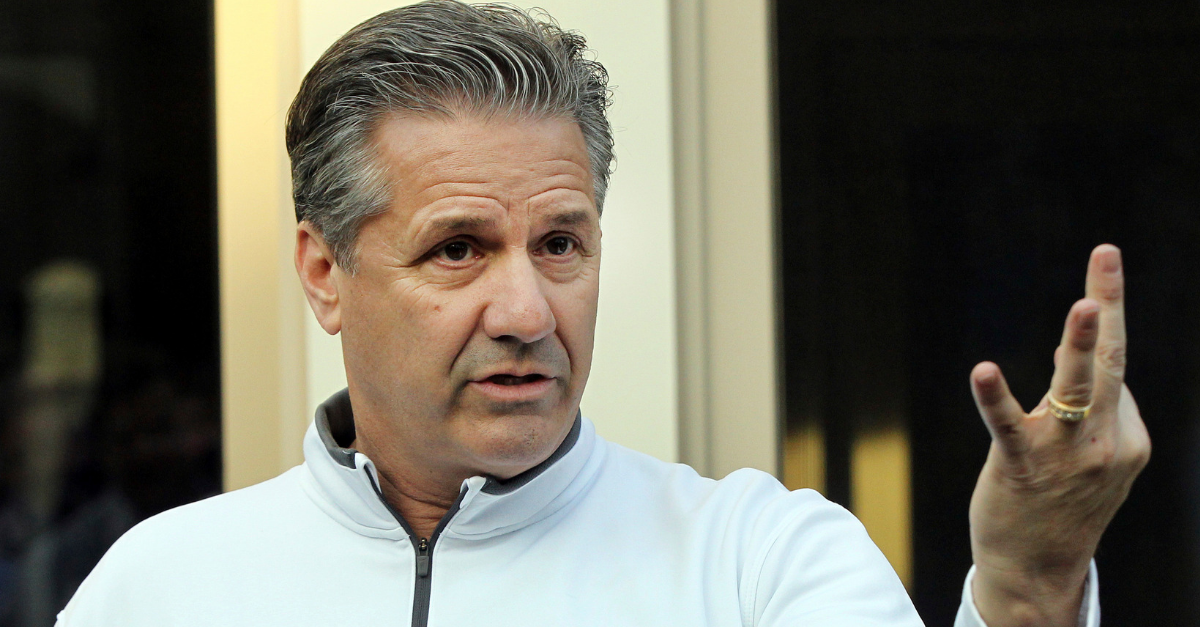 AP Photo/James Crisp
Before he went to bed on the eve of the NCAA Tournament, John Calipari had something to say. That shouldn?t be at all surprising given the Kentucky Wildcats head coach is extremely far from what anyone would consider shy, but it was certainly meaningful to Big Blue Nation ahead of the Big Dance.
A couple of weeks ago, Bruin Report Online ? the 247Sports site covering the UCLA Bruins ? reported the Hall of Fame coach was showing ?serious interest? in moving from Kentucky to the open position in Westwood, California.
Although Calipari didn?t specifically address the rumors and report, he put all of it to rest before he got some shuteye himself ahead of March Madness.
RELATED: Would John Calipari Ever Leave Kentucky? Not With This Salary.
Calipari is the highest-paid coach in college basketball and Kentucky is considered one of the best jobs in the country. It just wouldn?t make any sense to leave Lexington for UCLA, which fired Steve Alford earlier this season.
?Before I go to bed, let me just say this: I?m coaching at the Univ. of Kentucky. In my opinion, there is no better job in the world to coach basketball. My plan and my desire is to retire at Kentucky. I think the university feels the same as I do and we?ve talked openly about it.?

? Kentucky Wildcats head coach John Calipari
Then, the day after the Wildcats got beat by SEC foe Auburn in the Elite Eight of the Midwest Regional in Kansas City, Missouri, The Athletic's Seth Davis reported Kentucky offered Calipari a "lifetime contract" to make sure he stays in Lexington for the rest of his career and not jump to another school or the NBA.
According to Davis, Kentucky granted UCLA permission to speak with Calipari before apparently trying to close this case for good.
Let's just get it out there: The UCLA job is not better, no matter how much money the Bruins threw at him, which was a reported six-year deal worth $48 million.
It might be a very long time before the 60-year-old Calipari calls it quits for coaching men?s basketball. That?s great news for the Wildcat faithful, too.
Since taking over Kentucky in 2009, Coach Cal has won five SEC regular season titles, six SEC Tournament championships, and has taken the Wildcats to four Final Fours, including winning the 2012 national championship.
Although it's Michigan State, Texas Tech, Virginia, and Auburn in this year's Final Four, it's now back to business for Wildcats basketball coach John Calipari. Another new contract extension means he's not leaving Kentucky and the UCLA interest is officially over.