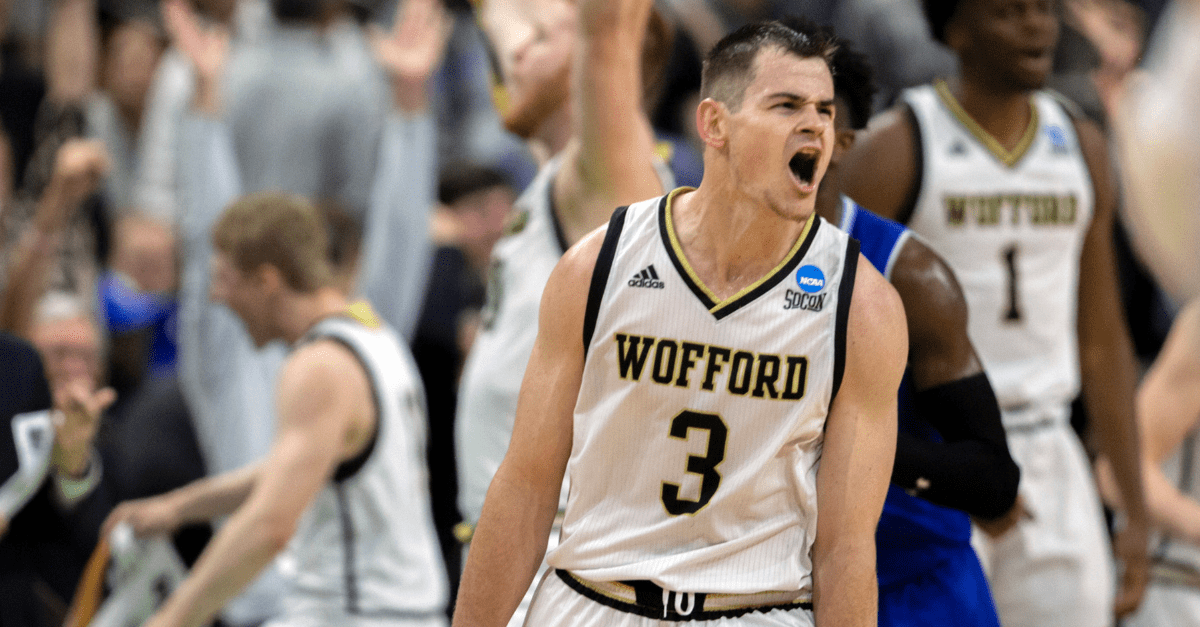 AP Photo/Stephen B. Morton
The NCAA Tournament is filled with superstars this year. Duke's Zion Williamson and Murray State's Ja Morant have put their freakish athletic abilities on display. There are also big men who stand larger than life, like Oregon's Bol Bol and UCF's Tacko Fall.
But possibly the greatest thing about March Madness are the players from small schools who make names for themselves. For guys like Wofford's Fletcher Magee or UC Irvine's Max Hazzard, it's time to shine. They may not ever have a brighter spotlight on them. That is unless we're talking about how awesome their names are.
RELATED: This Guy?s Playstation Tattoo Gives Him ?Unlimited Ammo? on a Basketball Court
Below I have compiled the 64 greatest player names in this year's tournament. You'll find first names like Christ, Leaky and Tennessee. The last names — Welp, Lightfoot and Hands, to name a few — are also pretty remarkable. So have at it:
64. Brock Stull (Minnesota)
Brock Stull sounds like such a strong and sturdy guy that I'm not sure his 6-foot-4, 210-pound frame fits the bill. The graduate transfer came over from the University of Wisconsin-Milwaukee and hails from Rockford, Illinois. One can only assume the city would have been renamed Brockford if Minnesota had won it all.
63. Nisre Zouzoua (Nevada)
Zouzoua is a fun a last name to say, even though it reminds me of a key term in a high school biology class. Before transferring to Nevada, Zouzoua was a prolific scorer at Bryant, where he averaged 16.5 points per game over two seasons.
62. Darnell Brodie (Seton Hall)
Brodie is just a freshman and hasn't seen much playing time this year for the Pirates. But based off last names and the fact that he's 6-foot-9 and 265 pounds, maybe Seton Hall should have got the kid more action.
61. Miye Oni (Yale)
Yale may not have been able to upset LSU in the first round, but Oni still showed why he's an NBA prospect this season. He averaged 17.1 points per game and helped the Bulldogs to an Ivy League Tournament Championship this year. Maybe the most important note on Oni is if he could have lunch with anyone in history (dead or alive) he'd pick rapper Gucci Mane. Why? "So he can pass me the sauce."
60. Jazz Johnson (Nevada)
Two Nevada players off the board already. Jazz was just too cool a first name for me to pass up. I just hope he's made good use of the name and given opponents some jazz hands after wetting a three.
59. Rapolas Ivanauskas (Colgate)
I'm not sure which part of Ivanauskas' name should be emphasized when saying it, so I won't even try. The most important thing you need to know about Ivanauskas is that he's one of Colgate's best players, and a bad case of pink eye may have cost him (and Colgate) a shot at upsetting Tennessee.
58. Danny Hummer (Ohio State)
Hummer played just 21 minutes this season for the Buckeyes. He did, however, transfer from the Air Force Academy, which is neat considering his last name.
57. Bruno Fernando (Maryland)
Sign me up for any name that rhymes (or at least partially rhymes). Fernando's name has been rumored in NBA Draft talks, probably because he averaged 13.6 points and 10.6 rebounds per game this year. Bravo, Bruno.
56. Luguentz Dort (Arizona State)
Dort is interesting because 1. He's Canadian and 2. He became just the third five-star prospect to sign with Arizona State, following Keala King and (yep) James Harden. So far Dort has lived up to the hype and is the Sun Devils' leading scorer as a freshman. Sadly, though, Dort fell ice cold in the first round against Buffalo.
55. Phil Booth (Villanova)
There's a 100-percent chance Booth ends up in the media side of the game just so someone can say, "All right let's send it back to the booth where Phil Booth is waiting." For real, though, Booth can play. Hew as Villanova's leading scorer this season and set the program record for most games played. Props.
54. Admiral Schofield (Tennessee)
This one's pretty simple. You don't mess with dudes named Admiral. You definitely don't try to stuff their dunks. If you do, you might just end up like another victim in his highlight reel.
53. Ignas Brazdeikis (Michigan)
Once again, a team's leading scorer has an awesome name. That's a notice to all you parents out there. Michigan's star freshman is even more badass when you consider he was born in Lithuania, where his dad was an amateur MMA fighter.
52. Saddiq Bey (Villanova)
Saddiq Bey sounds a lot more like a Beyonce super fan that posts singing videos on Youtube. But basketball player works, too. The 6-foot-8 freshman has averaged 8.4 points per game and scored a season-high 17 versus Creighton.
51. Rui Hachimura (Gonzaga)
A sophomore from Japan, Hachimura is a rare specimen. He's just the fifth Japanese-born male to play NCAA D-I basketball, and he's darn good. CBS Sports has Hachimura going 11th overall to the Minnesota Timberwolves in this year's NBA Draft. Keep an eye on Rui as Gonzaga goes further in the NCAA Tournament.
50. Dajour Dickens (Old Dominion)
Dickens would be doing everyone a disservice if he doesn't write a novel or short story or something after basketball, because that name has author written all over it. A back injury ended his season early a season ago, so maybe he already got started.
49. Deng Geu (North Dakota State)
Geu was born in Uganda but played his high school ball in South Dakota, where he was the Gatorade Player of the Year in 2014-15. Geu doesn't even have the coolest name in his family, though, because he has a brother named Panther.
48. Rocky Kreuser (North Dakota State)
You better be a gym rat if you're first name is Rocky. I don't know if Kreuser's parents named him after the Sylvester Stallone character, but that's pretty dope if they did.
47. Norense Odiase (Texas Tech)
Odiase doesn't score a whole lot — he averages just four points per game — but the redshirt senior has a cool name. That's gotta be worth something.
46. Killian Tillie (Gonzaga)
Killian Tillie is totally the name of an evil boss in a movie somewhere. This French forward for Gonzaga tore a ligament in his foot in early February but is healthy in time for the tournament, which could make the Bulldogs even more dangerous.
45. Obim Okeke (Baylor)
Okeke actually played football at Baylor for three seasons before walking on to the basketball team. He's seen just 32 minutes of playing time this season, so no one really expected to hear his rad name called too often.
44. Oscar Okeke (Farleigh Dickinson)
Back-to-back Okekes, and they both started with O. I probably rank this name higher if not for someone else having the same last name (no, they're not related). Oscar gets the slight edge because it rolls off the tongue better. Sorry, Obim.
43. Kristers Zoriks (St. Mary's)
All I can picture is a viking, which sounds scary on a basketball court. Zoriks is from Latvia, where he was a member of the U-18 national team.
42. Prince Oduro (Mississippi State)
If I'm a head coach, I'm assembling as many Princes as I can find and building my team around them. Maybe that's what MSU head coach Ben Howland is doing, because Oduro had to sit out this season after transferring from Siena.
41. Eze Dike (Yale)
Dike should carry a "That was Eze" button on him at all times, and maybe pull it out on court after dunking on someone. He should *especially* do that after windmill dunking over someone like he did as a high schooler.
40. Hunt Conroy (Minnesota)
What's conroy and why are we hunting it? This 5-foot-10 guard from New Orleans has basketball in his blood. His dad, Ed Conroy, is currently an assistant coach for the Golden Gophers, and his brother Riley plays basketball for Tulane.
39. Naz Reid (LSU)
Naz Reid is a baaaaad man, and he's probably already dunked on your favorite college hooper. The 6-foot-10, 250-pounder is an athletic monster for the Tigers and a big reason why they're a 3-seed and in the Sweet 16. One might even say he's Naz-ty.
38. Akoy Agau (Louisville)
Agau has played at three different schools — Louisville, Georgetown and SMU — and can speak three languages. Though he doesn't play much for the Cardinals, he's gotta be one of the most interesting players on the team.
37. Landers Nolley II (Virginia Tech)
Nolley made headlines before he even played a game for the Hokies when the NCAA made him retake the ACT because he scored so highly on it the first time. Nolley didn't play this season, though, despite being Virginia Tech's top recruit in 2018.
36. Hannes Pöllä (Oklahoma)
OK, I'll be honest: I have Pöllä on this list because he has a surprised face emoji in his last name. That's pretty cool. The 6-foot-11 center from Finland is on the bench most of the time, but I think we can all agree his name deserves some recognition.
35. Xzavier Malone-Key (Farleigh Dickinson)
Is it Xavier or Zavier? Wrong, it's both. Malone-Key has got to be the only player whose name starts with "Xz." Malone-Key was a key (excuse the pun) player for FDU this season.
34. Christ Koumadje (Florida State)
Do I even need to hype Koumadje up? FSU's 7-foot-4 center is a freak and one of the best shot blockers in 'Noles history. Lord have mercy.
33. Roche Grootfaam (Utah State)
Grootfaam is from the small South American country of Suriname, which has just under 600,000 people. I wonder if everyone there has as cool a name. Grootfaam didn't play this season for Utah State because of a knee injury.
32. Collin Welp (UC Irvine)
Ah yes, what everyone on the wrong side of a Zion Williamson breakaway says seconds before he posterizes them. Or, in this case, what Kansas State said after UC Irvine upset them in the first round. Welp contributed with eight points off the bench.
31. Immanuel Quickley (Kentucky)
An adverb as a last name? You can gladly count me in. I can't help but think how many first names Quickley's parents could've gone with instead. A bench player for the Wildcats, he has averaged 5.3 points per game this season.
30. Mitch Lightfoot (Kansas)
Imagine pairing Quickley and Lightfoot on the court together. No one would ever catch them. Mitch's stats might not wow you, but this shot might.
29. Tennessee Owens (New Mexico State)
Born to be a country singer. Or maybe a brand of whiskey. Owens isn't even from the Volunteer State. He's from Las Cruces, New Mexico. Both of his parents are NMSU alumni, so what's the story behind the name?
28. Jack Salt (Virginia)
Sometimes a short and sweet (err salty) name does the trick. I'm also 80-percent sure Salt's name is a complete sentence. That's pretty neat, as is the career-high 18 points the 6-foot-10 center posted in UVA's ACC Tournament win against N.C. State.
27. DJ Laster (Gardner-Webb)
DJ Khaled. DJ Snake. DJ Laz. DJ Laster. Would you know which of those names don't have a song on iTunes if I didn't tell you? Laster's transition to a disc jockey once he's finished playing basketball should be a seamless one.
26. Gorjok Gak (Florida)
Gak didn't play this season because of an injury, which is unfortunate for Gator fans hoping to hear his name called. The 6-foot-11 center from Australia goes by the nickname "G," which makes a lot of sense.
25. Ty Hands (Florida State)
One can only assume his full name is Thank You Hands. The freshman guard hasn't played this season, but hopefully he stands next to teammate Terance Mann at some point in the tournament. "Mann Hands" would have to go viral, no?
24. Brion Sanchious (Murray State)
Brionsanchious sounds like a huge dinosaur, like the Brachiosaurus or something. The 6-foot-8 senior averaged just 3.1 points per game, but we'll just assume that's because star teammate Ja Morant was scoring all the points.
23. Mamoudou Diarra (Cincinnati)
Mamoudou is definitely may favorite first name on this list. No question. Diarra was born in Mali and his aunt, Marietou Diarra, played professional basketball in France. He doesn't play all that much. Get Mamoudou the ball more.
22. Brady Rudrud (Minnesota)
In three seasons at Minnesota, Rudrud has scored just eight points. To be fair, he's only played 30 total minutes. Stay strong, Brady. The breakout season is coming next year.
21. Prince Gillam Toyambi (Cincinnati)
Prince Gillam Toyambi gets the nod 21 spots ahead of Prince Oduro because his name just sounds more royal. Toyambi is from the Congo but played high school ball in California. The freshman didn't play this season but he's destined to be a star with a name like that.
20. Leaky Black (North Carolina)
Black's name sounds like the nickname you gave that one sharpie in your desk drawer that sometimes worked but sometimes leaked all over the place. I would've ranked him higher had Leaky not been a nickname. His real name is Rechon Malik Black, which is still a great name.
19. Koch Bar (Bradley)
It's pronounced Kotch. The 6-foot-10 center from South Sudan averaged six points and 5.3 rebounds per game for the Braves.
18. Donovan Theme-Love (Wofford)
By far the smoothest-sounding name on this list, Theme-Love probably deserves to be higher. The junior guard mostly comes off the bench in limited action, but that's OK because you just know MTV is cooking up a reality show with Theme-Love as the star.
17. Isaiah Bigelow (Wofford)
I think Wofford deserved a No. 1-seed based on names alone, and we still have one more Terrier to go. Isaiah instantly jumps to No. 1 if his first name is Deuce, you know, like the movie Rob Schneider stars in.
16. Josh Mballa (Texas Tech)
Just a great basketball name. He literally has the word "balla" in it. I might just go order a Mballa jersey because of that. He doesn't play much, but he's just a freshman. Give it a few years. He'll be taking the college basketball world by storm.
15. Luqman Lundy (Bradley)
Alliteration is cool. It's even cooler when your first name is Luqman. Lundy, the son of jazz musician Curtis Lundy, helped Bradley to a Missouri Valley Conference championship by posting 11 points in the tournament final to earn the Braves their NCAA Tournament bid.
14. Kobe King (Wisconsin)
Another fantastic basketball name. Kobe's father, Chris, played professional basketball for 15 years and his cousin, Jimmy King, was a part of Michigan's Fab Five before also playing professionally. Kobe's got big shoes to fill, but he's only a freshman.
13. Eyassu Worku (UC Irvine)
His last name is literally Worku. There's no way he doesn't work you on the court. Oh, and his first name has "Yass" in it? That's double trouble. Worku once scored 51 points against a team in high school. It's safe to say he worked 'em.
12. Max Hazzard (UC Irvine)
Max Hazzard was literally a maximum hazard for Kansas State, as the 13-seed Anteaters upset the No. 4-seed Wildcats in the first round. The redshirt junior guard's 19 points led the way, and there was this really cool nugget about his grandfather doing the same thing to Kansas State 55 years ago.
11. Timmy Falls (Montana)
You can either look at Timmy's name in one of two ways: He's draining so many shots that he basically becomes a waterfall. Or that he got crossed up and, well, fell down. Hopefully it's mostly the former.
10. Laquill Hardnett (Cincinnati)
An all-time basketball name. James Naismith would've been proud. Since modern day basketball hoops originated from peach baskets (those sound like hard nets to me), I'd like to think Hardnett is an old-school type player. A first-year player out of Philadelphia, Hardnett didn't play this season.
9. Bol Bol (Oregon)
You knew Bol Bol would be on here somewhere. The son of Manute Bol is one of the best big men in the country. He was putting up 21 points and 9.6 rebounds per game before a foot injury he suffered in December has kept him out.
8. Quinndary Weatherspoon (Mississippi State)
Weatherspoon is one of the best scorers in the SEC, as he averaged 16.5 points per game and scored 20 or more in eight games this season. His efforts weren't enough to stop 12-seed Liberty from upsetting the 5-seed Bulldogs, however.
7. Garrett Suedekum (Belmont)
I nearly forgot we were already in the Elite Eight here. But still, Suedekum is just a great, original last name. Who cares if he barely saw the court for the Belmont Bruins?
6. Fletcher Magee (Wofford)
Not only is Fletcher Magee a terrific, cartoon-y name, it's one that will go down in the record books. Magee set the NCAA D-I record for career 3-pointers this season. He also set the NCAA Tournament record for most 3-point attempts without a make in a game when he went 0-for-12 in Wofford's tight loss against Kentucky.
5. Seventh Woods (North Carolina)
In the words of LeBron James: Not one, not two, not three, not four, not five, not six…Maybe I should've put Seventh Woods at No. 7 on this list. According to his bio, Seventh is his birth name and he's the youngest of six children. I guess that makes him the first?
4. Tacko Fall (UCF)
It's not a list without Tacko. You've probably heard about Fall before, or maybe you've heard about his vow to not let Zion Williamson dunk on him. At 7-foot-6, Fall is the tallest player in both college basketball and the NBA. He was also a big reason for UCF's success this season.
3. Ike Eke (Marquette)
So simple, yet so clever. Part of me wishes there's an Uke Oke out there somewhere, too. The 6-foot-9 guard out of Nigeria doesn't really play, but I don't care because his name is one of the best in college basketball.
2. Flo Thamba (Baylor)
You though Mo Bamba was special? Meet Flo Thamba. Let's hope rapper Sheck Wes doesn't hear about this guy. Flo might not have the numbers, recognition or talent that Mo has, but a name like that never gets old. Maybe Sheck Wes was on to something when he said, "Sheck Wes got so many flows." *thinking face emoji*
1. Goodnews Kpegeol (Kansas State)
The upset of the century, Goodnews Kpegeol takes the crown as this year's greatest NCAA Tournament name. I couldn't find out the meaning behind his name, but I can only assume good news follows him everywhere he goes. Ironically enough, Kansas State was bounced from the NCAA Tournament by UC Irvine in the first round. I'm no analyst, but K-State probably wins that game if Goodnews plays. Redshirt freshman or not, you have to play Goodnews in the NCAA Tournament.