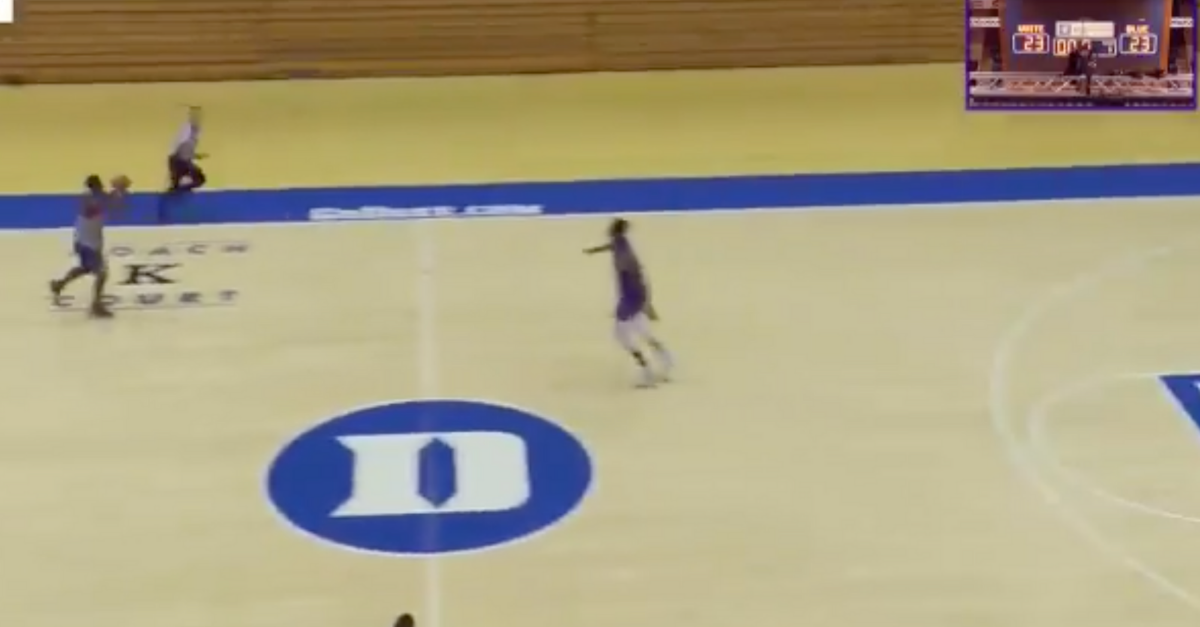 Twitter: @DukeMBB
In just a short amount of time, before he has even played an official game at Cameron Indoor Stadium, Duke Blue Devils freshman forward Zion Williamson has collected some incredible highlights most players could only dream of. He has already broke the prestigious program's vertical jump record, made a free throw line dunk look way too easy before an exhibition game in Toronto, and most recently just drilled a 60-footer to win a team scrimmage.
With less than three seconds remaining in the Blue Devils' scrimmage on Wednesday, and the score tied, the 6-foot-7, 285-pound dunking force of nature caught the ball near the opposing 3-point line, took one dribble, and then let it fly just before the buzzer sounded.
The ball was in the air for less than two seconds before it swished home.
RELATED: Duke Makes Recruiting History With Zion Williamson Commitment
While playing at Spartanburg Day School in South Carolina, Williamson broke the Internet multiple times with his tank-like frame, high-flying in-game dunks, and terrorizing blocks that saw his head almost hit the backboard. Yet, some were skeptical how his game would translate to the college level with an average, but improving left-handed jump shot.
Well, a half-court heave at the buzzer of an October scrimmage probably isn't the best way to predict success, but Williamson is still a walking highlight reel, as he showed in exhibition games in Canada, and a shot like this only adds to his Duke legacy under head coach Mike Krzyzewski before it truly gets started.
The Duke Blue Devils are heading into the 2018-19 campaign as one of the best teams in college basketball with a stacked freshman class headlined by Williamson, R.J. Barrett, Cam Reddish and Tre Jones.
With hype like this, and a team this talented, the Krzyzewskiville line for game tickets is going to be as absurd as these highlights.