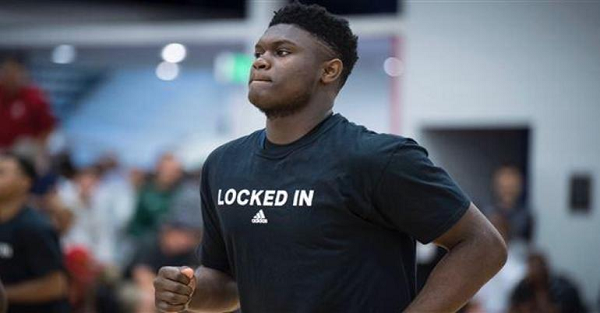 @BizSportsX/Twitter
@BizSportsX/Twitter
Number two overall recruit Zion Williamson says in a blog post for USA Today High School Sports that a decision regarding his recruitment is coming soon.
"I've been really thinking here lately about the pros and cons and I just feel like the time is coming," Williamson wrote. "I won't say that I feel pressure, but the fact that I have to actually pick one school is starting to be more real in my mind.

"I've been watching all of the schools recruiting me on TV a lot and I watch the players in my position and how the schools use those guys; just doing my homework on everybody. That said, I'm still enjoying the process and I still have great relationships with all of the coaches."
Williamson is still among those players from the class of 2018 that have yet to make a decision. He has made official visits to Kansas, Kentucky North Carolina and Duke this season, but apparently eliminated UCLA from his list of schools recently. In addition to those schools, he is also reportedly considering Kansas, Clemson and South Carolina.
The 6-foot-6, 272-pound power forward is ranked as the No. 2 recruit overall in the class of 2018 and the top player at the position according to ESPN.