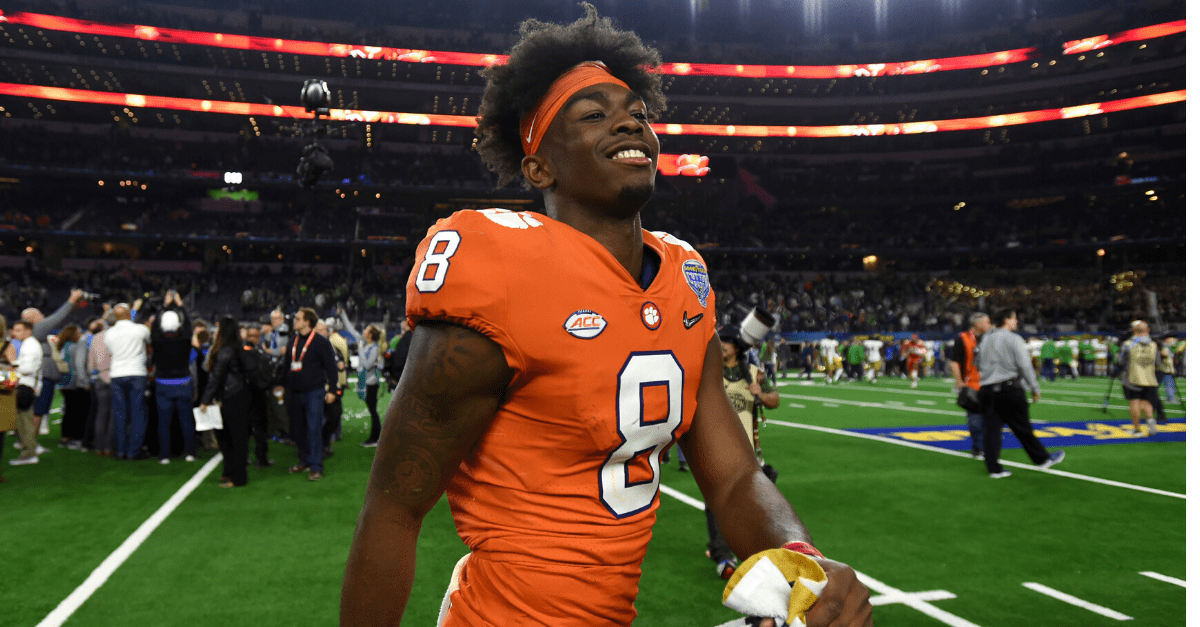 AP Photo/Jeffrey McWhorter
Clemson Tigers wide receiver Justyn Ross is one of the best in the country. All it takes is a quick look at his stats and highlight reel to realize it. What he is able to do on the gridiron is nothing short of electric, but there's a chance he might never play college football again.
Ross, a 6-foot-4 receiver and quarterback Trevor Lawrence's top target, will not play for the Tigers during the upcoming 2020 season. Clemson head coach Dabo Swinney confirmed the unfortunate news during a press conference on Monday afternoon and the standout player will undergo surgery later this week in Pittsburgh.
Ross was born with congenital fusion — an uncommon disorder — and now his entire career could be in jeopardy due to his spinal injury.
Clemson WR Justyn Ross to Miss 2020 Season
RELATED: Clemson Star RB Travis Etienne Returning to School Next Season
For the past two seasons, Clemson receiver Justyn Ross has played a big role in his team's success and runs to the College Football Playoff. The Phenix City, Alabama, native caught 46 passes for 1,000 yards and nine touchdowns in his a true freshman season and another 66 passes for 865 yards and eight scores as a sophomore last year.
Ross made everyone around him better, including Lawrence and fellow wide receiver Tee Higgins, who is now in the NFL, and his presence will be sorely missed this season.
Earlier this spring, before the coronavirus pandemic canceled sports across the globe, Ross showed slight "stinger symptoms" after taking a hit in a scrimmage and was limited in spring practice, according to 247Sports. An X-ray confirmed he had congenital fusion and surgery was scheduled for early June.
Nobody at the time thought Ross would be out for the entire year, but that's now the reality.
The Justyn Ross injury doesn't just impact Clemson football in South Carolina this season. It impacts the ACC, the national championship picture, and even the 2021 NFL Draft, where Ross is projected as a first-round pick.
Clemson has other playmakers on the roster, such as Amari Rodgers, but losing Ross is a tough blow. If his 11 total catches for 123 yards in last season's CFP against Ohio State and LSU on ESPN are the last we have seen from him at the NCAA level, it's been a treat to watch him play.