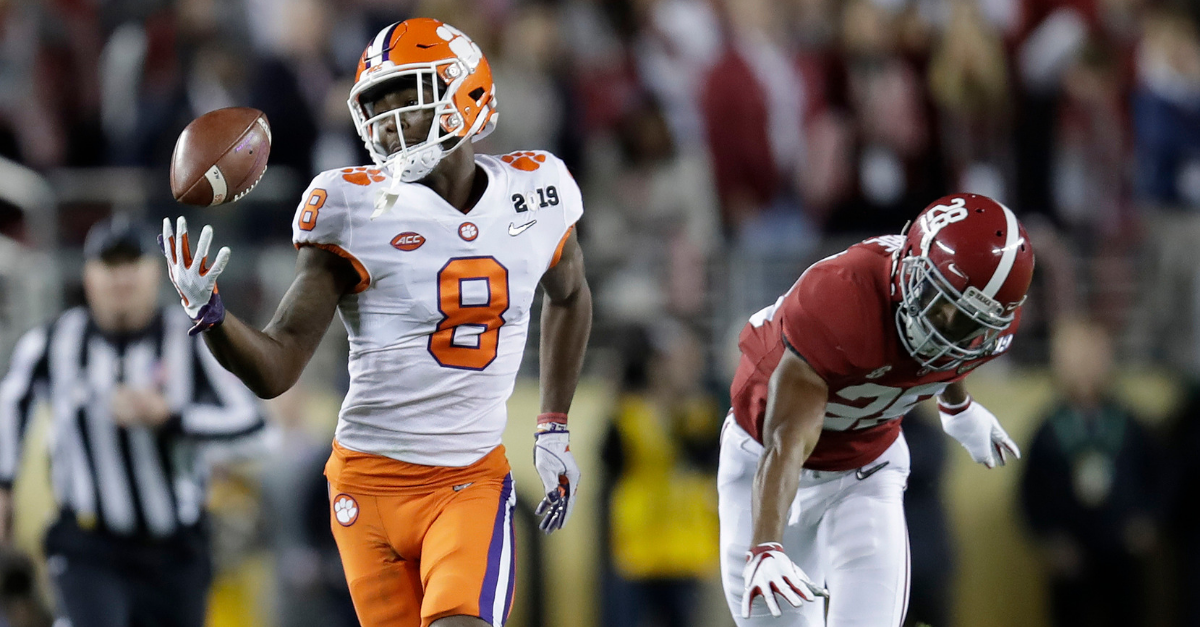 AP Photo/Ben Margot
The AAF is dead. The Alliance of American Football tried to start a brand new football league just one year after announcing its launch, and it backfired. Big time. The Alliance's majority owner Tom Dundon stole what he came for and pulled the plug after publicly criticizing the NFL Players Association and disagreeing with both CEO Charlie Ebersol and co-founder Bill Polian about the AAF's direction. Yet another football league is down, but there's another one waiting to take its place.
WWE CEO and Chairman Vince McMahon is relaunching the XFL in 2020. While you might remember the first version of the league basically being professional wrestling on a football field, the new XFL is making football and a fan-friendly experience its focus. We're still months away from seeing it back in action, but some of college football's top talent have already considered how the XFL could change the game forever.
Clemson Tigers wide receiver Justyn Ross finished his freshman season by showing everyone that he's NFL ready at only 19 years old. Ross caught 12 passes for 301 yards and three touchdowns in the final two games of the season, including the College Football Playoff National Championship game victory over the Alabama Crimson Tide.
Listed at 6-foot-4 and 205 pounds, the Phenix City, Alabama native could easily make an NFL roster just like his teammate, star quarterback Trevor Lawrence, but both must remain in college and pursue degrees for another two more years.
Most importantly, Ross, Lawrence, and plenty of other NFL-ready NCAA players are forced to wait three full years after high school to get paid.
"So can you see how other players, who may not have the support system you do, could be tempted by the XFL?"

"If [the XFL] is offering that kind of money, that's hard for an 18- or 19-year-old to turn down. If you really need that money, oh yeah, go do that. Something could happen. You can get hurt. Anything can happen. You have to take care of yourself because it can be over just like that."

? Justyn Ross, h/t Bleacher Report
According to an email sent to several NFL agents by XFL Commissioner Oliver Luck ? the father of Colts quarterback Andrew Luck ? "exceptional players" joining the XFL can potentially earn more than $200,000 per year, but he added that contracts will vary from player to player.
This is unlike the AAF, which locked every player into a three-year, $250,000 contract with the option to leave and pursue making an active NFL roster. If they failed to secure an NFL contract, they had to return to The Alliance the following spring.
The NCAA tries to brainwash fans every single year that student-athletes live the good life. For the large majority of kids, a free education and the chance to play college athletics is their ultimate goal. However, for the small percentage of athletes destined for professional sports right out of high school, the NCAA is holding them hostage in order to turn millions of dollars worth of profits.
Bleacher Report pointed out that college players receive $5,000 on average every year in stipends for playing football. During the 2016-17 college football season, the NCAA reached $1 billion in revenue for the first time.
RELATED: NBA Proposes Ending the 'One-And-Done' Era of College Basketball
Just last year, Alabama's Tua Tagovailoa injured his knee during the season, then re-injured himself during the SEC Championship game. He almost missed the CFP National Title game entirely as a result, and many fans thought the sure-fire first-round NFL Draft pick should stop playing altogether.
Tagovailoa, just like Ross and Lawrence, still isn't eligible to make any money despite being one of the best players in college football.
It's hard to say if the XFL will allow high school athletes to enter pro football right away, but for talented kids who have only one shot at a better life for themselves and their families, it might be the only choice they have. There are plenty of avenues for high school kids to get paid prior to joining the NBA, MLB and NHL, but football players are the only ones without that luxury.
"I think you just have to be patient," Ross said. "Just have more sense of your life after football. You can go to [the XFL] and do the numbers. You can get your endorsements and your money that you can fall back on after your career, but that's not happening for everyone. You're going to need something else to fall back on.
"Besides, my mom isn't going to let me leave college without my degree."