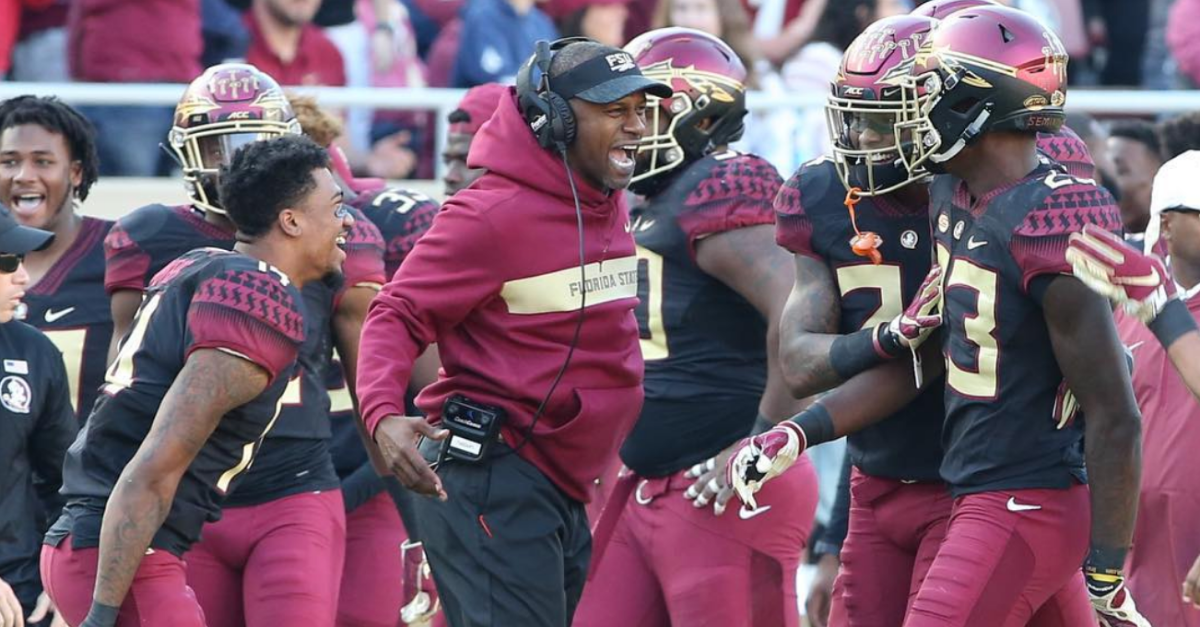 Instagram: @fsufootball
The Florida State Seminoles and Willie Taggart had a long list of needs after a 5-7 season in 2018, but National Signing Day closed with a class that definitely checked a lot of boxes.
Although Taggart and the 'Noles haven't signed a quarterback yet, which is a huge need at this point, they did a great job of bringing in players to address their two biggest issues: blocking and pass coverage.
RELATED: Florida State?s 2019 Schedule Looks Rough, But Never Count Out the ?Noles
Probably the biggest news for Florida State throughout NSD was the signing of Darius Washington, a three-star offensive tackle. Washington had committed to Mississippi State in June of last year, but continued to visit other schools. It seemed likely he would end up at either Miami or Florida State, especially when he de-committed from the Bulldogs on February 2.
Washington joins four other offensive line recruits that have signed National Letters of Intent to play for the Seminoles, a huge need after they struggled along the offensive front over the last three seasons. He joins Dontae Lucas and Jay Williams, both of whom have already enrolled, Maurice Smith, and Ira Henry who also signed Wednesday. Lucas, a four-star offensive guard, is the highest-rated lineman in the class.
Another issue for the 2018 team was the inability to stop opposing teams' passing game. Whether it is because there wasn't enough of a pass rush or because the coverage wasn't good enough, both of those things were addressed in this class with great defensive backs and some defensive lineman.
The 'Noles signed five defensive lineman, three linebackers, and seven defensive backs, so the defense should definitely have some young depth. Along the defensive front, three of those recruits are defensive ends while two are defensive tackles. Quashon Fuller and Curtis Fann are each four-star strong side defensive ends while Derrick McLendon is a three-star weak side defensive end. Tru Thompson and Malcolm Ray are the interior lineman of the class. Both are rated as a three-star prospect.
The obvious strength of this class is in the defensive backfield. Of their 10 four-star signees, half of them are defensive backs, including the top three as far as grade by 247Sports. The top recruit for FSU is Akeem Dent, the No. 50 overall recruit and seventh-ranked cornerback in the country. The second player on the board is Nick Cross, who has not signed his NLI yet. He is the No. 4-ranked safety in the country and is choosing between the Seminoles and Penn State, although he is currently committed to FSU.
The other defensive backs in the class are Travis Jay, Renardo Green, and Jarvis Brownlee each at cornerback, while Brendan Gant and Raymond Woodie III are the other safeties.
The interesting part about this class moving forward is if Taggart and new offensive coordinator Kendal Briles can find a quarterback to bring in. But they do have a backup plan since there is a chance redshirt sophomore James Blackman will be the only scholarship quarterback on the roster who is eligible to play.
Jay, recruited as a corner, did win a state title while also playing quarterback and seems like Taggart and Briles are open to letting him be their backup plan if he can show he has the ability to play at the collegiate level. It is scary, though, because he probably would never get the chance if not for the huge hole on the depth chart, but it is nice to have options other than having a walk-on possibly taking meaningful snaps due to necessity.