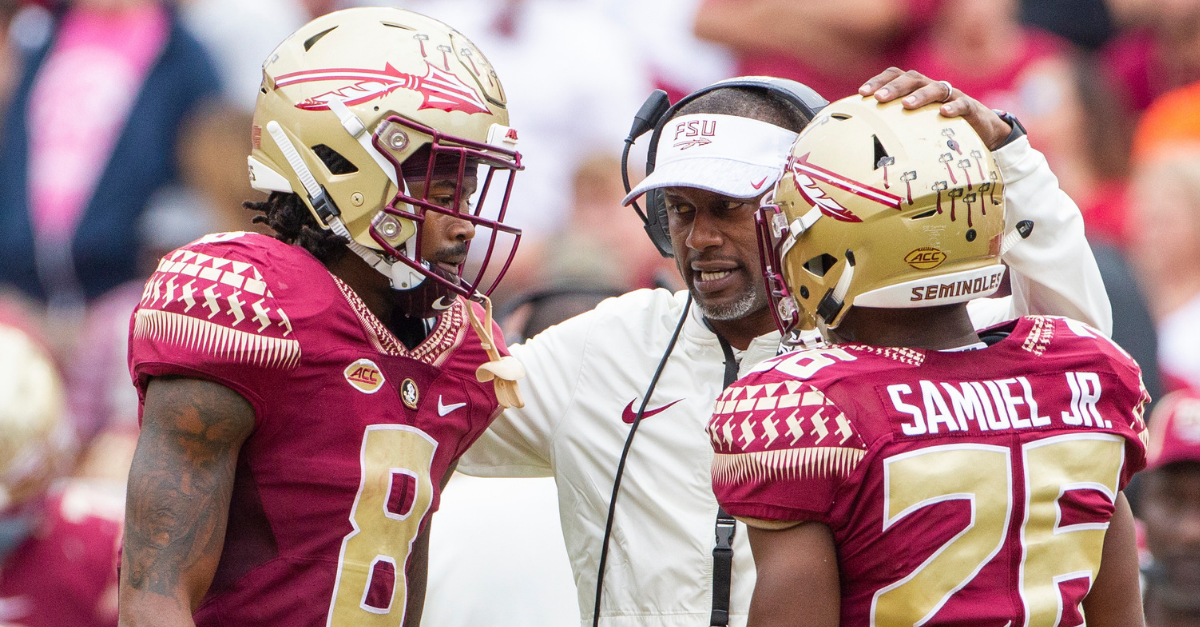 AP Photo/Mark Wallheiser
After failing to appear in a bowl game after this season, recruiting for the Florida State football team and Willie Taggart is more important now than ever. Currently with the 17th-ranked recruiting class by Rivals, it is more vital for the Seminoles to focus on holding onto their current commits.
There are some recruits the 'Noles would love to go out and get, but they need to focus on making sure they get guys like five-star cornerback Akeem Dent, four-star quarterback Sam Howell, and four-star offensive lineman Dontae Lucas to sign on the dotted line.
The worst thing that could happen is a group of high-profile recruits decide to head elsewhere at the last second and leave the 'Noles' coaches scrambling to find a replacement. That is why they need to continue to meet with the guys they have committed. After going 5-7, other schools could easily give them a more desirable program to play for.
It seems like Alabama, Georgia and LSU have made a living on grabbing guys on Signing Day and getting the flips out of nowhere or even the big commits at the high school all-star games. But FSU also needs to find that happy medium of trying to land other big recruits down the stretch.
Evan Neal, the 11th-ranked player in the Rivals100, will choose where he will play his college football and it would be a huge get for Florida State. The second-rated offensive lineman will choose between the big-three Florida schools — FSU, Florida, and Miami — Alabama, Georgia, and Oklahoma.
With how bad the offensive line has been over the past few seasons, bringing in top talent to help with that is vital. They already have Lucas as a commit, the 51st player on Rivals' board. To have two of the top offensive lineman recruits would be a great start to improving the blocking. But getting Lucas to Tallahassee won't be that easy. Even though he is committed to the Seminoles, he is still holding his final decision between Florida State, Florida, and Miami.
But as it stands, this recruiting class will be helping the pass defense the most. Of the top-rated players in the class, three of the top five players are defensive backs. Five of the top eight are defensive backs with one also being a defensive end, who plays a vital role in pass defense and rushing the passer.
Three of the defensive backs are in the top-100. Dent is at 28, Brendan Grant is 44th, and Nick Cross is 78th. With five total players ranked in the top-100, it is important the Seminoles hold onto their current commits and hopefully grab a few others. With the addition of another one or two guys, they could easily find themselves close to, if not in the top-10 for recruiting classes.