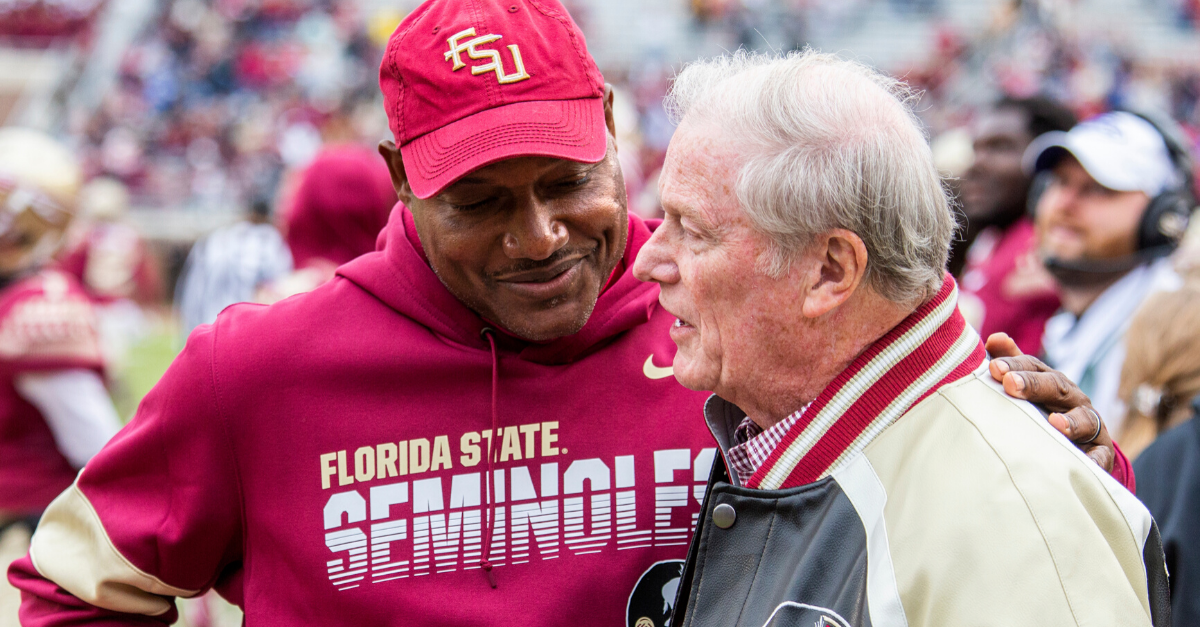 AP Photo/Mark Wallheiser
Florida State fired head coach Willie Taggart on November 3 after going 9-12 in parts of two seasons. The once-proud FSU football program tumbled into mediocrity after Jimbo Fisher jumped ship for Texas A&M, and Taggart was caught in that wake. Discipline and poor decision making were his downfall, and now, the school turned to longtime assistant Odell Haggins as interim head coach for the remainder of the 2019 campaign.
Subsequently, the rumored coaching candidates at Florida State University are out of control. Everyone from Urban Meyer to Lane Kiffin to Deion Sanders were linked to the job at some point. Minnesota's P.J. Fleck and Iowa State's Matt Campbell were trendy names despite long-term contract extensions at their respective universities. Former Oklahoma coach Bob Stoops and Kentucky's Mark Stoops were linked to the once-powerful ACC program, but both denied interest in the job.
Notre Dame's Brian Kelly and Penn State's James Franklin, whose blue-blood programs compete for College Football Playoff spots every year, are "targets" of Florida State despite their job security being air-tight. Reports that Memphis' Mike Norvell met with Arkansas, then said he was "more interested in the opening at Florida State," were completely fabricated and debunked by the University of Arkansas.
Needless to say, this coaching job doesn't appear to be a legitimate front-runner outside of Haggins, who is very well-liked in the locker room.
FSU Coaching Search
RELATED: FSU Wouldn't Hire Urban Meyer If Willie Taggart Was ?Hit by a Bus?
The Florida State Seminoles' administration is doing all it can rectify firing Taggart, who's owed about $18 million thanks to a massive buyout. However, they apparently need even more help.
In a letter sent to "loyal donors" of the school, FSU President John Thrasher asked that boosters donate more money in order to "achieve an even greater result."
The following is an excerpt of that letter to fund "The Renaissance of Florida State Football," which was obtained by Warchant.com:
"As the current football season progressed, our program reached a crossroads. Athletic director David Coburn and I chose to take decisive action to help restore our status as a national contender. We are currently conducting a comprehensive national search for a new Head Coach, interviewing numerous respected candidates. Director Coburn and I are asking each candidate to share his vision for Florida State football. Our goal is to find the right fit for our student-athletes, the university and all Seminoles.

"I am grateful so many of our donors have reached out to ask how they can help, as the transition to a new coaching staff will take a significant investment. We have received several generous commitments of support to begin the overall effort, but we also need every member of Seminole Boosters to contribute what they can to achieve an even greater result.

"Today, if you are able, I ask that you increase your annual Booster commitment to the next giving level for 2020. If you can't make that financial commitment, please consider a one-time 20 percent increase and encourage your family and friends to join Seminole Boosters today. I truly believe every Seminole can make a difference in this effort."
Thrasher's letter doesn't specify what exactly the donations would go towards, only saying that they're needed as "we embark on the Renaissance of FSU football."
Thrasher told the Tiger Bay Club luncheon one day after that letter was dated that he'd be "out on the road," presumably interviewing candidates, in the upcoming days. Thrasher then joked that "if it weren?t for football and fraternities, this job could be kind of fun!"
Um, what?
RELATED: How 'Honey Fried Chicken' Became FSU's Sweetest Recruiting Tool
Doak Campbell Stadium is seeing its lowest average attendance in 32 years. The program's recruiting is stuck in purgatory just weeks away from December's Early Signing Period. Florida State's final game of the regular season is in Gainesville against the rival Florida Gators, which is looking more like another loss. Even worse, the president of the university sounds like he has no idea who or what to look for and is asking for more money to accomplish that.
Look, finding an elite coach in college football is no easy task, especially considering the state of FSU football. But this FSU coaching search is spiraling out of control, and a happy ending for everyone in wearing Garnet and Gold gear looks more like a pipe dream.

If FSU wants back into national championship contention, it might be time for Thrasher to let outside firm DHR International lead the way in finding the right football coach to lead the 'Noles back to glory.
This post was updated on November 22, 2019, to reflect editorial corrections citing DHR International, a Naples-based firm hired by the university to assist in the school's coaching search. The original post implied that no outside firm was involved, which was incorrect.