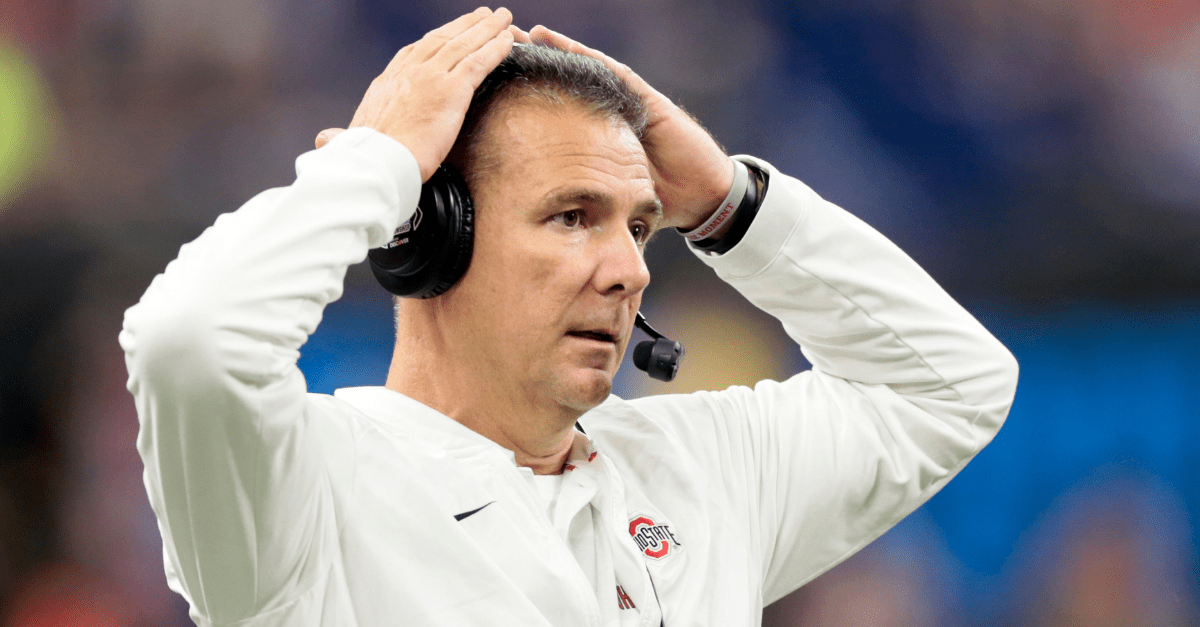 AP Photo/AJ Mast, File
One day, former Ohio State Buckeyes head coach Urban Meyer sits comfortably in his chair at FOX Sports and happily debates the College Football Playoff. The next, the three-time national championship winner is linked to every job opening across college football and the NFL. Credible rumors are one thing, but this circus is getting ridiculous.
When asked about Lincoln Riley leaving Oklahoma for the Dallas Cowboys, Meyer gushed about that job, which prompted more talk about firing Jason Garrett and hiring the college football savant. Meyer is known for building teams into national contenders with the flick of a wrist. Naturally, when rumors started that higher-ups with the Florida State Seminoles football program were actively moving to buyout head coach Willie Taggart, only one name rose to the top.
FootballScoop.com published a story on October 21 that FSU football was "shooting for the top" to replace Taggart, and the school's No. 1 candidate was Urban Meyer.
Collectively, the heads of Seminole fans wildly spun at the thought of Meyer coming to Tallahassee. This was the guy who led Tim Tebow and the Florida Gators to two championships, then won another at Ohio State with his third-string quarterback starting the national title game.
If Meyer can do that, imagine what he'd do for us?!
Apparently, the answer is absolutely nothing.
In an interview with the Tallahassee Democrat, FSU Athletic Director David Coburn squashed rumors that FSU is pursuing Meyer, and that the school is even interested in getting rid of Taggart at all.
"Virtually all of this stuff is complete fabrication," Coburn said. "And it is particularly disturbing when supposedly responsible publications put this junk out there, and then people start to believe it."
Willie Taggart Buyout
Following FSU's loss to Wake Forest, Willie Taggart held an 8-11 record as the 'Noles leader. However, firing Taggart after this season would cost a whopping $17 million, according to The Democrat. There's almost no way the school would pay that price, no matter how bad FSU is right now.
But at this rate, Florida State fans might jump ship and buy some Florida Gators gear just to be part of a winning program again.

Despite Football Scoop's rumor floating around, Coburn wasn't having any of that buyout nonsense.
"If Coach [Taggart] were hit by a bus tomorrow, we would not target Coach Meyer, period," Coburn said. "I say that with all due respect to Coach Meyer, but we would not target Steve Spurrier either."
RELATED: Urban Meyer to USC? Disgraced Former Assistant Would Bet on It
Meyer retired from coaching twice. The first came in 2010, which was related to health issues, including chest pains and headaches caused by stress. After a one-year retirement and working as an analyst for ESPN, the former Florida football coach took over Ohio State, then stepped down again after the 2018 season, again citing health reasons. These were linked to brain surgery to relive pressure from an arachnoid cyst.
That 2018 season is infamously tainted with domestic violence allegations against assistant coach Zach Smith, which Meyer allegedly knew about and covered up. Meyer was suspended the first three games of that year. Upon his second retirement, Ryan Day took over as OSU's head coach.
Yes, Florida State is struggling to find its mojo. No, it does not feel like the end is in sight. Many Seminole faithful want Willie Taggart canned, but the truth is, it doesn't make financial sense this year. Give him one more season to figure this thing out, and if he can't, then it's time to blow things up and try again.
After all, few coaches could dominate the ACC and win bowl games like Bobby Bowden and Jimbo Fisher.
In case there was any confusion, Coburn made sure that Taggart getting struck in a horrific bus accident wouldn't change his mind about Urban Meyer leading his school's football team any time soon.