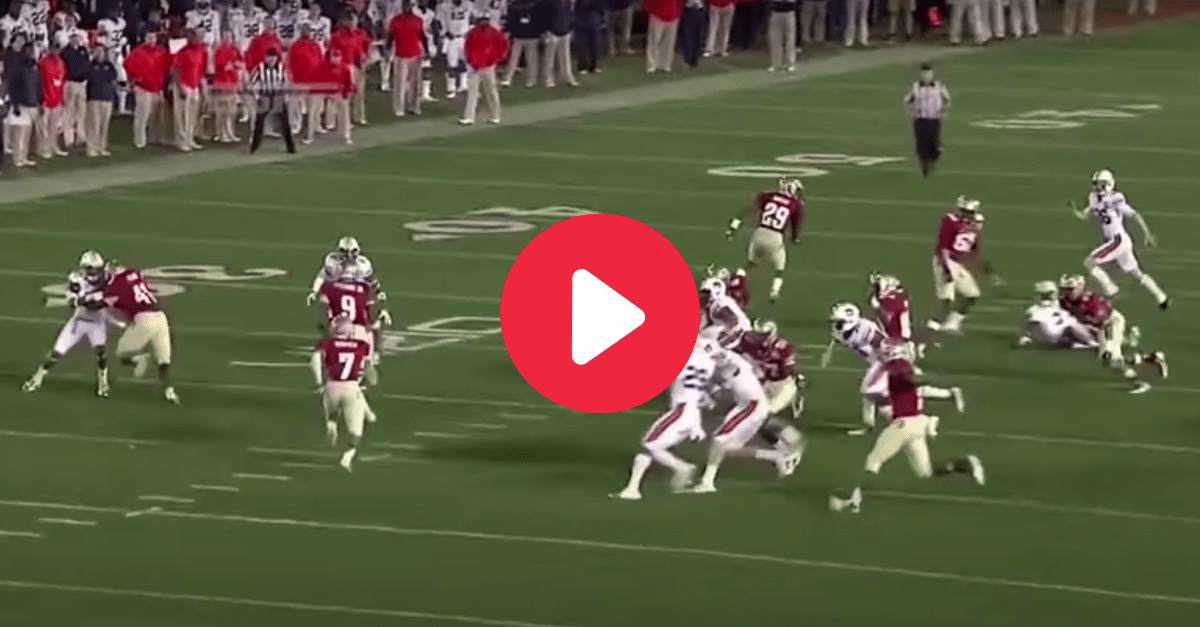 Screenshot from YouTube
The fourth quarter of the 2014 BCS National Championship Game will forever be one of the craziest finishes in college football history. What the Florida State Seminoles and Auburn Tigers did in the final minutes was nothing short of legendary. Kermit Whitfield was a big part of it.
Everyone knows about the final 90 seconds at the Rose Bowl. Auburn running back Tre Mason scored and struck the Heisman Trophy pose. Then, FSU quarterback Jameis Winston ? the actual Heisman winner that season ? found wide receiver Kelvin Benjamin for the game-winning touchdown.
For as iconic as those moments were, however, they aren?t nearly as important without Whitfield?s 100-yard kickoff return touchdown with less than five minutes to play in Pasadena, California.
Kermit Whitfield?s Kick Return TD vs. Auburn
RELATED: Dalvin Cook?s 70-Yard TD Made Clemson Look Like a JV Team
Saying Levonte ?Kermit? Whitfield is fast should almost be considered an insult. His speed is that ridiculous. He was clocked running a 4.37 40-yard dash in high school and then led the NCAA in kick return average as a freshman in 2013.
By the time the national title game rolled around on ESPN, ACC opponents knew all about Whitfield?s speed. Either Auburn forgot about the scouting report or the Tigers refused to believe how lethal he was with the ball in his hands. The decision to kick to him proved costly.
After Cody Parkey extended the Auburn lead with a field goal, he booted the ensuing kickoff into the end zone and right into the hands of Kermit Whitfield. The 5-foot-8 kick returner took care of the rest.
Thanks to some key blocks by Karlos Williams and Chad Abram, and a bad hamstring by an Auburn player, Whitfield went 100 yards untouched down the sideline. The go-ahead touchdown gave FSU football its first lead since early in the first quarter and head coach Jimbo Fisher loved it.
The comeback was complete, and the party officially started in Tallahassee with ?Watson to Benjamin,? but don?t sleep Levonte Whitfield?s return. Who knows what would have happened in that game without it.