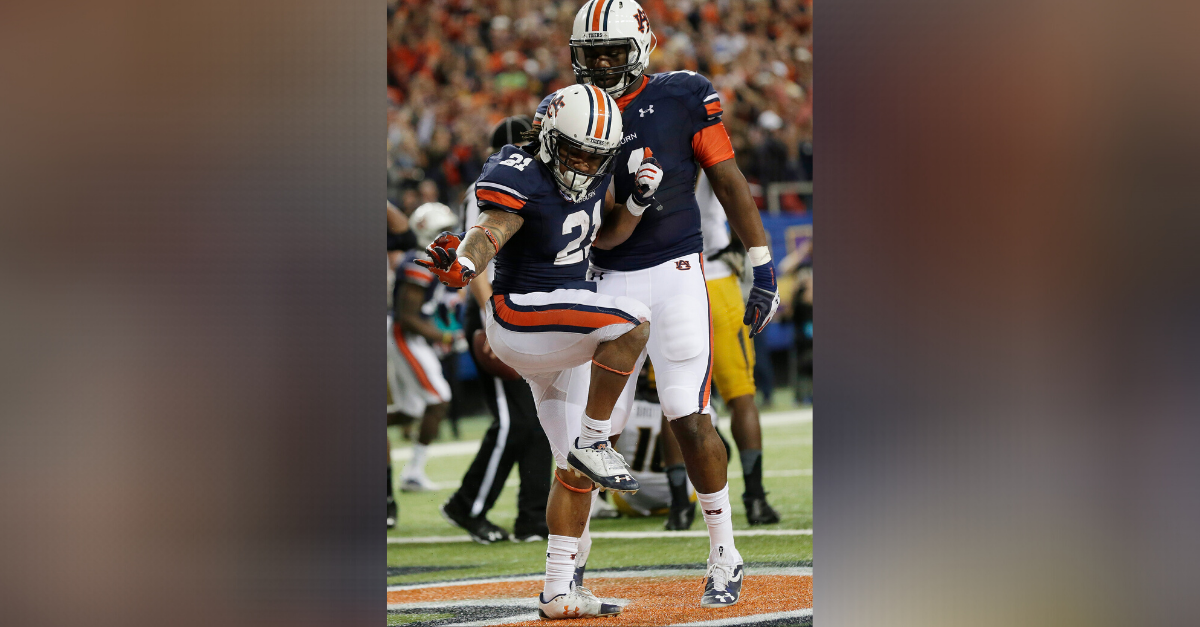 AP Photo/Dave Martin, File
Former Auburn Tigers running back Tre Mason was just impossible to stop. No matter how hard defenses tried, taking him down was a lot easier said than done. The 5-foot-10, 205-pounder dominated college football throughout the 2013 season, but perhaps his greatest performance of his career came in the SEC Championship Game.
The Missouri Tigers were a worthy opponent at the Georgia Dome in Atlanta that year. Head coach Gary Pinkel had a solid spread offense, a quality defense, and his team was ranked in the top five. Then Mason came along and spoiled their title hopes.
Mason finished the game with 46 carries for 304 yards and four touchdowns ? all SEC Championship Game records ? to help Auburn cruise to a 59-42 victory. It was a performance for the ages, and he capped it off with a fitting celebration by striking the Heisman Trophy pose in the end zone.
Tre Mason?s SEC Title Game Heisman Pose
RELATED: Cam Newton?s ?Heisman Moment? Helped Auburn Topple LSU
During the 2013 campaign, Tre Mason dazzled with 1,816 rushing yards and 23 touchdowns. He won SEC Offensive Player of the Year, named Second-Team All-American, and undoubtedly deserved an invite to the Heisman Trophy presentation in New York City.
He proved that during the Southeastern Conference title game.
Early in the fourth quarter, Mason powered his way into the end zone for a one-yard score. It was incredible. Then, after it was ruled a touchdown, he got up and immediately struck the famous Heisman pose. The rout was officially on after that.
Mason even got a hug from Auburn legend Bo Jackson on the sidelines late in the game.
"He's one of the better players ever to wear an Auburn helmet,? Auburn coach Gus Malzahn said of Mason, via ESPN.
Mason wasn?t the Heisman Trophy winner that season ? Florida State quarterback Jameis Winston was over finalists in Mason, Alabama?s AJ McCarron, Northern Illinois? Jordan Lynch, Texas A&M?s Johnny Manziel, and Boston College?s Andre Williams ? but it wasn?t the last time he struck that pose in a game.
Tre Mason Strikes Heisman Pose? Again
Auburn?s Tre Mason felt snubbed of college football?s most prestigious award. So he took out his frustrations on the Florida State Seminoles in the 2014 BCS National Championship Game.
That NCAA national title was one of the best football games you will ever see, and Mason was a big reason why. He rushed the ball 34 times for 195 yards and his touchdown run late in the fourth quarter looked like it would seal the game and stop FSU?s furious second-half comeback for good.
That?s when the Heisman pose came out again.
Of course, the game didn?t end in Auburn?s favor, but that?s not the point here. Although Mason didn?t win a national title or have a long NFL career, he solidified his place as one of the best players in Auburn Tigers history and those Heisman poses during big-time performances were absolutely legendary.