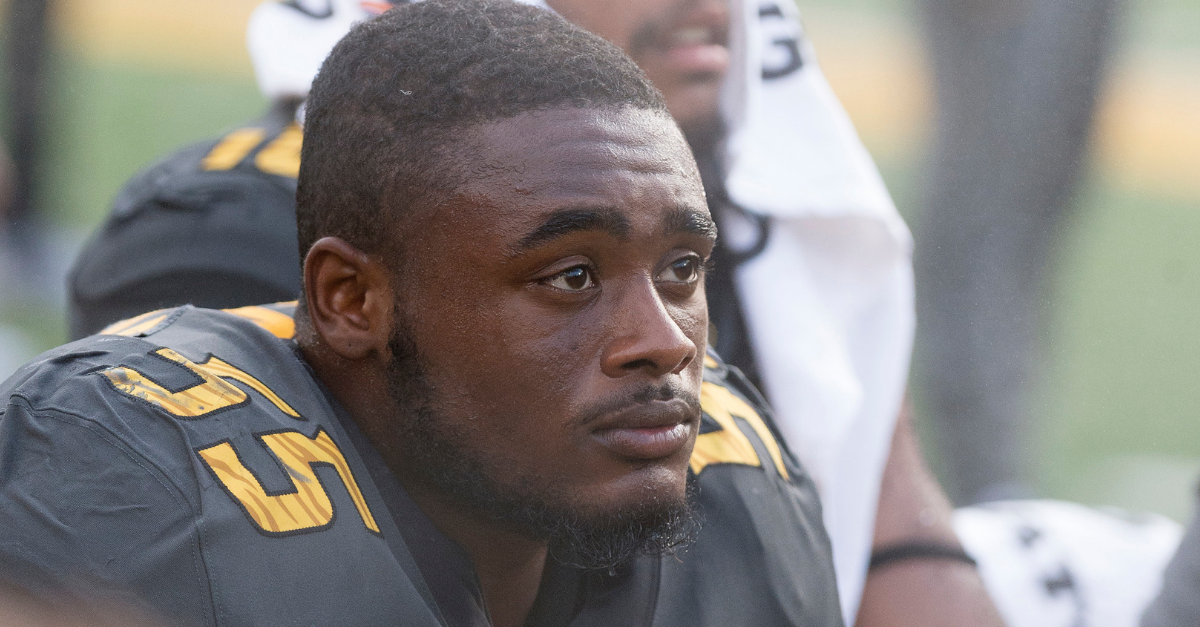 AP Photo/L.G. Patterson
In the NFL, a player doesn?t have to be drafted to be a star. Take a look at Indianapolis Colts kicker Adam Vinatieri or former Dallas Cowboys quarterback Tony Romo, for example. The list of success stories is longer than you might think, and now, one former SEC player is looking to add his name to it.
Meet former Missouri defensive end Jordan Harold, a 6-foot-2, 255-pound pass rusher with as much persistence as Rudy. He?s gone through tons of adversity during his football career and he?s not ready to let go of his dream of playing in the NFL.
That?s why he showed up to Bank of America Stadium in Charlotte, North Carolina with his old Mizzou jersey on and holding a sign with the hopes of catching the attention of the Carolina Panthers.
The sign reads: ?Will Pass Rush For Hot Wings? and ?I Slipped Through The Cracks.? Fox 46 reporter Will Kunkel was outside the Panthers stadium to talk to him, too.
RELATED: ?Invincible? Star Vince Papale?s Son Chases NFL Glory Just Like Dad
All Harold is looking for is a shot to get on a professional football team and play in the NFL. It?s been a goal since he played at McCluer North High School in St. Louis, and he?s been working to get there ever since.
After playing at Northwest Missouri State on full scholarship, the defensive lineman transferred to the University of Missouri as a walk-on just so he could play Division I college football. Needless to say, it worked.
By the time his playing days for the Tigers were over, he recorded 47 tackles, including 10.0 tackles for loss and 4.5 sacks in 25 games. His best performance came in the Texas Bowl against the Texas Longhorns, where he posted seven tackles, inlacing 3.5 TFL and 2.0 sacks in his final NCAA game.
Harold was also a team captain.
Nobody can ever underestimate his heart. That?s for sure.
?A lot of guys have different stories. Everybody?s different, but I know what it?s like to be at the bottom, to be sixth string, to be all of those different things. I will lead with humility regardless where I?m at or where I go. I think that?s what sets me apart, my work ethic, and things like that.?

? Former Missouri Tigers defensive end Jordan Harold, via Fox 46
Only time will tell whether or not the Panthers will give him a shot, but Jordan Harold is ready to get to work and live the American dream, even if it is just for hot wings.