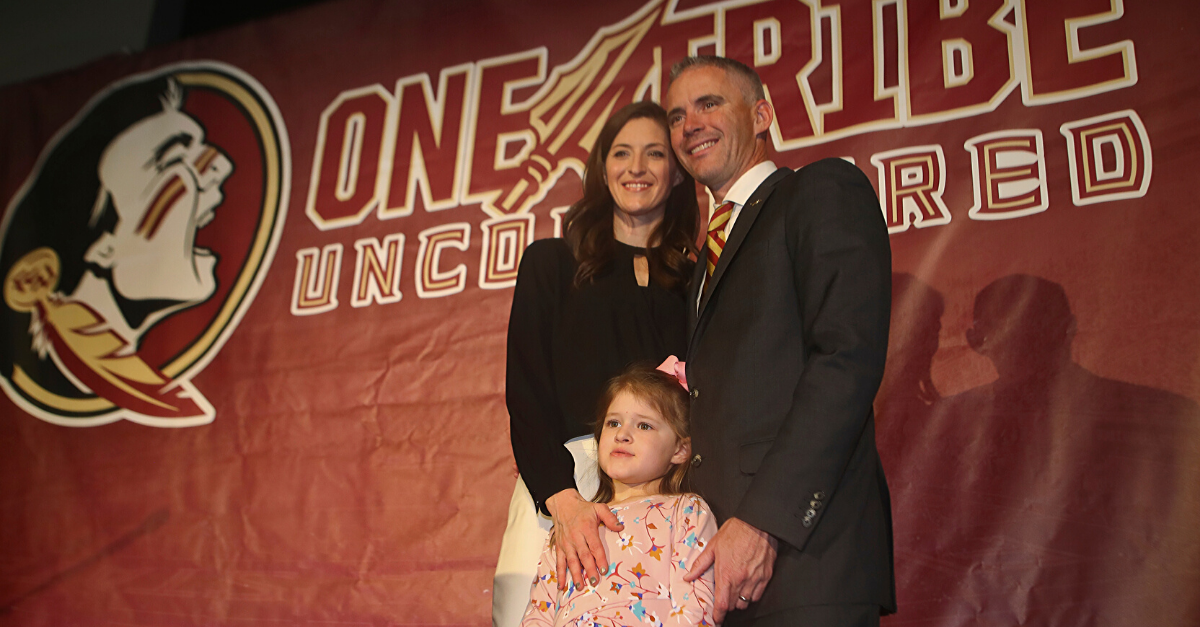 AP Photo/Phil Sears
It was Florida State head coach Mike Norvell who summed up his love for football perfectly: "It's really not what I do; it's who I am."
Since learning the game and growing up in Texas, it was obvious Norvell was born to lead a football team. His Pop Warner coach recalled putting Norvell at quarterback because he was the only one who could call audibles and flip plays at the line of scrimmage. Keep in mind: he was nine years old.
After signing to play college football at the University of Central Arkansas, Norvell broke the school record for career receptions (213) and still ranks fifth in school history with 2,611 receiving yards. He began his coaching career as a graduate assistant with UCA, and the chase for a major Division I NCAA program was on.
But every step of the way, through all the peaks and valleys, there was Maria Norvell.
Who is Mike Norvell's Wife?
It started in a ballroom dancing class in the early 2000s.
When Maria ? her maiden name is Chiolino ? walked into that fateful class at UCA, she paired up with a football player named Mike. The star wide receiver expected to take the class with a friend and girl's basketball player, but he ended up being partners with her roommate instead.
Safe to say that it worked out in both of their favors.
"We were just friends and he was amazing," Maria told the Memphis Daily News in 2015. "He really swept me off my feet."
After the two married in 2004, Maria Norvell knew life as a football wife would change everything. In an interview with The Commercial Appeal, she recalled understanding the "sacrifice and moving and things" it would require, but added that it wasn't a scary thought knowing how talented Norvell was.
When Norvell's first full-time job offer came from Division II's Delta State, it was Maria who convinced him to decline and reach higher. That led Norvell to the University of Tulsa, where he worked as a graduate assistant once again, this time under head coach Todd Graham. Norvell made about $500 a month and slept on couches. This necessary sacrifice came because Maria was still living and working in Conway, Arkansas as a human resources manager for Target, and they couldn't afford to pay two rents.
Eventually, it was time to leave the safety of Arkansas behind and take "a leap of faith."
Maria quit her job and moved to Oklahoma to support Mike. It took weeks for her to find another job, so the pair lived off Norvell's football salary and the little savings they had. Norvell's 18-hour days only offered the young couple the chance to see each other in passing when Maria visited campus.
They knew climbing the ladder took time, and it paid off as Norvell's relationship with Graham grew.
Mike Norvell's Coaching Journey
RELATED: See Mike Norvell's Passion in Fiery Speech to FSU Players
In 2011, Norvell followed Graham to Pittsburgh, where he served as co-offensive coordinator and director of recruiting for one season. He then spent four years as OC and quarterbacks coach of the Arizona State Sun Devils, guiding a high-powered offense that averaged 38.1 points per game during his tenure as an assistant coach.
In 2016, the American Athletic Conference's Memphis Tigers named Norvell as the program's new head coach. He led Memphis football to a 38-15 record over four seasons, punctuated by a 12-1 record, AAC Championship Game victory, and Cotton Bowl berth in 2019.
That experience landed the 38-year-old the job he and his wife worked so hard to achieve.
In December 2019, Florida State University named Norvell the program's 11th head football coach to replace Willie Taggart, awarding him with a six-year, $26.5 million contract loaded with incentives and bonuses. Norvell was introduced by FSU athletic director David Coburn alongside his wife Maria and the couple's daughter, Mila.
Mike and Maria Norvell Give Back
Shortly after signing his contract at Memphis back in 2016, Mike and Maria Norvell returned to Arkansas, the place where they first met, and "made a significant contribution" to build the Mike and Maria Norvell Nutrition Center for UCA Athletics.
While at the University of Memphis, the couple hosted Sunday night gatherings for the football coaching staff and their families to bond and learn about each other.
"I knew if I ever got the opportunity to run a program, (emphasizing family time) is something that would be important to me. Whenever a player gets to see his coach as husband, as dad, whenever he gets to see the (other) responsibilities his coach has beyond the game of football, it's pretty special."

? Mike Norvell, via GoTigersGo.com
The FSU Seminoles landed a good one in Tallahassee. First-year head coach Mike Norvell says he wants to be the guy who leads the Florida State football program back, and with his track record and a supportive family on his side, it seems like a matter of time, and patience, before playing in big-time football games, including conference championships on ESPN becomes the reality.
This post was originally published on April 2, 2020.