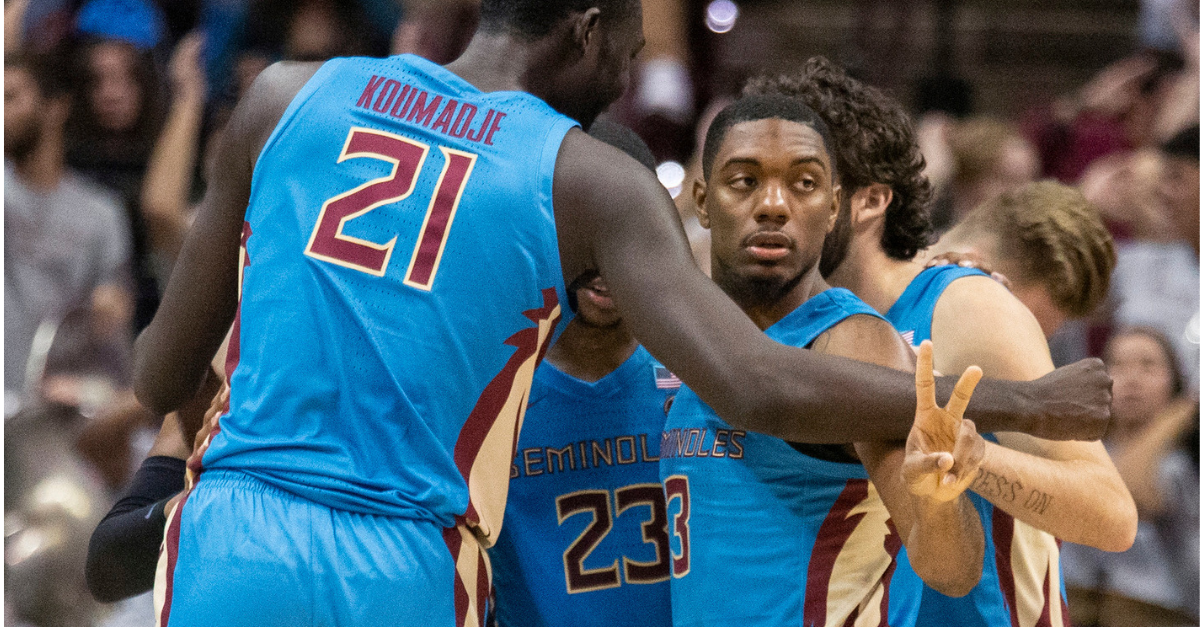 AP Photo/Mark Wallheiser
The No. 11 Florida State Seminoles men's basketball team isn't letting their preseason recognition go to their heads. They entered the season with high expectations with a top-15 ranking in the AP Poll. The last time the Seminoles entered the season ranked in the AP Poll was 2012, and they finished the season with an 18-16 record. But this season has gone much better so far.
Since their only loss of the season against Villanova, the defending national champions, the 'Noles have won back-to-back games to make their record 7-1. First was a game against Purdue in the ACC/Big Ten Challenge. Then they followed that game up with an easier win against Troy on Monday. But FSU's next game may be one of their most challenging thus far.
READ MORE: FSU?s AdvoCare Invitational Showing Was Good, But Not Good Enough
In their win against Purdue, the Seminoles showed once again that they can't be counted out. They trailed the Boilermakers by eight points with less than four minutes to go in the game after leading by as many as 16 in the first half and by 12 at halftime. And in the final seconds when they needed points, they went to Trent Forrest. The junior guard hit a driving floater with five seconds left to give the Seminoles a 73-72 win.
This is the second time Forrest has come up with a huge bucket at the end of regulation. Against LSU, he made a layup to tie the game and head to overtime, which they eventually won.
But it wasn't just Forrest who earned the win. It was a team effort, like it has been all season. MJ Walker led the team with 13 points, and none were more important than the five points he scored in less than a minute late in the game to bring the deficit down to one point.
Eight players scored at least seven points against Purdue, including Forrest, Terrance Mann, PJ Savoy, and David Nichols each scoring nine points. Mann had a game-high eight rebounds, while Forrest and Nichols each led the team with three assists apiece. Forrest also had three steals.
The game against Troy was completely different than their past three. FSU never trailed the Trojans and led by as many as 21 points late in the second half before winning, 83-67. Savoy led the team in scoring with 16 points — the second time this season he has led in points. Mann, Walker and Mfiondu Kabengele have each also led the team in scoring twice this season. Savoy also had five rebounds and three assists on the night.
Walker scored 14 points and Forrest added 13 and five rebounds. Kabengele scored 10 points and also grabbed seven rebounds, blocked three shots and dished out two assists for a great all-around performance.
The Seminoles don't have to worry about defending the home-court winning streak against non-conference opponents against the UConn on Saturday night, though. Florida State travels to Newark, NJ for the Never Forget Tribute Classic to take on the Huskies.
UConn has won seven of the first nine games this season and are led by Jalen Adams, who is averaging 19 points per game. Christian Vital has also been really good, scoring 12.3 per contest and grabbing 5.1 rebounds for the Huskies.