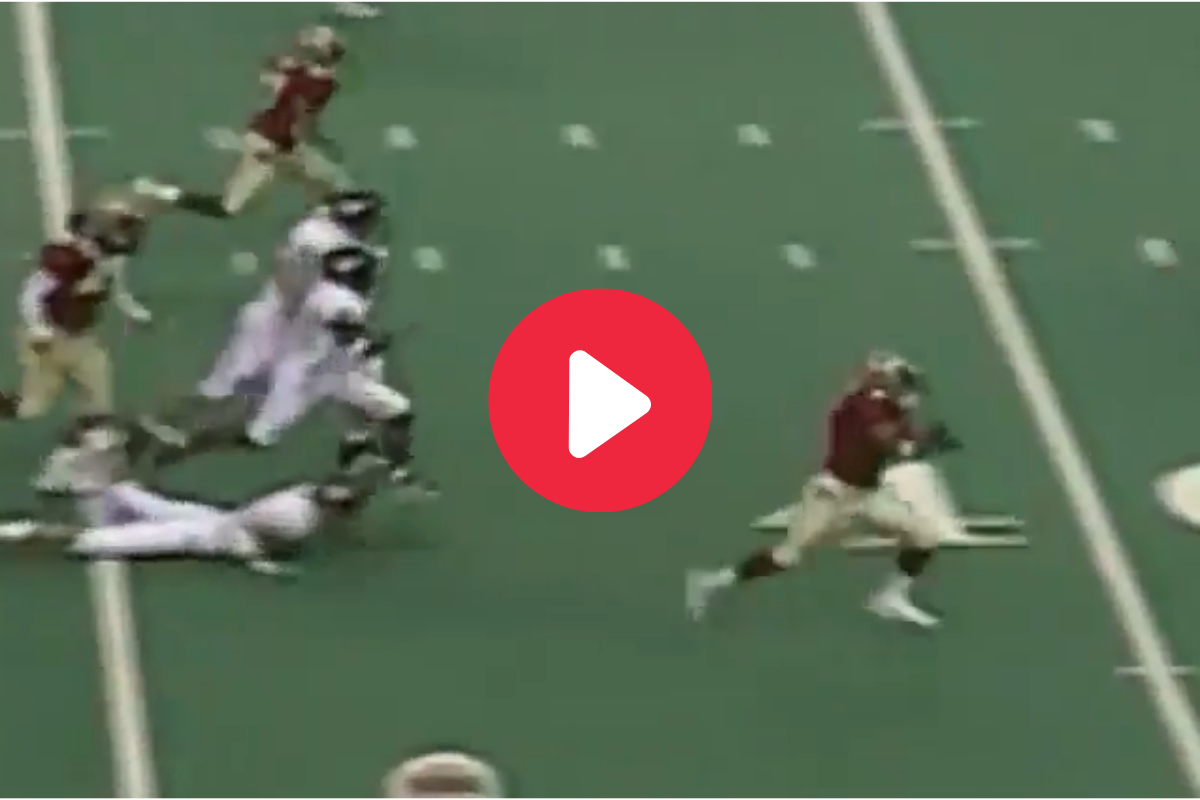 Screenshot from YouTube
The Florida State Seminoles marched into the 2000 Sugar Bowl with a chip on their shoulder.
FSU ended the previous season with a loss to Tennessee in the national championship. They were hungry for redemption, especially wide receiver Peter Warrick.
Warrick, a consensus All-American, could've left school after the loss to the Vols and heard his name called near the top of the NFL Draft.
Instead, he chose to return for his senior season to take care of unfinished business. And so he did, with an electrifying performance on college football's biggest stage.
Peter Warrick's National Championship Game Punt Return

RELATED: Peter Warrick Dominated at Florida State, But Where is He Now?
Warrick entered the BCS National Championship Game against Frank Beamer's Virginia Tech Hokies with two goals: win the title and cement himself as one of the best players in the country.
The wideout burst out of the gates by hauling in a 64-yard bomb from quarterback Chris Weinke in the first quarter.
Head coach Bobby Bowden's squad built up a 21-7 lead in the second quarter and forced the Virginia Tech offense?led by Michael Vick?to punt. Warrick was set to return.
The ball bounced high and the Bradenton, Florida native fielded it without a hitch. He found a seam towards the right sideline. Goodnight.
It's one of those moments where the best player on the field reminds you he's the best player on the field. As soon as he found that opening, it was over. He zoomed past helpless Hokie defenders all the way to the house.
The 59-yard punt return gave the 'Noles a 28-7 lead. Years later, it served as the inspiration for Tyreek Hill catching up to his own teammate and DK Metcalf moving to prevent a touchdown like there's no tomorrow.
Warrick's night wasn't over.
He found the end zone again on a spectacular 43-yard touchdown pass from Weinke late in the game to put the nail in the coffin.
The insurance was much needed after Virginia Tech took a 29-28 lead entering the fourth quarter.
Warrick finished the game with six catches for 163 yards and three touchdowns. He was named the the Sugar Bowl MVP.
More importantly, the ACC champs won 46-29 and secured the second national championship and first perfect season in program history.
?I?ve never been so focused before a game in my life,? the 5-foot-11 Warrick mused afterward. ?I was just going to go into this game to do what I?ve done all season ? go out and make plays.?
That's who Peter Warrick is on the football field: a dynamic playmaker and national champion.