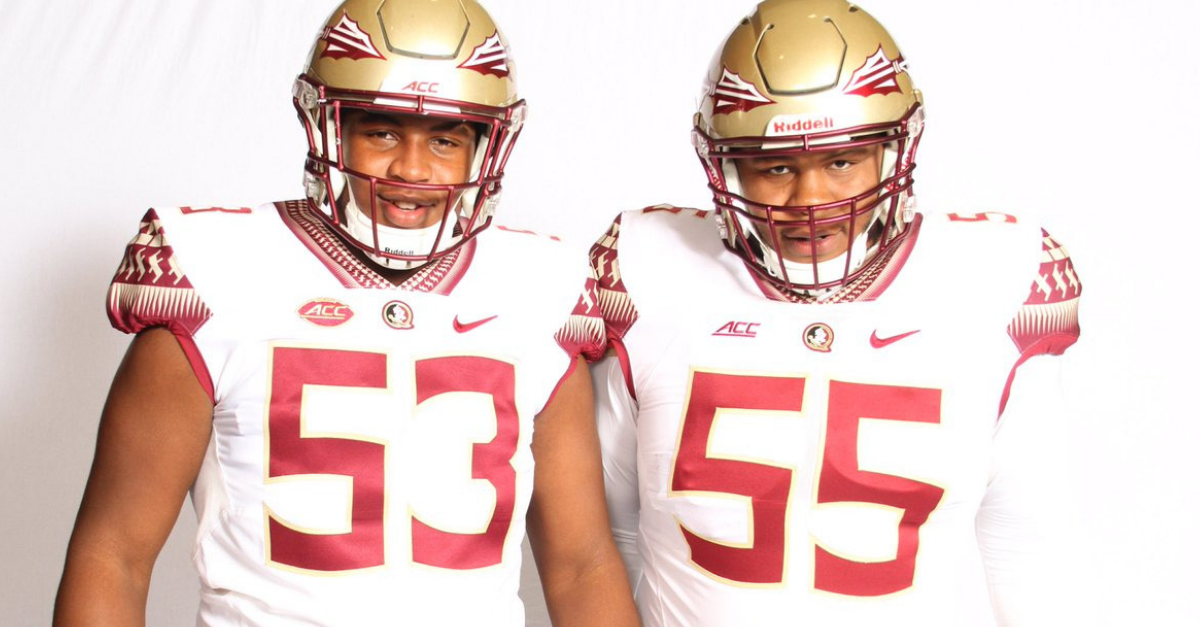 Twitter: @7totha8
The Early Signing Period certainly had its ups and downs for the Florida State Seminoles and head coach Willie Taggart this year, but there are now 14 new Seminoles signed to play in Tallahassee next season.
Florida State has put together an extremely strong 2019 recruiting class, which is currently ranked in the top 15 by both Rivals and 247Sports. However, there is a lot of recruiting left to do, including closing on current commits as well as picking up more.
RELATED: Manny Diaz Leaving Miami Will Absolutely Help FSU's Recruiting
There has been an obvious need along both lines. The offensive line needs help because it has struggled so much. The defensive line needs help because they will be losing their best player and need to add depth.
Of the 14 players signed on Wednesday, it is made up of four defensive lineman, three offensive lineman, three linebackers, three defensive backs and one receiver. There are also five commits who did not sign yet, but plan to sign the the 'Noles on National Signing Day in early February. Four of those players are defensive backs, including top recruit Akeem Dent, and also a defensive end.
The biggest loss of the day though was the flip of long-time commit Sam Howell, who flipped to North Carolina. That leaves Florida State without a quarterback in this class, but luckily there is plenty of time to chase a signal caller, whether it is a high schooler or grad-transfer.
But the important thing is to take the players they do get and turn them into stars. Each player will be important to the success of the team moving forward. Whether it is becoming a starter or serving the team in depth.
Each of these players has signed their letter of intent to play at FSU. This does not include the five players who haven't signed yet. Those five are Akeem Dent, Nick Cross, Brendan Gant, Travis Jay, and Quashon Fuller.
Dontae Lucas, Offensive Guard
High School: IMG Academy (FL)
247Sports Rating: 4 Stars, No. 6 OG
Jaleel McRae, Linebacker
High School: IMG Academy (FL)
247Sports Rating: 4 Stars, No. 12 OLB
Kalen DeLoach, Linebacker
High School: Savannah Islands (GA)
247Sports Rating: 4 Stars, No. 14 OLB
Curtis Fann, Defensive End
High School: Emanuel County Institute (GA)
247Sports Rating: 4 Stars, No. 20 SDE
Raymond Woodie III, Safety
High School: FSU University School (FL)
247Sports Rating: 4 Stars, No. 27 S
Maurice Goolsby, Wide Receiver
High School: Dunnellon (FL)
247Sports Rating: 3 Stars, No. 49 WR
Derrick McLendon, Defensive End
High School: Tucker (GA)
247Sports Rating: 3 Stars, No. 24 WDE
Renardo Green, Cornerback
High School: Wekiva (FL)
247Sports Rating: 3 Stars, No. 49 CB
Jarvis Brownlee, Cornerback
High School: Miami Carol City (FL)
247Sports Rating: 3 Stars, No. 54 CB
Tru Thompson, Defensive Tackle
High School: Grayson (GA)
247Sports Rating: 3 Stars, No. 43 DT
Kevon Glenn, Linebacker
High School: Dutchtown (GA)
247Sports Rating: 3 Stars, No. 37 ILB
Jay Williams, Offensive Tackle
High School: Grossmont College (CA)
247Sports Rating: 3 Stars, No. 9 OT
Maurice Smith, Offensive Guard
High School: Miami Central (FL)
247Sports Rating: 3 Stars, No. 55 OG
Malcolm Ray, Defensive Tackle
High School: Miami Carol City (FL)
247Sports Rating: 3 Stars, No. 69 DT