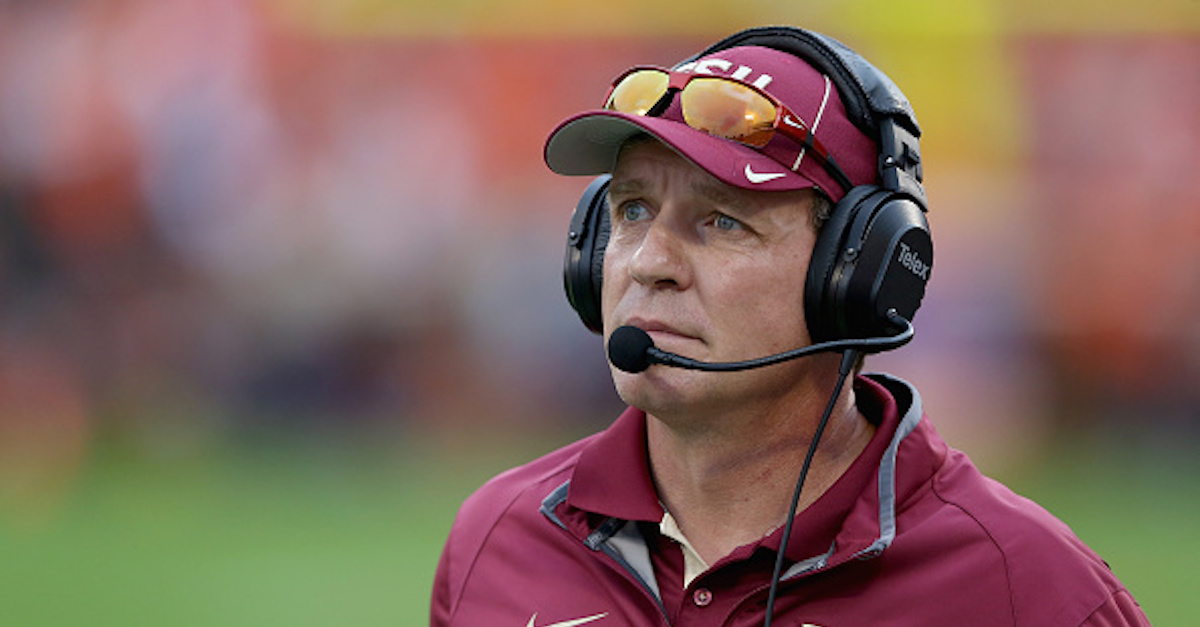 Streeter Lecka/Getty Images
CLEMSON, SC - NOVEMBER 07: Head coach Jimbo Fisher of the Florida State Seminoles watches on during their game against the Clemson Tigers at Memorial Stadium on November 7, 2015 in Clemson, South Carolina. (Photo by Streeter Lecka/Getty Images)
It has not been the best of seasons for the Florida State Seminoles, and things have gotten much much worse for Jimbo Fisher's team after an upset loss at the hands of unranked North Carolina State. It marks the first time since 1989 that the Seminoles have started a year 0-2.
FSU lost to N.C. State, 27-21, and the Seminoles didn't look good in the process. They rushed for just 104 yards as a team, went 4-of-14 on third downs and were tagged for 11 penalties for 93 yards. They lost a fumble, badly lost the time-of-possession battle (33:22 to 26:38) and allowed Wolfpack quarterback Ryan Finley to complete 22-of-32 passes for 230 yards and two touchdowns.
In his first start in place of injured starter Deondre Francois, who's out for the remainder of the season with a knee injury, freshman quarterback James Blackman wasn't terrible. He completed 22-of-38 passes for 278 yards and a touchdown, but his teammates couldn't do anything to pick him up. It probably didn't help that FSU lost star defender Jacob Pugh to a pretty bad targeting call, and speaking of losses on defense, senior starting linebacker Matthew Thomas had to leave the game with an injury.
It was the perfect storm of bad luck for the No. 12 Seminoles mixed with bad play, and due to their week two games against Louisiana Monroe being canceled and week three's clash with Miami being postponed because of Hurricane Irma, the Seminoles now fall to 0-2 on the season. It seems forever ago, but remember that FSU lost to No. 1 Alabama to start the season.
To show how great Florida State has been in recent memory, here's some stats to put things in perspective:
Sure, there's plenty of time for FSU to turn things around and make something of this season, but the big-picture story here is that Florida State's shot at the College Football Playoffs is basically gone after this loss.
With Clemson looking for another ACC title and the Big Ten, Big 12, Pac-12 and SEC all boasting multiple CFP contenders, two losses is probably going to be too much for Florida State to come back from — especially with one of those losses coming against a middle of the pack ACC squad.
This is not a lost season for FSU and not even close. With games against No. 14 Miami, No. 19 Louisville, No. 2 Clemson and No. 20 Florida remaining, the Seminoles can still make some major noise.
When push comes to shove, though, unless things get really crazy nationally, this probably isn't going to be another CFP year for Florida State.