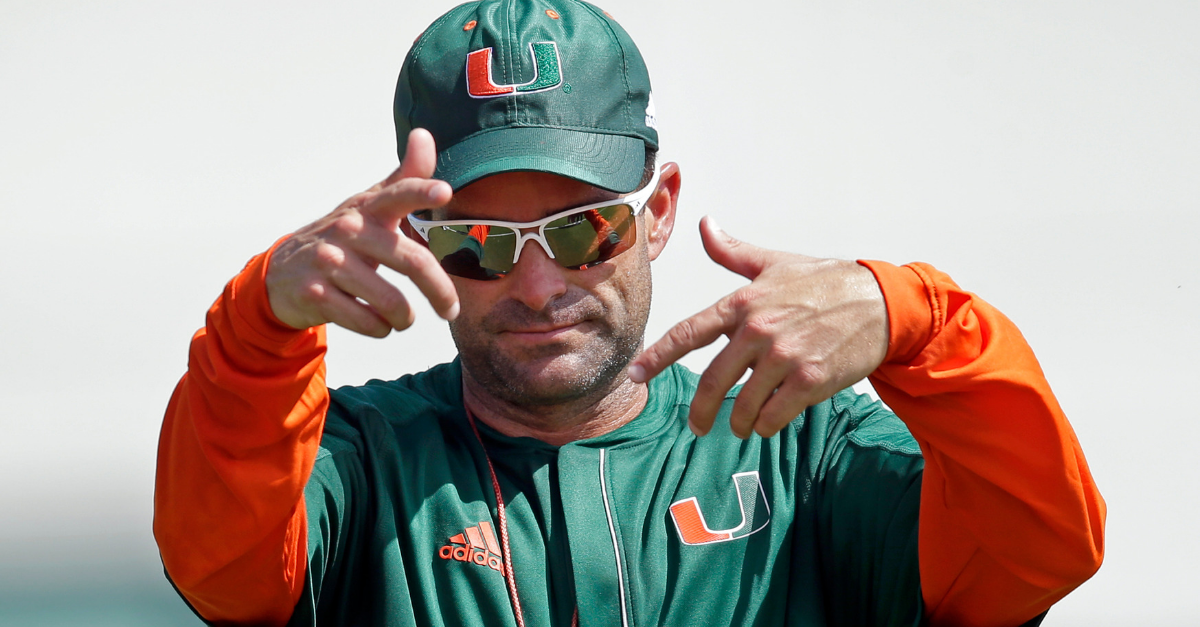 AP Photo/Alan Diaz
In less than two months since taking over for head coach Mark Richt with the Miami Hurricanes, Manny Diaz has pumped energy back into a program that seemed to be deflated over the past year. The ugly Pinstripe Bowl loss to Wisconsin feels so long ago in comparison.
But when it comes down to it, no matter how cool Diaz has been and what he's done off the field to resurrect the program, the only thing that truly matters are wins. All the badass, cool stuff he has done won't matter if the team doesn't perform on the field.
Never have I thought a coach embodied what the players are on the field since seeing Diaz's defense in Miami ? Last year, the Canes ranked fourth in total defense (278.9 YPG) in all of college football. However, leading a program is different than coaching one side of the ball, which Diaz has done as defensive coordinator at Miami, Mississippi State, Louisiana Tech, Texas and Middle Tennessee.
Just look at what the program became under Randy Shannon. Even in the first few months, Diaz is definitely taking a different approach than Shannon did when he took over the Miami football team after Larry Coker.
But with a move like crashing a Florida State coaching clinic, he is not only showing he wants the Hurricanes to be the bad guys of college football again and is showing future recruits what they could play for, but also made a key rival look ridiculous.
RELATED: Miami's Gaudy Turnover Chain Didn't Really Cost This Much, Right?
By pulling a stunt like that, it has to show South Florida kids that Coach Diaz is a bad dude and is the type of guy who will get the best out of each of his players. He's shown he is the type of coach who will want to shut out a team on defense while scoring as many points as possible, no matter the opponent.
Could there be some growing pains at The U under a new head coach? Of course, but this team has to be pissed off after the season they just had. The players and coaches will come out and be ready to go on August 31. I think he has put himself in a position to recruit with the best coaches in the country and bring in top talent. It will be what his coaching staff does with that talent that will make him successful or not.
In a few years, we should all look back on this as what led to the Miami Hurricanes winning their sev…sixth National Championship, not a fun few months that didn't lead to any real results that all ended with a few mediocre seasons full of frustrations. I know I am sick of seeing other schools win with South Florida talent while the Canes win seven or eight games with losses to less-talented teams.