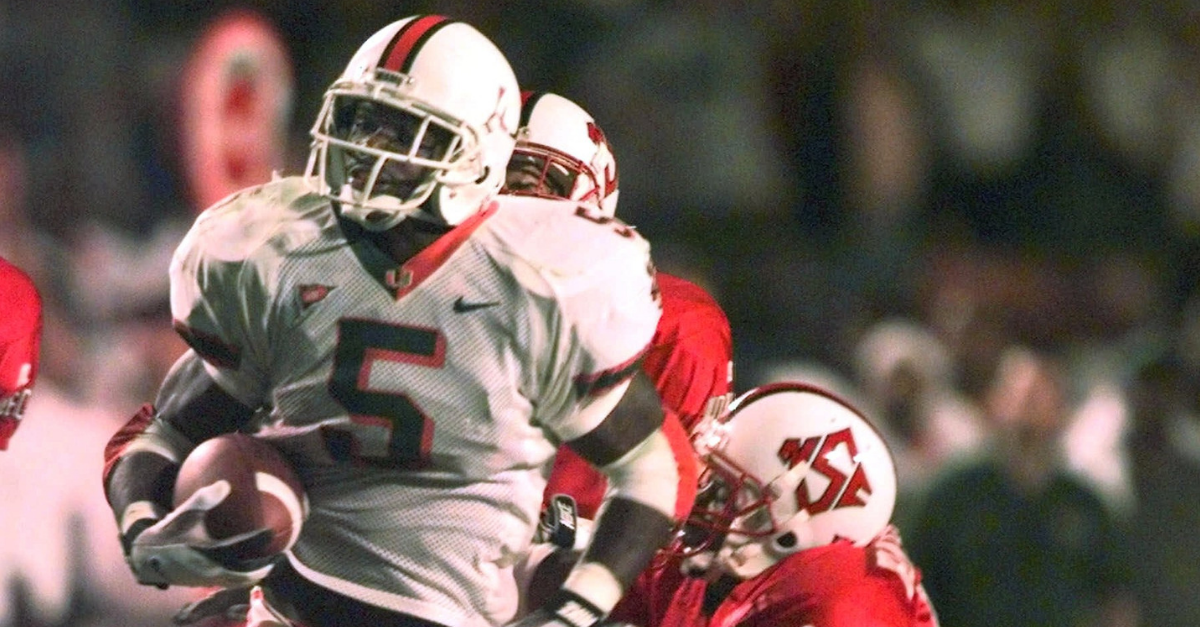 AP Photo/Marta Lavandier
Not only is it noteworthy to play running back for the Miami Hurricanes because of their history of great players at the position, but to be listed in the history book among those players is also truly impressive.
Dozens of former Hurricanes running backs have gone on to star in the NFL, but even more have been stars for Miami and had not just great games, but also great seasons and careers. But what have been the best single-game performances in school history?
RELATED: The 6 Best Super Bowl Performances By Former Miami Hurricanes Greats
Now, if you are even just a casual 'Canes fan, you should probably know what the all-time best performance by a Miami running back is. But what about the nine before that? Many of them have come in the last 20 years by pretty recognizable names.
T-9. Tyrone Moss, 2005
Opponent: North Carolina
Rushing Yards: 195
The standards for a 'Canes' running back could never have been higher after the group Miami had in the early 2000s, but Tyrone Moss lived up to those standards on numerous occasions. In 2005, he began the season with back-to-back 100 yard games against FSU and Clemson and was having a really good season. In the seventh game of the season, he put up his best statistical game against the North Carolina Tar Heels, carrying the ball 24 times for 195 yards and four touchdowns.
If not for an injury in the following game, it is extremely possibly Moss would have had one of the best statistical seasons for a Hurricane running back in school history. Instead, in eight games, he finished with 701 yards and 12 touchdowns with a 5.1 yards per carry average. Through the first seven games of the season, he was averaging 96 yards and 1.7 touchdowns per game, on pace for 1,157 yards and 20 touchdowns in 12 games. Those numbers would have been good enough for the seventh-best season for rushing yards and second in touchdowns. And that doesn't even take into account how his last season went in 2006, when he wasn't nearly as effective after returning from his injury.
T-9. Frank Gore, 2004
Opponent: Virginia
Rushing Yards: 195
The season before Moss rushed for 195 yards, Frank Gore did the same thing against the Virginia Cavaliers. On 28 carries, Gore picked up 195 yards and scored a touchdown to help Miami beat the 10th-ranked Cavaliers in their own stadium. This was definitely his best rushing total in his career as a Hurricane, but if not for injuries, there is no telling what he would have done in his college career.
His pro career has shown what type of back he can be and has been quite the opposite of his collegiate one with his health and consistency being his biggest strengths.
8. Jason Geathers, 2002
Opponent: Florida A&M
Rushing Yards: 199
During the best season a Miami Hurricanes running back has ever had, it is pretty amazing that the first game was headlined by someone other than Willis McGahee carrying the ball. McGahee may have been the one who went on to be a Heisman Trophy finalist and break school records, but it was Jason Geathers who opened the 2002 season with a 199-yard, two-touchdown performance. On his 22 carries, Geathers had the fourth-highest rushing yards in a game in school history at the time.
Geathers made plays throughout the season and even had 15 touches for 109 yards and two touchdowns in the next game against Florida, but that is also the game when McGahee took over as the lead back. This was not just the highlight of his season, but his career as well. This accounted for exactly half of his rushing yards for the 2002 season and almost a third of his career rushing yards.
T-6. Willis McGahee, 2002
Opponent: Florida
Rushing Yards: 204
A week after Geathers impressed in the season opener, McGahee showed his talent by rushing for 204 yards on 24 carries against the hated Florida Gators. In 13 games, McGahee rushed for over 100 yards 10 times, and this was the first. His 2002 season is the best year for a running back in school history — rushing for 1,753 yards and 28 touchdowns. He finished fourth in Heisman voting but ended the season with a devastating knee injury in the National Championship game. As great of a game as 204 yards is against a rival, it shows how great of a season he had since it isn't even close to the best game he had.
T-6. Mark Walton, 2017
Opponent: Toledo
Rushing Yards: 204
It is pretty crazy to say a game where he rushed for 204 yards is a little bit of a disappointment, but that easily could have been a record-setting game for Mark Walton. In the second game of the 2017 season, Walton rushed for 204 yards and a touchdown on 11 carries. ELEVEN! When he touched the ball, he was gashing the defense. But he had a huge gap of the game where he didn't play because of an injury, one that would eventually lead to him missing most of the season.
If he plays this whole game an carries the ball 20 times, it is possible he could have gone for 300 yards with how easily he was picking up chunk plays. It is also possible if he stays healthy throughout the season, that he rushed for well over 1,000 yards for his second-consecutive season. Walton finished his career at 10th overall in school history with 2,006 yards and also has the seventh-best season for a back in school history with 1,117 yards during the 2016 season.
5. Willis McGahee, 2002
Opponent: Virginia Tech
Rushing Yards: 205
Even though this is just fifth as far as yards in a game, this is probably the second-best game in school history for a running back. In the last game of the regular season for Miami and a second consecutive trip to the National Championship game on the line against the 18th-ranked Virginia Tech Hokies, McGahee put the team on his back. He carried the ball 39 times for 205 yards and six, yes six, touchdowns.
T-3. Duke Johnson,2014
Opponent: Virginia Tech
Rushing Yards: 249
During the second-best rushing season for a Hurricanes back, Duke Johnson gashed the Virginia Tech Hokies for 249 yards and a touchdown on 29 carries as well as two catches for 37 yards and a touchdown. The Duke carried the team for a huge stretch of the 2014 season, averaging 162 yards during a six-game run. This was the highlight of his great junior season when he finished the year with 1,652 yards and 10 touchdowns on the ground and 421 yards and three touchdowns on 38 receptions. This great season pushed him into first place on the all-time rushing list in school history.
T-3. Lorenzo Roan, 1980
Opponent: East Carolina
Rushing Yards: 249
Smokey Roan was the first Hurricane to rush for over 200 yards in a game, and he held that title for almost two decades. He carried the ball 33 times in a 23-10 win against the East Carolina Pirates.
2. Edgerrin James, 1997
Opponent: Boston College
Rushing Yards: 271
Although it was a really tough season for the team due to sanctions, Edgerrin James burst onto the scene with the second-best season in program history at that time as just a sophomore. His best game came against the Boston College Eagles when the Hurricanes won 45-44 to give them just a 2-4 record. To have a back rush for a school-record 271 yards but just barely beat a team that finished with a 4-7 record shows the tole that sanctions had on the school.
James finished with 271 yards and three touchdowns on 33 carries. Though that set a school and conference record, it wouldn't hold for long.
1. Edgerrin James, 1998
Opponent: UCLA
Rushing Yards: 299
There is no doubt this is the best rushing performance in school history, in any way. Entering the final week of the season after being killed by Syracuse, Miami was facing the third-ranked UCLA Bruins, who had won 20 in-a-row and were only a win away from playing for the national championship. But there was only one problem: Edgerrin James was wearing orange and green. As not only one of the best players to suit up for the Hurricanes, but also one of the best running backs in the NFL, there was nothing the Bruins could do to stop Edge. He carried the ball 39 times for 299 yards with three touchdowns.
This game helped James break the single-season rushing record held by Otis Anderson, but with 299 yards, he ended up breaking it by 150 yards. After watching this game and really any other game he played, it's no wonder the Colts drafted him with the fourth-overall selection in the 1999 NFL Draft.