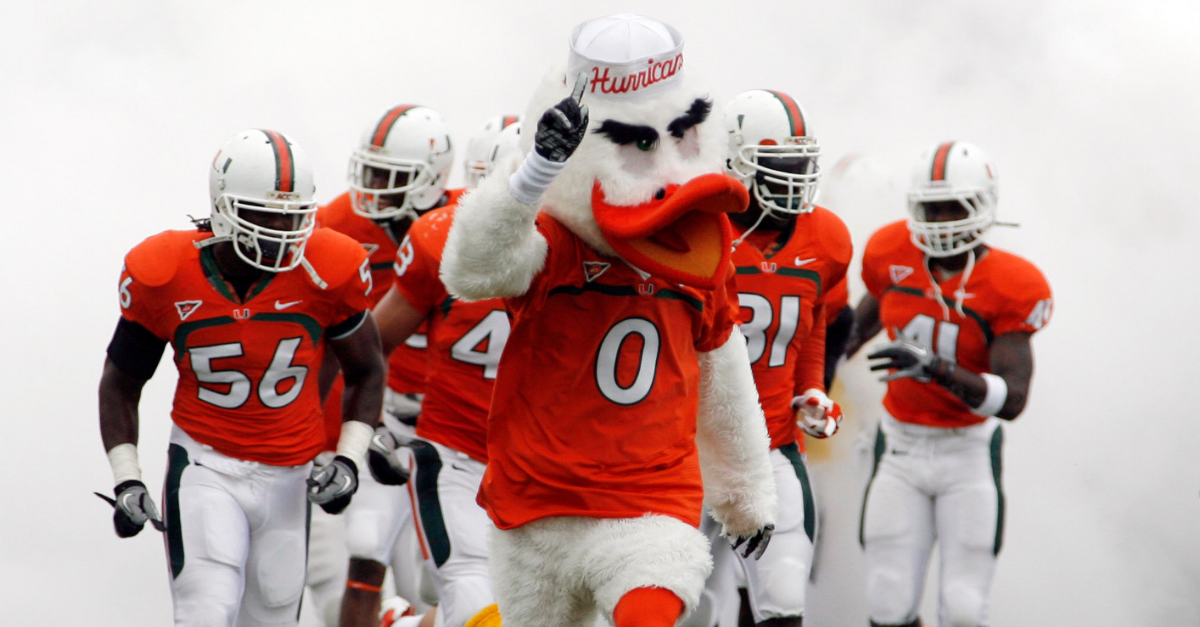 AP Photo/Jeffrey M. Boan, FIle
Every year, there is no shortage of reported violations of NCAA rules in college football, and there are constantly investigations. But one of the weirdest is definitely the case of the University of Miami and former booster Nevin Shapiro.
Though much of what Shapiro claimed about the Hurricanes and their alleged violations was never proven, it was proved that the former Miami booster is untrustworthy, and, as a result, he's serving hard time for it. The biggest issue with the NCAA investigation is it was based on the word of a man imprisoned for 20 years after running a $900 million Ponzi scheme.
How Did Nevin Shapiro Make His Money?
In 2010, the Securities and Exchange Commission arrested Shapiro for taking money from investors of his business, Capitol Investments USA, and using it to live a more lavish lifestyle.
Capitol Investments USA sold "risk-free securities" and paid out interest from the grocery-diverting business that bought groceries in one area at a low price, and then sold them in a different area that had higher prices.
By basically stealing millions of dollars through securities fraud, he was able to not just buy a huge house, fancy cars, and a yacht, but Shapiro became a top booster for Miami Hurricanes athletics, donating money to both the football and basketball programs.
Investors were beginning to question Shapiro's business, but he was able to show them fake documents showing sales that never actually happened. He also used his own personal wealth as an example to investors that the business was doing well and to draw in more investors, but that wealth was just the money he was taking from other investors.
Shapiro was using his business as a front to take in money, but stopped using it for the business basically. From 2007 to 2009, there were no sales, and the three years prior to that, there were minimal sales.
The South Florida Business Journal explains Shapiro's lavish lifestyle:
"Shapiro?s lifestyle included a $5 million home in Miami Beach, luxury cars, a $1 million boat, expensive clothes, high-stakes gambling, season tickets to premium sporting events and other entertainment, the complaint states. Shapiro charged more than $640,000 of personal expenses to Capitol?s corporate American Express Centurion Card (commonly known as the black card), including $116,000 of charges a girlfriend incurred."
Nevin Shapiro's University of Miami Connection
All of this money allowed Shapiro to present himself as a wildly successful man in South Florida and get in close with the University of Miami and all people tied to the school, including the Miami football players and other student-athletes. But the athletes weren't really interested in being his friend like Shapiro wanted.
When Shapiro announced he would be releasing a book about the NCAA violations and impermissible benefits, a big part of why he was doing it was because "'Once the players turned pro, they turned their back on me. It made me feel like a used friend," he said in a Miami New Times interview.
He was doing all of this because he dreamed of running a sports agency built off players from the Hurricanes football program headed to the NFL. When players weren't showing the interest, even though he was giving them so much, he became angry and wanted to ruin it all.
In extensive interviews with Yahoo! Sports, Shapiro claimed that basically anything a school could do wrong was happening in Coral Gables. Everyone on sports-talk shows were calling for the death penalty and if even half of what Shapiro claimed were true, it was definitely on the table.
RELATED: The 2001 Miami Hurricanes Would Beat Any Team, Any Time
After NCAA investigators not only couldn't prove most of what Shapiro had said, but paid investigators from the Ponzi scheme to interview witnesses from Miami, it only led to minor NCAA sanctions like the loss of only nine football scholarships over three seasons, and three total basketball scholarship in three years. Also, UM was placed on three years' probation, began a self-imposed postseason ban, and a few suspensions of players and coaches.
Former UM head football coach Al Golden led the football team through the investigation. (I will give him credit for that, though I refuse to give him much credit for anything else.) Former Miami basketball coach Frank Haith, who became head basketball coach for the Missouri Tigers, was suspended because of his close ties to Shapiro.
Former players like Vince Wilfork, Devin Hester, Kellen Winslow Jr. and Jacory Harris were tied to Shapiro and also local celebrity Luther Campbell due to photos taken in a night club.