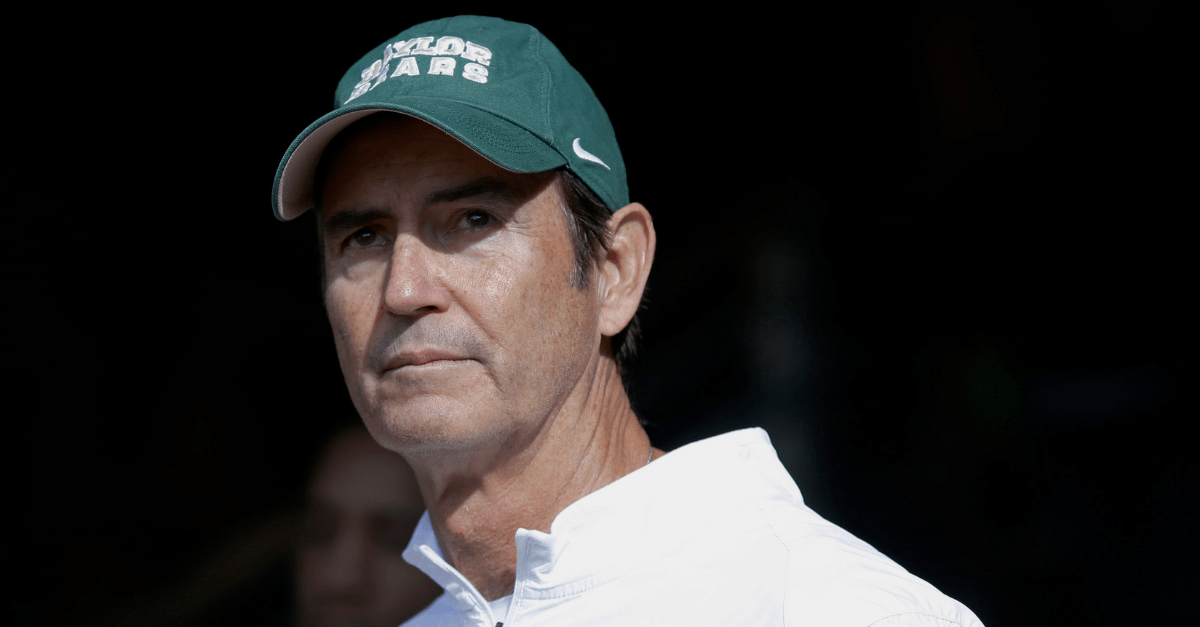 AP Photo/LM Otero, File
AP Photo/LM Otero, File
Back in 2016, former Baylor head coach Art Briles was fired by the university after eight seasons. A massive scandal involved the deliberate non-action by Briles and his staff when multiple women alleged that they were abused and sexually assaulted by members of the Baylor Bears football team. A 2017 lawsuit claimed that at least 31 football players committed at least 52 rapes between 2011 and 2014.
Apparently, even being directly connected to a massive cover-up of abuse against women isn't enough to keep him out of a job. Guelfi Firenze, an Italian professional football team, hired Briles to be their head coach back in August 2018. Now according to the Biloxi Sun Herald, the 63-year-old will be interviewed for the vacant offensive coordinator position at the University of Southern Mississippi.
While coaching American football in Italy sounds appealing, Briles would likely accept a job in college football rather than go overseas. The two-time Big 12 Champion at Baylor was hired by the Hamilton Tiger-Cats of the Canadian Football League as an assistant head coach in 2017, but fierce criticism led to the team not bringing him aboard.
The position at Southern Miss opened in January after Shannon Dawson accepted the offensive assistant coach position at the University of Houston. If Briles does get a job in college football again, the storm of negativity that descends on that program would be incredible for what transpired at Baylor.
RELATED: Kendal Briles Hired as Offensive Coordinator at Florida State
After his firing, Briles reached a settlement with Baylor after threatening to sue them for wrongful termination. He says he was never shown evidence to support why the university fired him. Resignations from Baylor University President Ken Starr, Athletic Director Ian McCaw and Title IX Coordinator Patty Crawford all followed the scandal that resulted in multiple convictions of former Baylor football players.
Tevin Elliott was sentenced to 20 years in prison and fined $10,000 for two assaults against Baylor students, although testimony during trial alleged he assaulted five different people. Sam Ukwuachu was sentenced to 180 days in jail, 10 years of felony probation and 400 hours of community service for sexually assaulting a Baylor soccer player. Former NFL prospect Shawn Oakman was arrested in April 2016 for allegedly raping a female student. His trial is scheduled for Feb. 26, 2019.
According to the lawsuit filed by Colorado lawyer John Clune, the Baylor football program used a "'Show 'Em a Good Time' policy" where current players offered alcohol and drugs to high school recruits and introduced them to female students who were expected to perform "sexual acts with the recruits to help secure the recruits? commitment to Baylor." Another female student said that after she was raped and reached out to Briles' office directly about the incident, but the head coach did not return any phone calls to her father, nor did his office investigate the alleged incident further.
It's an absolute disgrace that we're living in a time where any form of sexual violence and abuse can be glanced over in favor of a job coaching football. This isn't about a few players doing bad things on their own. Art Briles knew and allowed their student-athletes to act like they did, operate without any ramifications for their actions, then acted like he didn't understand why he was fired in the first place.
There are plenty other things Art Briles can be doing with the rest of his life. Being a football coach should not be one of them.