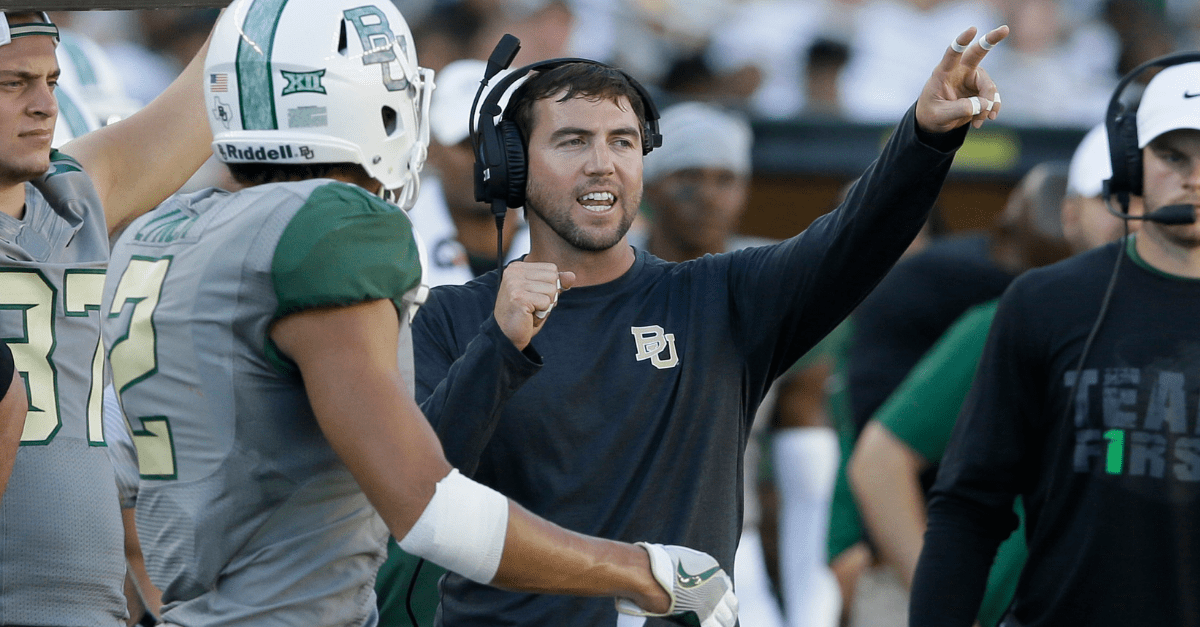 AP Photo/LM Otero
AP Photo/LM Otero
Head coach Willie Taggart and the Florida State Seminoles announced they have hired Kendal Briles as offensive coordinator who will take over the play calling duties next season
Briles is leaving the Houston Cougars program after having a great season and coaching one of the best offenses in all of college football. They ranked sixth in FBS in yards per game with 528.6, almost 170 yards more per game than the Seminoles averaged this season.
Offenses that have been run by Briles aren't one dimensional, and they have actually been pretty well balanced. The Cougars sixth-ranked offense averaged 295.5 passing yards (16th nationally) as well as 217.1 rushing yards (23rd nationally). Most importantly, they didn't just rack up empty yardage. They were sixth in scoring by averaging 43.9 points per game.
This season wasn't just due to some good offensive players. Briles has done this at three different schools now. During the 2017 season with Florida Atlantic Owls, he was the offensive coordinator of a team that was eighth in points per game and ninth in yards per game. Head coach Lane Kiffin gave Briles complete control over the entire offense with FAU.
During the 2015 and 2016 seasons, he called the offense for the Baylor Bears. His first season in 2015, they were the top unit in the country at 48.1 points per game and 616 yards per game. They did slip a little the following season, but they still managed 34.6 points per game (35th nationally) and 523 yards per game (sixth nationally).
RELATED: The 15 Highest-Ranked Florida State Recruits Since 2000
The Seminoles definitely need help with their offense since they haven't even cracked the top 100 nationally for yards per game over the last two seasons. There are obviously things that need to be fixed, not just the coaching, but bring an offensive mind like Briles to Tallahassee is a great start.
Briles is also bringing his run game coordinator/offensive line coach Randy Clements. The biggest issue over the last few seasons for the 'Noles has been along the offensive line, and hopefully this tandem of assistant coaches can make some big leaps in fixing that issue.
Still, not everything about this hire is postive. Briles has a past off the field that many Florida State supporters are not excited about. Briles was connected to the Baylor sexual assault scandal that led to the firing of his father, former Baylor head coach Art Briles.
He played a roll in the sexual assault and rape cases that took place at Baylor from 2011-2014. Over 50 instances of rape allegedly took place over the time period by 31 football players. The scandal is what the Briles family will be remembered for at Baylor with it coming to such a terrible end after years of offensive success on the field.
By hiring Kendal Briles, FSU is looking to completely overhaul their offense in the ACC, and if this new offensive coordinator's reputation is any indication, the Florida State football program should light up the scoreboard in 2019.