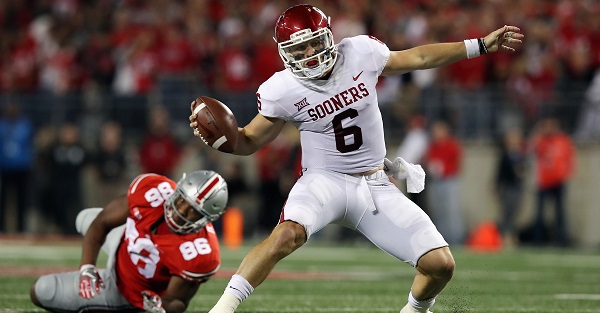 Gregory Shamus/Getty Images
COLUMBUS, OH - SEPTEMBER 09: Baker Mayfield #6 of the Oklahoma Sooners runs with the ball during the first half as Dre'Mont Jones #86 of the Ohio State Buckeyes looks on at Ohio Stadium on September 9, 2017 in Columbus, Ohio. (Photo by Gregory Shamus/Getty Images)
Baker Mayfield's performance in leading Oklahoma over Ohio State in Columbus was one that won't soon be forgotten. In addition to his on-field play, Mayfield's decision to plant a flag at midfield (and later apologize for it) certainly did quite a bit to raise the profile of his actions and, now, we know even more about what transpired during the game to perhaps motivate the talented quarterback.
As part of the "Freddie and Fitz" show on ESPN, Ian Fitzsimmons indicated that Mayfield got into it with some Ohio State fans early in the game and essentially called his shot when it came to what he would do later in the game.
"There were a group of Buckeye fans that were beyond over-served," Fitzsimmons said, adding, "these guys are just wearing [Mayfield] out."

He continued: "[Mayfield] turns around and goes 'Get ready, I'm about to hang six on you bleeping bleepers.' He goes, leads them right down the field. Score's tied at 10 and he goes right to the bench, stands up on the bench, and just lets the Buckeyes fans behind him that were giving to Baker, he turns at them and says, 'You like that one? I got three or four more that's coming up. Get ready.'"
A story like this only adds to the growing legend of Baker Mayfield and it is always impressive when a player can back up what he says. It probably isn't ideal to have a college player engaging with belligerent and combative fans mid-game but, when you play like this between the white lines, it is easier to justify.