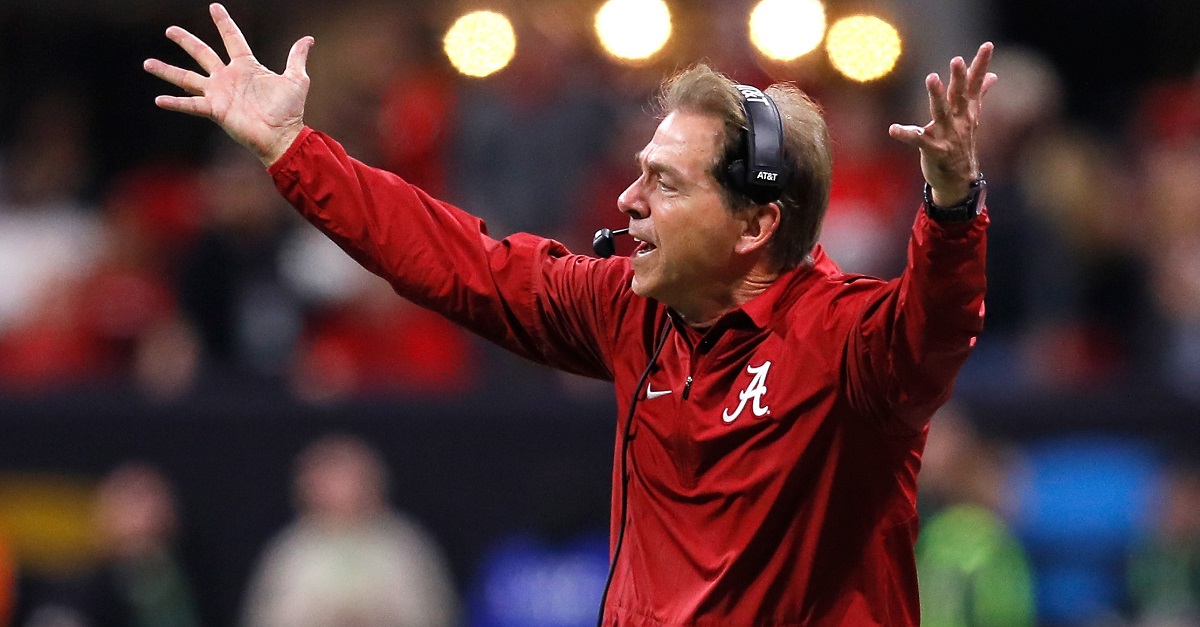 Kevin C. Cox/Getty Images
ATLANTA, GA - JANUARY 08: Head coach Nick Saban of the Alabama Crimson Tide reacts to a play during the second half against the Georgia Bulldogs in the CFP National Championship presented by AT&T at Mercedes-Benz Stadium on January 8, 2018 in Atlanta, Georgia. (Photo by Kevin C. Cox/Getty Images)
If you weren't a fan of the old BCS computer rankings… this might give you more ammunition against it.
The college football season ended on Monday night, with Alabama claiming their fifth national championship in the last decade. Despite Alabama picking up another win against a great Georgia team, the Crimson Tide still failed to finish No. 1 in one of the old BCS poll rankings. The Colley Matrix, which was one of the six computer formulas used in the BCS, instead ended the season with undefeated UCF as the No. 1 team.
The Colley Matrix can be viewed here. It's top five is UCF, Alabama, Wisconsin, Georgia, and Ohio State.
The rankings rewarded UCF for being the only undefeated team in the country, and some of UCF's wins rank out better in the Colley Matrix than they do in other systems. The rankings give Memphis a very good ranking at 19, and UCF beat Memphis twice this season — once in the regular season and once in the AAC title game. Combine that with the Peach Bowl win over Auburn, and UCF has a respectable three wins over Top 20 teams in this set of rankings.
While their SOS still grades out lower overall, the wins against quality competition compares favorably enough to most of the other top teams to give UCF the No. 1 spot here.
While the Colley Matrix isn't exactly the top method used it college football, it is another feather in the cap of UCF fans who want the school to claim this year's national championship. Of course, the school already had a parade held in honor of the season, and will have a banner raised in honor of the "national championship" season.