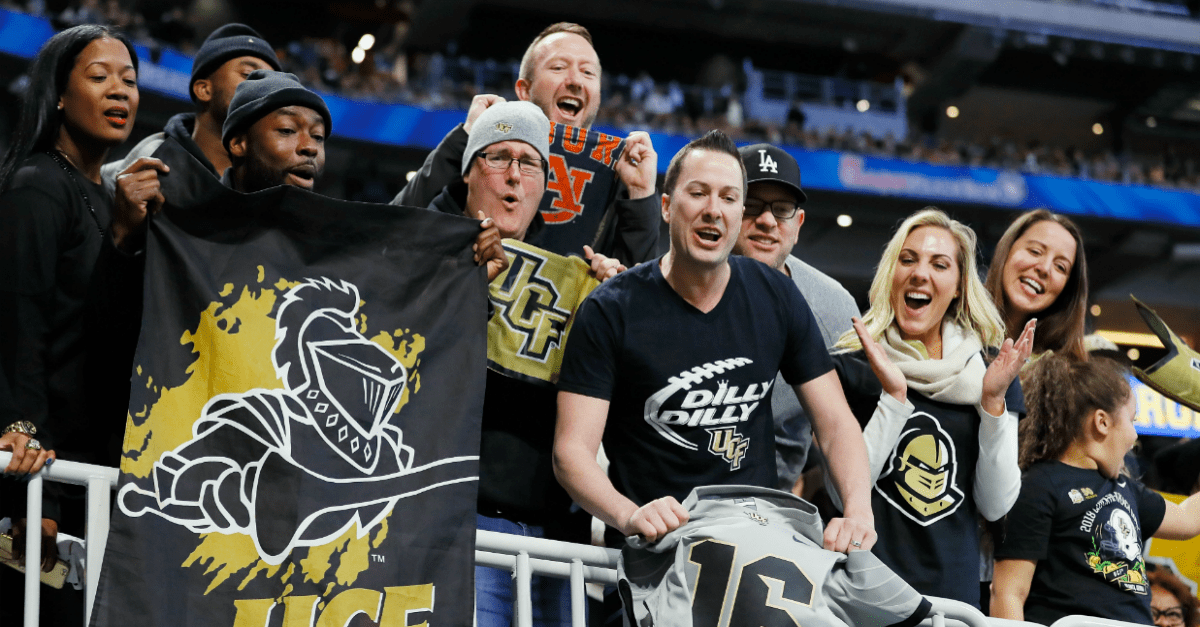 Kevin C. Cox/Getty Images
ATLANTA, GA - JANUARY 01: Fans cheer during the Chick-fil-A Peach Bowl between the Auburn Tigers and the UCF Knights at Mercedes-Benz Stadium on January 1, 2018 in Atlanta, Georgia. (Photo by Kevin C. Cox/Getty Images)
Following a perfect season, whether people plan to recognize it or not, the UCF Knights will hang a banner to celebrate a national title.
Yes. You, kind sir or madam, read that correctly.
UCF athletic director Danny White, who has already announced that a parade is in the works, says the school will hang a national champions banner to celebrate the 13-0 season.
This actually keeps with the way White has handled everything since UCF finished the season undefeated.
Following his team's convincing, 34-27, win over Auburn in the Peach Bowl, White proclaimed the Knights as "national champs" and followed that up with "undefeated" in a video posted to UCF Athletics' official Twitter account.
While all of this is happening, College Football Playoff head-honcho Bill Hancock has already gone on the record to defend keeping the Knights out of the playoff.
"The selection committee respected UCF," College Football Playoff executive Bill Hancock told ESPN on Tuesday. "After all, they're the group that put the Knights in the Peach Bowl. To qualify for the playoff, teams need to play tough schedules against good teams – that is the way for all teams to stand out and be ranked high by the committee. UCF is an excellent team, but you still have to take into account who each team played and defeated during the regular season."
There have been numerous times in the sport's history that multiple "national champions" have been recognized. Schools have even gone back as much as 70 years to claim national titles in the past. As long as college football has teams that go undefeated and don't play in a title game, this is going to happen and it looks like UCF has become the latest one to do it.