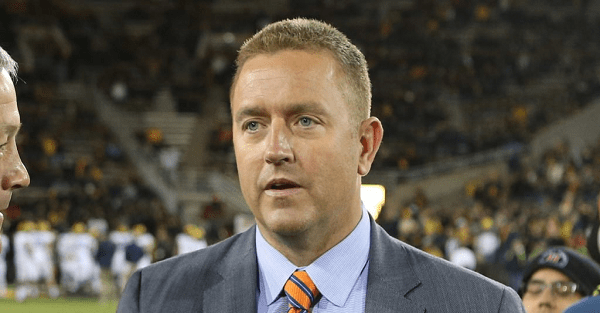 @SportsRadio_740/Twitter
@SportsRadio_740/Twitter
ESPN analyst Kirk Herbstreit took to Twitter on Monday afternoon to praise Oklahoma Sooners head coach Lincoln Riley for the way he handled himself and his team during the recent controversy surrounding quarterback Baker Mayfield.
Riley announced earlier on Monday that Mayfield will not start the Sooners' game on Saturday against West Virginia after making an obscene gesture and yelling profanities at the Kansas football team this past Saturday. Riley announced that Mayfield will play during the game, but will not start and will not be a team captain for the team's regular-season finale.
Mayfield reacted negatively toward Kansas during the Sooners' 41-3 win on Saturday after Kansas opted against shaking Mayfield's hand during the pre-game coin toss. He apologized for his actions after the game and said what he did was "unacceptable" and "disrespectful."
Herbstreit praised Riley for the way he handled the press conference and the poise and leadership he showed during his decision.
"I feel like this decision was difficult for a lot of reasons," Riley said. "I told somebody earlier today that I got into this profession and chose to make it my profession for two reasons: I love football and I love to coach it. I love the game, the competitiveness and all of that and I also love the chance to work with young people and to help shape them.

"I think it's important for everybody here and across the country to keep in perspective — and we all lose it, I do too even though I work with him every single day — that not just Baker, but all of these players across the country are still young men. They're not adults yet; they're still learning. They're still in that phase where you're going to make mistakes and the important thing is that you learn from them and grow from them.

"I think what we're setting forward here is going to provide Baker an opportunity to do that. I know it's something that certainly is going to get his attention. I think he will handle the right way like he has just about everything here in his career."
During part of his press conference, Riley became emotional after describing the type of person Mayfield is and the way he has handled himself throughout his career. Riley needed about 30 seconds to compose himself before saying that he is "proud as hell to be his coach."
Many have speculated since the incident on Saturday what kind of punishment Mayfield should face. Some have said that Mayfield should be sat down for an entire game, while others didn't agree the punishment should be for a whole game. Riley likely believed that by taking away the captaincy from Mayfield and not allowing him to start that a message will be sent to him and he'll understand the severity of his actions.