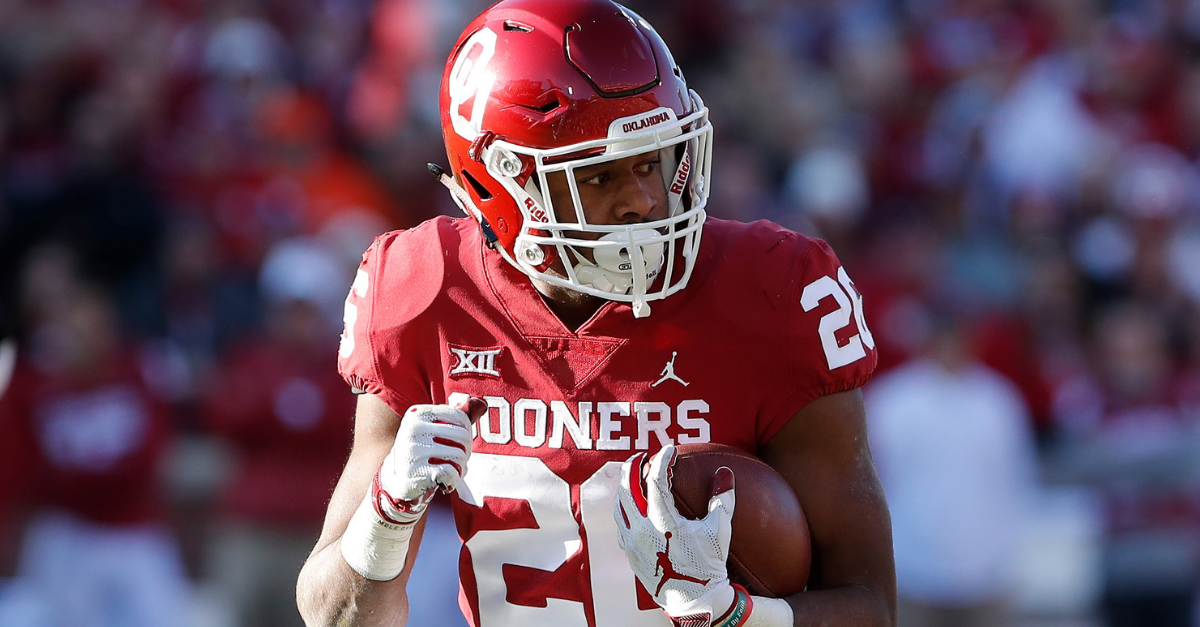 AP Photo/Alonzo Adams
Earlier this year, Oklahoma Sooners running back Kennedy Brooks was suspended and unable to participate in the football team's summer workouts while the university launched a Title IX investigation. Brooks, a preseason All-Big 12 selection heading into 2019, was accused of physical and mental abuse by University of Oklahoma student Mallory Jech over a period of about one year. The two were in a relationship and lived together during that time.
After the investigation concluded, Brooks was reinstated to the Oklahoma football team prior to fall camp after the OU Title IX office cleared Brooks of any wrongdoing, as reported by The Athletic. But in a new story published on social media by Mallory Jech, the truth behind the nature of their relationship has become even more disturbing.
Under Title IX, any claim of sexual harassment, discrimination, and assault must be reported at any university that receives federal funding. Title IX investigations include interviews with all involved parties, in which legal counsel may be present but not participate directly. It's important to know that Title IX investigations are not the same as a complaint filed with police, which can be recommended by Title IX officers, but must be handled separately.
After the investigation closed and absolved Brooks, Jech published a series of 11 tweets online detailing her account of the relationship that lasted from June 2018 to March 2019. Jech made her Twitter account private after publishing, but OU Insider obtained the tweets.
This is Jech's story:
"I dated Kennedy Brooks from June of 2018 until the end of March 2019-during that time I was used, cheated on, manipulated and abused both mentally AND physically. If I were doing this because I am angry I was cheated on, I would have done it back in June of 2018…

"… the first time he cheated, or I would have done it when I found out he slept with a high schooler. But here I am, months after the fact, finally telling my story because the last thing that needs to happen is for little boys to look up to him and view him as a role model.

"I went to Title IX in May, right before the end of finals, and finally told my entire story to someone. I had called a few months before because pieces of the abuse had been reported-Kennedy was angry and I was terrified of what would happen when he came home (we lived together).

"On the phone with Title IX, I explained to them nothing happened and that I did not want him to get in trouble. I protected the person who put fear in my eyes every time we argued-for the sake of his career? Yes. But most importantly, I thought I was protecting myself from him.

"Months later, in May, I was finally ready. We had not been together for over a month at this point. Kennedy showed up to my apartment one evening after I had repeatedly told him not to come, I was not home-He told me he would let himself in my apartment. I sped home.

"I was on the phone with my mom when he came around the corner of my apartment building. He was obviously angry, yelling and screaming, and was demanding he get the little bit of his things-when I told him they were in my car and that I was about to take them to his apartment…

"… I watched him let himself into my apartment with a key that I was under the impression I already had. He had a duplicate. I called Title IX the next morning and asked if I could go in and talk to them. And from there, I was under the impression that someone would help me.

"I felt guilty for opening my mouth. I felt guilty for telling someone all of the times he put his hands on me. I felt guilty for telling someone who Kennedy Brooks really is. I felt guilty for finally telling my story. I felt guilty for doing the right thing. I was still attached

"Now, months after that first Title IX visit, they have decided to not punish Kennedy Brooks. Regardless of the messages I have where he told me to call Title IX, that he doesn't care what happens.

"Regardless of my best friend who still lived with me during some of the abuse, who also talked to Title IX and told them what she witnessed. Regardless of the pictures of bruises and text messages between us where he says "I should not have to put my hands on you to move".

"Title IX does nothing for the victim. They make you believe they are doing their best to help you-their "best" is changing his Fall schedule so I don't have to sit in 3 classes with the person who has permanently affected the way I continue to live my life.

"Thats (sic) the best they could do. Kennedy Brooks is being protected by the University of Oklahoma (@uofoklahoma) because he plays football. I was physically abused by that "man", I was left on the side of the rode (sic) in both Norman and Texas by that "man" but who cares about the victim.

"The University of Oklahoma does not value their students. OU only cares about their money. And God forbid something happen to one of their athletes who bring in millions of dollars every Saturday.

"I grew up with Crimson and Cream instilled in my blood. It was never a question where I would go to college, but the University and football program that I grew up loving, has done nothing but disappoint me and devalue my importance.

"I will not let the University of Oklahoma silence me. I will not let Kennedy Brooks silence me. I'm not doing this for attention or for anyone to feel sorry for me. I'm doing this for every girl who is too scared to speak up against their abuser. I will tell anyone my story."
RELATED: Kansas RB Receives 1-Game Suspension After Domestic Violence Arrest
In response to these accusations of neglect by the school, including a cover-up to save the OU football team's star running back, as well as multiple instances of abuse by Kennedy Brooks, the University of Oklahoma released a statement that read, in part:
"Our responsibility under Title IX in a university setting is to ensure a safe learning environment free of harassment and discrimination for our students, to provide requested accommodations, to determine violations of policy, and where the evidence shows threats to safety, to take steps to stop and prevent its recurrence."

? OU statement, via NBC Sports
Brooks was a USA Today Freshman All-American last season after rushing for 1,056 yards and 12 touchdowns. Entering the 2019 college football season, both he and junior Trey Sermon make up one of the most talented backfields in the country.
Head coach Lincoln Riley stood by the OU office's handling of the allegations, adding that his staff undergoes "round-the-year education" with the OU athletics department and is proactive in removing student-athletes from team activities while any Title IX complaint is being handled.
It's unclear if Jech's shocking account will have any impact on Brooks' 2019 season seeing as the Title IX offices already completed its investigation. But with how it sounds, it's not impossible to think a potential criminal complaint could be filed against Brooks in the future.