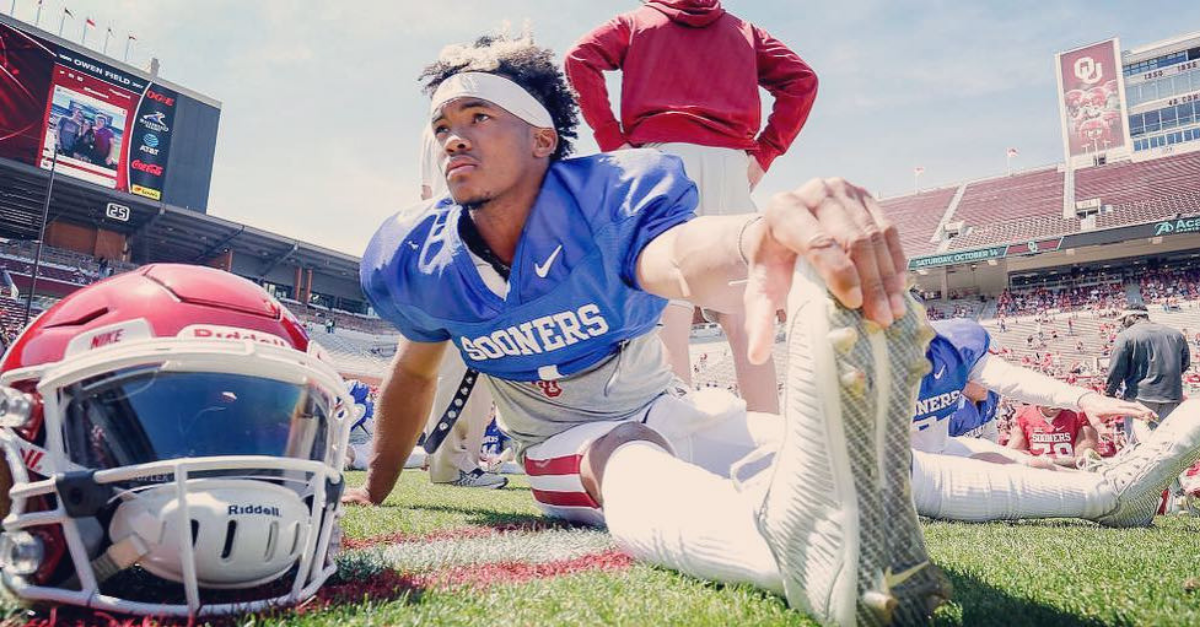 Ty Russell/Sooner Sports, Accessed via Instagram: kyler1murray
Ty Russell via Sooner Sports accessed via Instagram: kyler1murray
Prior to his Heisman Trophy, before becoming a first-round MLB Draft pick, and even earlier than watching Baker Mayfield torch everybody to win his own Heisman, former Oklahoma quarterback Kyler Murray was just another transfer student from Texas A&M University. Oh, and apparently he ran a lighting-fast 40-yard dash, too.
According to a report by the Oklahoman, Murray reportedly ran hand-timed 4.38-second 40-yard dash during spring practices back in 2017. What's even scarier is that the young quarterback wasn't 100 percent healthy when coaches timed him back then.
"I'm not running 100 percent out here at practice, but during games whenever I need to, I try to," Murray had said back in 2017.
A hamstring injury, which kept Murray in the dugout of the Oklahoma Sooners' baseball team for two weeks, wasn't quite fully-healed when coaches clocked him in the 40-yard dash that spring. The five-star recruit, who was a perfect 42-0 as the starting quarterback for Allen High School in Texas, was apparently even faster than JUCO transfer wide receiver Marquise Brown that year, and many consider Brown one of the fastest players in all of college football.
RELATED: Kyler Murray Picks Football Over Baseball: 'I Was Raised to Play QB'
Several NCAA records, a Big 12 Conference championship, appearance in the College Football Playoff, and one Heisman Trophy later, Murray announced that he'll pursue an NFL career full-time and give up baseball for good. The ninth-overall pick by the Oakland Athletics in the 2018 MLB Draft could become the first athlete selected in the first round of two professional American sports.
If Murray runs anything close to a 4.38 — which would be the fastest recorded at the NFL Scouting Combine by a QB since Texas A&M's Reggie McNeal ran a 4.35 in 2006 — he'll absolutely go in the first round of the 2019 NFL Draft.
Since 2006, only four quarterbacks — McNeal (4.35), Robert Griffin III (4.41), Marcus Vick (4.42) and Brad Smith (4.46) — have ran faster than 4.5 seconds at the NFL Combine, but only Griffin, the 2011 Heisman Trophy winner, found success in the NFL as the 2012 Offensive Rookie of the Year. Smith, who starred as a quarterback at Missouri, ultimately transitioned to become a return specialist and utility wide receiver in the NFL.
Speed is hardly the deciding factor when it comes to elite quarterback play in the NFL. Vision, arm talent, and mental fortitude far outweigh straight line athleticism in pro football. However, having a quarterback that's faster than everybody on the football field certainly opens some eyes. If Murray runs anything like this time in the combine, he's going to jettison himself into the conversation to become a top 10 draft pick in a hurry.