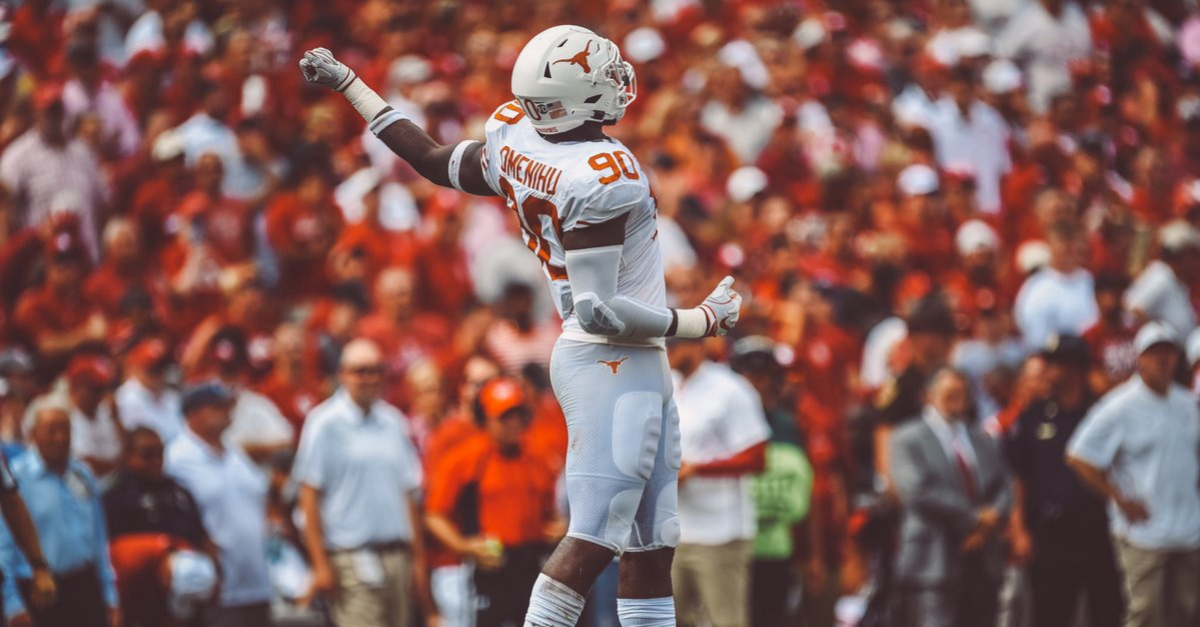 Twitter: @charles_94
Twitter: charles_94
Looking back on the 2018 season in the Big 12, a few major storylines come to mind. We learned entire football teams can earn a penalty, the Red River Rivalry is hotter than ever, and Oklahoma State head coach Mike Gundy is still the king of press conferences.
When the Big 12 Conference announced its selections for this year's all-conference teams, another interesting tidbit of information came about. If you want to play in this conference, you'd better start watching film of Texas high school football because you could build an entire team of Texas talent from this year's roster. All told, 26 of the 62 players selected hail from Texas.
The Texas-native selections are defensive heavy, which is strange considering defense is about as important to the Big 12 as common sense is to the NFL, but this is a testament to how much of a pipeline the state is to the entire conference, as seven to the 10 schools have a Texas player on their roster selected to the first or second teams.
Here is the Texas-sized list of players who earned the conference's highest honor for the 2018 season:
Kyler Murray, QB, Oklahoma
Hometown: Allen, TX
Not only was Oklahoma Sooners quarterback Kyler Murray named the Big 12 Offensive Player of the Year, he's on track to potentially challenge Alabama quarterback Tua Tagovailoa for the Heisman Trophy. This is the fourth-straight season a Sooner has won this award, adding to the legacy started by wide receiver Dede Westbrook (2016) and Baker Mayfield (2015, 2017) for co-Big 12 Coach of the Year Lincoln Riley.
Not only is Murray tied with West Virginia quarterback Will Grier for the conference lead with 37 passing touchdowns heading into the Big 12 Championship game, but he's also tied for second in the Big 12 with 11 rushing touchdowns and is seventh in the conference with 853 rushing yards. The kid from Allen, Texas is electric, must-see TV who should finish the year with the most passing yards, touchdowns, and will likely lead the conference as the only QB completing more than 70 percent of his passes.
Tylan Wallace, WR, Oklahoma State
Hometown: Fort Worth, TX
Joining Oklahoma State running back Justice Hill on the first team is Fort Worth native and Tylan Wallace. Coming out of South Hills High School, Wallace is one of two sophomores to earn All-Big 12 First-Team honors, and he's going to be a big-play target once he becomes eligible for the NFL Draft.
The 6-foot, 185-pound wide receiver was second in the Big 12 in both catches (79) and receiving yards (1,408) during the regular season, and his 11 touchdown receptions ranked third in the conference. Expect to see Wallace earn another selection next season, as the Cowboys are always a huge passing threat in the high-flying Big 12.
Clayton Hatfield, K, Texas Tech
Hometown: Boerne, TX
Rounding out the first-team offense is Texas Tech kicker Clayton Hatfield. The senior out of Champion led the Big 12 in field goals made (17), field goal percentage (89.5), and he didn't miss one of his 55 extra point attempts the entire regular season.
A semifinalist for the Lou Groza Award as the nation's top kicker won't get the chance to show off his career 84.7 percent accuracy again, as the Red Raiders missed out on a bowl game this season. However, we may get to see him kicking on Sunday's with the way NFL kickers come and go.
Daniel Wise, DT, Kansas
Hometown: Lewisville, TX
One of the four players earning their second nod to the conference's first-team, Kansas defensive tackle Daniel Wise racked up 5.0 sacks and 12.5 tackles for a loss in his senior season for the Jayhawks. This 290-pound monster finishes his career having played 47 games for Kansas and racking up 18.5 sacks in the process. Wise projects as one of the first 10 defensive tackles to come off the board at the NFL Draft, which is impressive considering how talented next spring's draft class will be at his position.
Ben Banogu, DE, Texas Christian
Hometown: McKinney, TX
TCU defensive end Ben Banogu tied for second in the Big 12 with eight sacks this season while leading Gary Patterson's defense. It's his second-straight All-Big 12 selection after being voted the conference's Defensive Newcomer of the Year in 2017 — this season, Iowa State cornerback Greg Eisworth took home those honors.
During his senior season, Banogu grabbed 17 tackles for a loss and forced two fumbles. After transferring from Louisiana-Monroe, he's become an impressive edge rusher with NFL aspirations considering he was only dubbed a two-star recruit coming out of McKinney, Texas. He'll get a chance to make another splash in TCU's bowl game.
L.J. Collier, DT, Texas Christian
Hometown: Munday, TX
As Banogu's running mate, TCU defensive end L.J. Collier had his best season for the Horned Frogs as a senior, gobbling up five sacks, 9.5 tackles for a loss and bringing his career total to 41 games played at Texas Christian University.
The product from Munday High School is 294 pounds, has plenty of film for scouts to see his progression, and is likely to get a look by NFL teams interested in an explosive 3-4 defensive end with a ton of upside.
Charles Omenihu, DE, Texas
Hometown: Rowlett, TX
The Big 12 Defensive Lineman of the Year trailed only Oklahoma State's Jordan Brailford for the conference lead with 8.5 sacks. Plus, he racked up a career-high 14.5 tackles for a loss for the Longhorns. In 49 career games, Omenihu now has 16.0 sacks, and he should add to that total with the Big 12 title game and Texas' bowl game looming.
Omenihu's career definitely isn't finished when 2018 ends either, as his NFL Draft stock is rising, and he could very well be off the board in the first two or three rounds. At 6-foot-6 and 275 pounds, he's a rangy, versatile edge player who has the tools to play at the next level for a long time.
Dakota Allen, LB, Texas Tech
Hometown: Humble, TX
Just like his hometown of Humble implies, Texas Tech linebacker Dakota Allen was just that with the Red Raiders: humbled. After trouble off the field forced Allen to transfer out of the program to East Mississippi Community College for a season (and star on the Netflix show "Last Chance U"), Allen returned to Lubbock where would record 262 total tackles in three seasons with the Red Raiders, including 73 in just 11 games as a senior in 2018.
Allen's college football career went the hard way, but the member of the Big 12's All-Academic team took his lumps to become one of the most respected football players in Texas Tech football history.
Kris Boyd, CB, Texas
Hometown: Gilmer, TX
The Big 12's leader in passes defended (15) earned his first All-Conference nod as a senior, and he went out in style. The 6-foot senior paved the way for the Longhorns highly-touted secondary, showing the young bucks exactly how Texas football is going to be played under head coach Tom Herman.
In addition to being a shutdown corner, Boyd was an Academic All-Big 12 selection off the field, while recording 57 tackles on it. A 31-game starter for the Longhorns who appeared in 49 total games during his career, Boyd projects as a middle-round draft choice in the NFL.
Caden Sterns, S, Texas
Hometown: Cibolo, TX
One of those young Longhorns players who learned from Boyd is freshman cornerback Caden Sterns. In addition to a first-team selection, Sterns earned Defensive Freshman of the Year honors as well. He was tied for second in the Big 12 with four interceptions, which led the Texas defense, and recorded 57 tackles in his first season.
A top-three player in the state of Texas coming out of Steele High School, Sterns figures to be a regular on the All-Big 12 teams for his entire career, and don't be surprised to see him pop up on an All-American team or two before his time in Austin is done.
Adrian Frye, CB, Texas Tech
Hometown: Houston, TX
The conference's leader in interceptions (5) lands in Lubbock, where Texas Tech cornerback Adrian Frye, a redshirt freshman, made a name for himself in 2018. Given that the Red Raiders didn't have many bright spots this season, Frye figures to be one of those players to build around moving forward.
After redshirting last season, the Eisenhower High School product was just a three-star recruit with only a handful of Power 5 offers. Frye is raw with a lot of potential, but this 6-foot-1 corner has the makings of one of those players you just don't throw at anymore in the Big 12.
Drew Galitz, P, Baylor
Hometown: Rowlett, TX
With the Bears struggling at times this season, having punter Drew Galitz was a huge luxury for Matt Rhule. The four-year punter appeared in 42 games for Baylor, having only played in five as a junior due to a season-ending injury. In his comeback tour in 2018, Galitz did not disappoint.
He was second in the conference averaging 42.4 yards per punt and bombed 51 punts this season. In total, Galitz sent 166 punts into the sky during his college career, with 33 of them sailing over 50 yards, and another 46 of them downed inside the 20-yard line.
In addition to these First-Team All-Big 12 selections, another 14 Texas-bred college football players were named to the conference's second team, including TCU wide receiver Jalen Reagor (Waxahachie, TX), Texas offensive lineman Zach Shackelford (Belton, TX), Texas kicker Cameron Dicker (Austin, TX) and Iowa State cornerback Brian Peavy (Houston, TX), who is a two-time Second-Team All-Big 12 selection.
Kansas State offensive tackle Dalton Risner is the only player in the Big 12 this season to earn his third-straight First-Team All-Big 12 selection.
WVU linebacker David Long Jr. earned Big 12 Defensive Player of the Year, Kansas running back Pooka Williams was named Offensive Newcomer of the Year, Oklahoma's Austin Seibert was named Special Teams Player of the Year, and Iowa State head coach Matt Campbell shares the Big 12 Coach of the Year award with Oklahoma's Lincoln Riley.
Everywhere you look, Texas is involved in the shaping the Big 12 football, and that doesn't appear to be changing anytime soon.