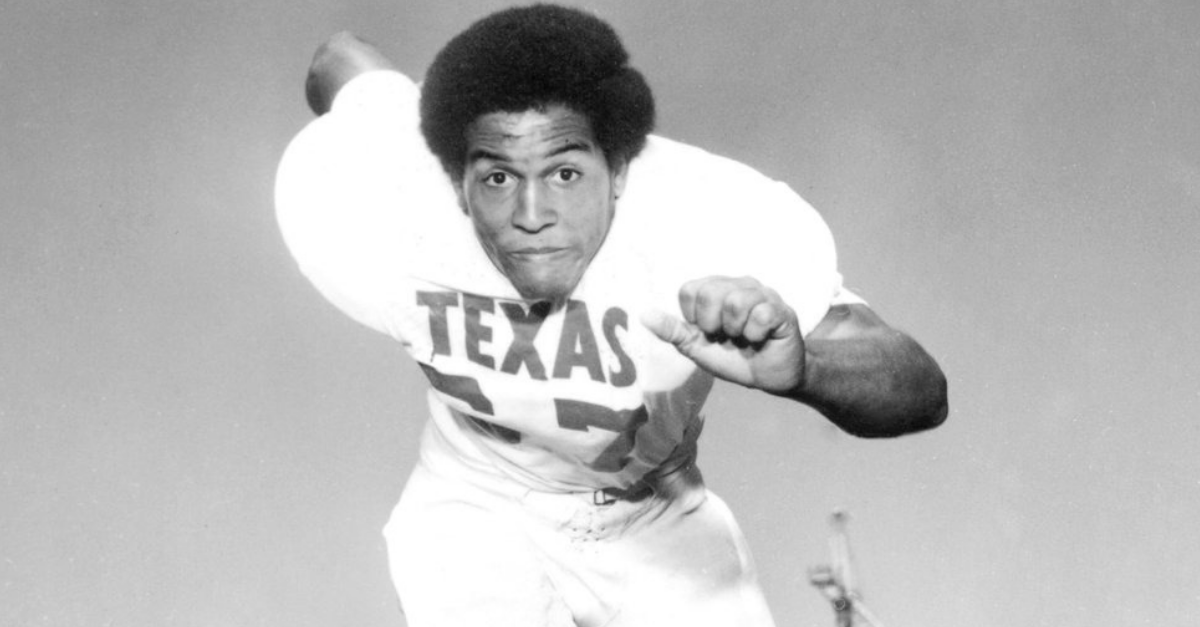 Twitter: @KSATRJ
Twitter: @KSATRJ
Concerns about head injuries, and the effects they have on football players later in life, is an ongoing fight that, sadly, is claiming more and more early deaths of former players at a rapid rate. While their fight is over, the legacies of great men who changed the game as we now know it will live forever.
Julius Whittier was more than just a great player for the Texas Longhorns in the early 1970s. The San Antonio, Texas native was the first African American to play and letter for the Texas Longhorns historic football program. Whittier died early Tuesday morning amid failing health. He was 68.
Upon joining the Longhorns, Julius Whittier became one of the first black athletes in the entire nation to receive a football scholarship when Texas added him to their roster. As a freshman in 1969, Whittier was unable to play due to the NCAA's rules barring freshman from playing at the time.
Over the next three seasons in Austin, the stalwart offensive tackle helped Texas win three-consecutive Southwest Conference titles, as well as being a member of the national championship team in 1970 under coach Darrell Royal. As a senior, Whittier moved to tight end and helped the Longhorns to a 10-1 record and a Cotton Bowl victory to end the season.
After graduating with an undergraduate degree in philosophy, Whittier earned his graduate degree from the LBJ School of Public Affairs at UT in 1976, and later completed his law degree, which he also earned from the University of Texas.
Whittier worked as highly successful senior prosecutor in the Dallas County District Attorney's office until retiring in 2012 to focus on his health.
In an excerpt from "What It Means to Be a Longhorn," Whittier said:
"The University is part of a state that was its own country at one point. There's no other state in the union like it. Texans are a lot like the institutions they created — for instance, the Texas Rangers. Texans are forthright — those who are true to it — they know what to stand up for, how to stand up, and when it's time to stand up. The University, aspiring to be a university of the first class, is a symbol of that spirit. Even though we come from a racist past, we should be proud that we have created this University that attempts to collect all of what is known about us, our lives, and the world we live in and to preserve the thought and reflection of it for future generations. I'm proud of that. I'm proud to have gone to The University." — Julius Whittier
Whittier was elected to the Longhorn Hall of Honor in 2013 and the San Antonio Independent School District Hall of Fame in August 2018.
Whittier's fight continues, though, through his sister Mildred.
In 2014, she filed a class-action lawsuit on behalf of Julius against the NCAA in U.S. District Court. The suit is looking to attain $50 million dollars for college football players from 1960-2014 who did not go on to the NFL, but have experienced symptoms of early-onset Alzheimer's disease and brain injuries after football.
Julius Whittier paved the way for thousands of African American students, not only as athletes, but as students and young adults pursuing a better life for themselves.
Whittier was a homegrown Texan in every aspect of life, and his legacy will live on forever.