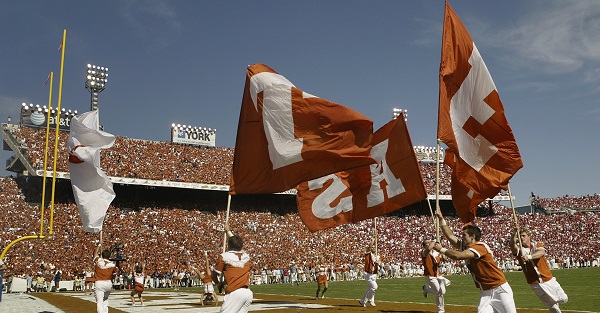 Photo by Ronald Martinez/Getty Images
The University of Texas at Austin is steeped in tradition. The Texas Longhorns football program has 908 wins following the 2018 season, the third most all-time trailing only Michigan (953) and Ohio State (911). The four-time national champions boast 60 consensus All-Americans and two Heisman Trophy winners in Earl Campbell (1977) and Ricky Williams (1998). Bevo Boulevard has become one of the greatest tailgates in all of college football.
Starting in 2019, one of the school's longest running traditions will remain silent after another student's death as a result of hazing.
The Texas Cowboys were established in 1922 to provide "leadership, character, spirit and service" to the UT Austin campus and surrounding community. They make appearances at campus events, maintain strong philanthropic ties to local organizations, and most notably, they've fired Smokey the Cannon after every Longhorns' score, at kickoff, and at the end of every quarter for years. But this group has a dark history of hazing that's landed them in deep trouble. Again.
On September 30, 2018, Nicholas Cumberland, a 20-year-old Texas student, was critically injured when a truck carrying members of the group rolled over while returning from a retreat. Cumberland, a new member of the Texas Cowboys, was one of several people forced into multiple forms of hazing the previous day.
Cumberland died one month after the crash as a result of his injuries.
After a lengthy investigation, a discipline report obtained by the Austin American-Statesman states that members were forced to ingest a gallon of milk, eat cat food, Spam, Tabasco sauce, minced garlic and whole onions. New members were hit with sticks and forced into "Oklahomas," a football drill meant to be done in full pads where two people run full speed at each other. The report also states that one recruit was forced to bite the head off of a live hamster.
The University of Texas suspended the Texas Cowboys for six years, followed by two years probation, and their game day privileges have been taken away as a result of the investigation.
Last year's incident isn't the first time the Texas Cowboys have been accused of hazing and negligence, either.
In 1995, 19-year-old Gabe Higgins drowned in the Colorado River after "hours of alcohol-fueled hazing." The Texas Cowboys received a five-year suspension following that incident, during which time the organization created The Texas Cowboys Alumni Association to "assist in the reorganization and guidance of the Texas Cowboys."
Their website makes only one mention of Gabe Higgins in the president's open letter, highlighting how the group donates money to a scholarship fund in his name.
"The facts of the 1995 case and current case are so similar it is clear that the Texas Cowboys are adept at passing on traditions, but not lessons. Two families have lost their sons and the University of Texas at Austin has lost two of its students because the Texas Cowboys continue to perpetuate unlawful and irresponsible behavior time and time again."

— University of Texas discipline report, h/t American-Statesman
"Let me make clear — there is no place for hazing at the University of Texas," UT President Gregory L. Fenves said. "The mission of this university — to educate, learn, discover and serve — can only be accomplished in an environment where we respect each other. Where we look after our neighbors, peers and friends."
As part of this second punishment, members of the Texas Cowboys are required to read "The Cowboy's Secret," a book written by Gabe Higgins' mother, Ruth Harten. You can purchase the book right here on Amazon.
"They may sound harsh right now, but if the Cowboys had gotten it right after Gabe's death and done away with the hazing, maybe Nicky would not have died," Harten said. "It needs to stop. The deaths need to stop."
It's not immediately clear if the cannon, called Smokey III, will be fired at future Longhorn football games. The cannon is owned by the UT athletics department, but it was traditionally handled and maintained by the Cowboys' student organization.
Texas already has state laws in place that make hazing illegal, but the state's Senate Criminal Justice Committee approved a bill this week to expand those statutes to include forced consumption of alcohol or drugs. Senate Bill 38 is being sent to the full upper chamber before it can become law.
Two Texas governors, a former Attorney General of Texas, several United States Congressmen, and multiple former Longhorn football players have all been Texas Cowboys. The organization is a huge part of the university, but at what cost?
The Texas Cowboys will not be active for their 100-year anniversary because a couple guys thought it'd be funny to haze new members. When Arno Nowotny and Bill McGill found this group in 1922, they did so with the intention to create a group built on public service and leadership.
This suspension is more than necessary if this spirit group ever going to regain those long-forgotten ideals.