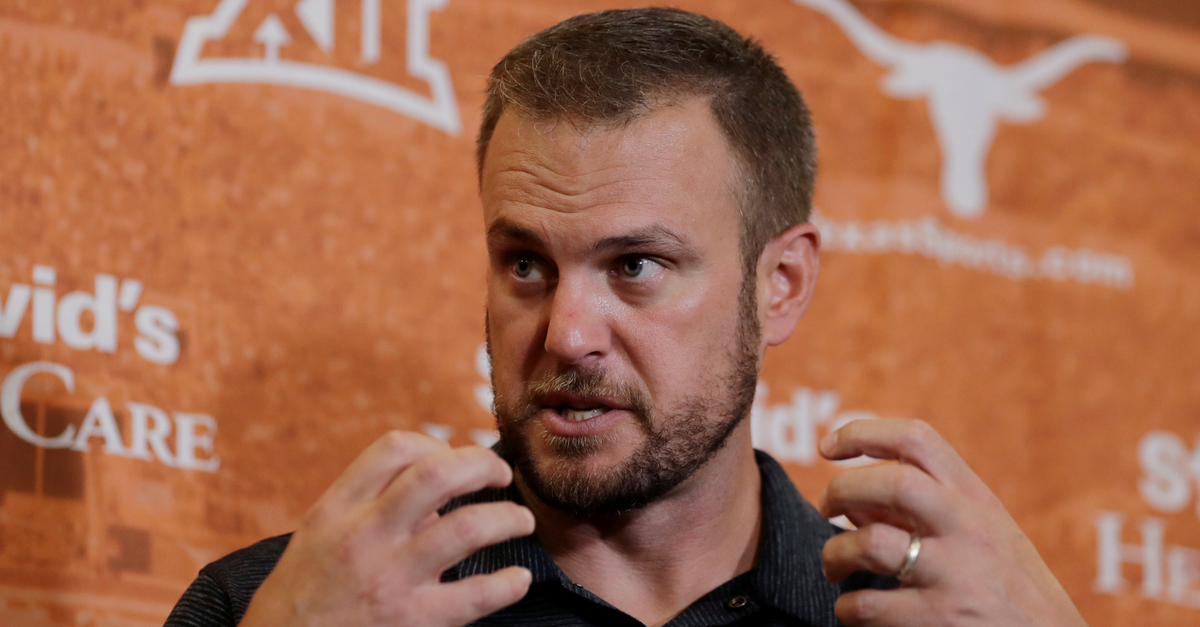 AP Photo/Eric Gay, File
As the Texas Longhorns prepare for the Orange-White Spring Game in a couple of weeks, with the national hype back to its normal, crazy level, the program decided to mic up quarterback Sam Ehlinger at practice to give fans the opportunity to get an all-access look at its superstar. These opportunities are few and far between so everyone just has to soak it all in when it happens.
The college football practice itself wasn?t anything spectacular. Everyone learned how much Ehlinger, now a junior, appreciates former Longhorns punter Michael Dickson, who now plays for the Seattle Seahawks. Fans also got a glimpse as Ehlinger as a leader, how hands-on offensive coordinator Tim Beck is, and that freshman wide receiver Bru McCoy is going to be a problem in the Big 12 Conference in his first year.
One of the coolest moments, however, was to see the 6-foot-3, 235-pound Ehlinger give a nice embrace to Texas legend and NFL quarterback Colt McCoy, someone he idolized growing up at Austin Westlake High School. That, of course, prompted head coach Tom Herman to ask how it is to meet and be around him.
?Yeah, it?s super cool,? Ehlinger said. ?It?s just different because now obviously being here, being friends with him, it?s not a stardom anymore. He?s a super cool dude.?
RELATED: Matthew McConaughey Celebrates Alma Mater?s State Title at Texas Capitol
Moments later, though, is where the real gem of the practice came. In trying to relate to the last story and his player, Herman explained to Ehlinger what it was like to host Matthew McConaughey and his family for dinner at the two-minute mark in the video from spring practice on the Longhorn Network.
?One time McConaughey came to my house for dinner and brought his kids, and Michelle is like, ?What am I supposed to make for dinner for a supermodel and the world?s sexiest man Oscar winner?? I?m like, ?He?s kind of a normal dude, we?ll just grill some steaks.??

? Texas Longhorns Head Coach Tom Herman
Everyone knows how involved McConaughey is in the Lone Star State. After all, he is the Minister of Culture at the University of Texas. So it shouldn?t be surprising the two families had a nice meal together. It?s just awesome to see how normal and nonchalant everyone was.
An Oscar-winning actor taking his family over to a new friend?s house. A wife unsure of how to make it perfect. A husband and big-time football coach providing a simple solution, which was likely a solid play.
More often than not, fans only see the product on the field and what is said during press conferences so this is refreshing to see before the Spring Game on April 13.
Tom Herman?s dinner story is also the most Texas thing ever.