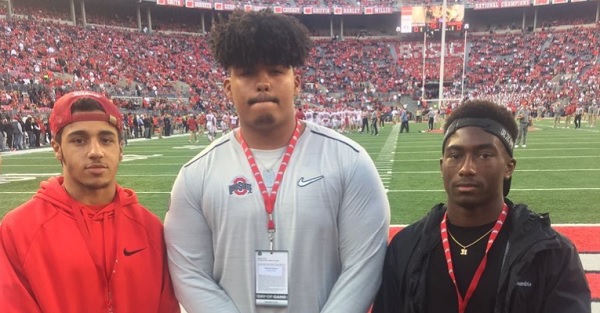 Jackson Carman/Twitter
This isn't exactly the recruiting controversy we expected.
Five-star offensive tackle Jackson Carman has been in the news recently, as he advocated that maybe it was time for former four-star Dwayne Haskins Jr. to get some time at quarterback for Ohio State over J.T. Barrett.
The comments didn't sit well with former Ohio State quarterback and longtime ESPN analyst Kirk Herbstreit, who thought that this wasn't the time nor place for the recruits to be making those comments.
Carman had his own response to Herbstreit, essentially reminding the world that he is not committed to Ohio State and that he could very well be a future USC or Clemson commit.
Both parties really do have a point here. Herbstreit is right in that, as an Ohio State visitor, it is awkward for the recruit to make recommendations on a quarterback change. That said, Carman also has a point in that he has no affiliation with the program at this point, and could easily be a rival to the Buckeyes next season.
Carman is currently rated as a five-star recruit. He is the No. 1 offensive tackle and No. 9 overall recruit per the 247Sports Composite. Ohio State, USC, and Clemson are his Top 3 teams.