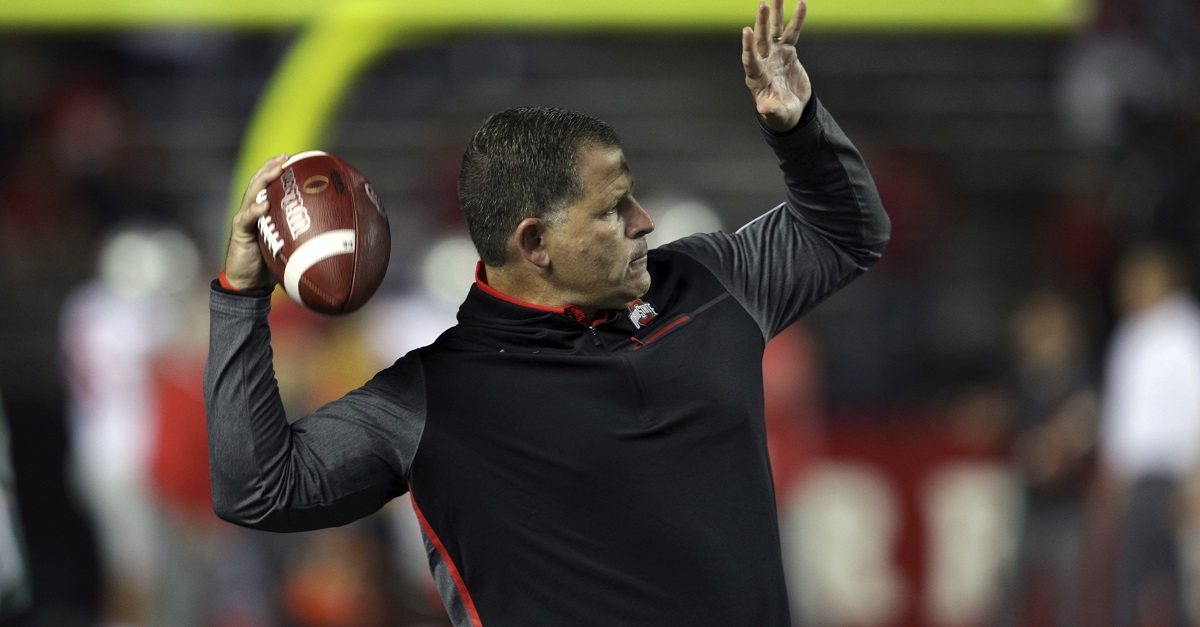 AP Photo/Mel Evans
Former head coach of Rutgers football and head coach of the National Football League's Tampa Bay Buccaneers, now Ohio State associate head coach/ defensive coordinator Greg Schiano throws a ball before an NCAA college football game against Rutgers Saturday, Sept. 30, 2017, in Piscataway, N.J. (AP Photo/Mel Evans)
The Ohio State Buckeyes have given both its coordinators huge pay bumps, as Greg Schiano and Ryan Day had their salaries more than doubled.
Schiano has been linked to various jobs the last few months. For starters, he was set to be named the new head coach of the Tennessee Volunteers, but fan backlash prevented that from happening. Then there were rumors that he'd be joining the New England Patriots in some form, but that hasn't actually happened, either.
Schiano got a raise to $1.5 million a year, which is up from $700,000 last year. Days' raise got him to $1 million, which is up from $400,000 last season.
Schiano was of course the head coach of the Tampa Bay Buccaneers in 2011 and 2012 before being fired and moving on to Ohio State in 2016 to work under Urban Meyer. He was previously at Rutgers as a head coach of the Scarlet Knights, where he made them a winning and even competitive program.
His other stops as a coach include Penn State, the Chicago Bears and the Miami Hurricanes. He has always coached defense and his specialty is the secondary as he coached defensive backs at PSU and has been coaching safeties at Ohio State the last two seasons.
As for Ryan, he chased a few jobs this offseason, including the Mississippi State opening as well as a coordinator position with the Tennessee Titans.
(H/T ESPN)