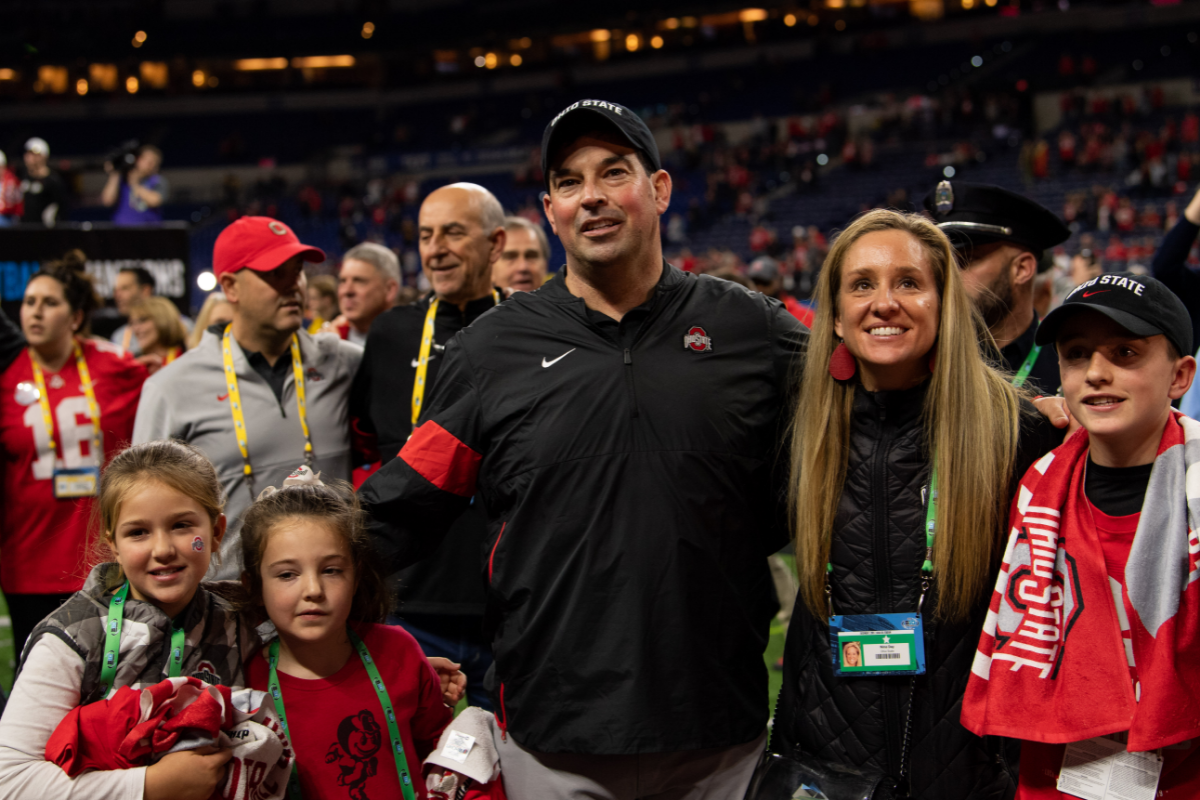 Photo by Zach Bolinger/Icon Sportswire via Getty Images
Ohio State head coach Ryan Day is a proven winner. Since taking over the Ohio State Buckeyes football program after Urban Meyer left in 2019, he's won two Big Ten Championships, earned two College Football Playoff berths and went an astonishing 28-3.
OSU fans appear to be in good hands, and not just because they've had talented players like Justin Fields and Trey Sermon lead the offense against the Clemson Tigers in last year's semifinal game. Day has been instrumental in keeping Ohio State a perennial contender over the last few years.
The 2019 Big Ten Coach of the Year may as well be mayor of Columbus at this point, because there isn't a more important figure in the city. But who is the woman behind THE Ohio State University's 42-year-old coach and who are their three children?
Ryan Day's Wife Christina Spirou Day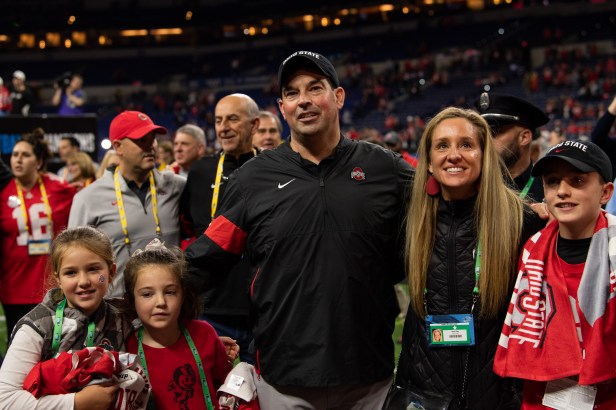 RELATED: Urban Meyer's Wife Has Supported Him Since College
She may have been born Christina Spirou but most people just call her Nina.
The First Lady of Ohio State Football is originally from Manchester, New Hampshire. She's the daughter of longtime Southern New Hampshire University basketball coach Stan Spirou, who took his teams to two Final Fours over his career. Nina has a twin sister named Kelly and a brother named Chuck, per Heavy.
Nina and Ryan may have attended the University of New Hampshire together, but they met way before college. She told WSYX-TV that they were six and seven when they met and were "best friends."
The two graduated from Manchester Central High School and then moved on to UNH, where Ryan played quarterback and linebacker from 1998-2001 under offensive coordinator Chip Kelly.
Ryan Day then began his coaching career. It included stops at New Hampshire, Boston College, Florida, Temple and in the NFL as the quarterbacks coach for the Philadelphia Eagles and San Francisco 49ers.
Ryan and Nina tied the knot in 2005, according to Heavy. She's traveled around the country and worked at her dad's school, SNHU.
Now, Ryan makes enough money for his family to live comfortably. He briefly served as Ohio State's acting head coach in 2018 before head coach Urban Meyer retired the following year. Day was earning north of $5 million in a coronavirus and COVID-19-ridden football season in 2020. He's making north of $6 million in 2021, making him one of the highest-paid coaches in college football.
The Days also love to give back to the community and have centered that around helping people suffering from mental illness. They created a fund for "pediatric and adolescent mental wellness" at Nationwide Children's hospital as part of the "On Our Sleeves" campaign, per ABC6.
"By nature, I'm a very private person. It does give me anxiety to be in the limelight for the attention to be on me, not so much Ryan. He can handle it, but for me and the kids, it's a little different. I do know that I have a new role and I just can't hide in my house and pretend this is not all happening. So, I'm getting better at it," Nina told ABC6 in 2019.
Ryan Day's Children
Ryan and Nina have three children together.
Their only son's name is Ryan Jr., but he goes by RJ. They also have two daughters, Grace and Ourania.
RJ appears to love football like his pops. In an Instagram post of his from November 2020, he posed with a trophy and included videos of his quarterback arm.
Former Ohio State quarterback Justin Fields sent some words of encouragement, and former NCAA quarterback Dwayne Haskins said, "Congrats lil bro."
Nina Day certainly should get used to the limelight. As her football coach husband continues to dominate the Big Ten and play in front of millions against the likes of Nick Saban and Dabo Swinney, she'll be a topic of discussion.
Related Videos