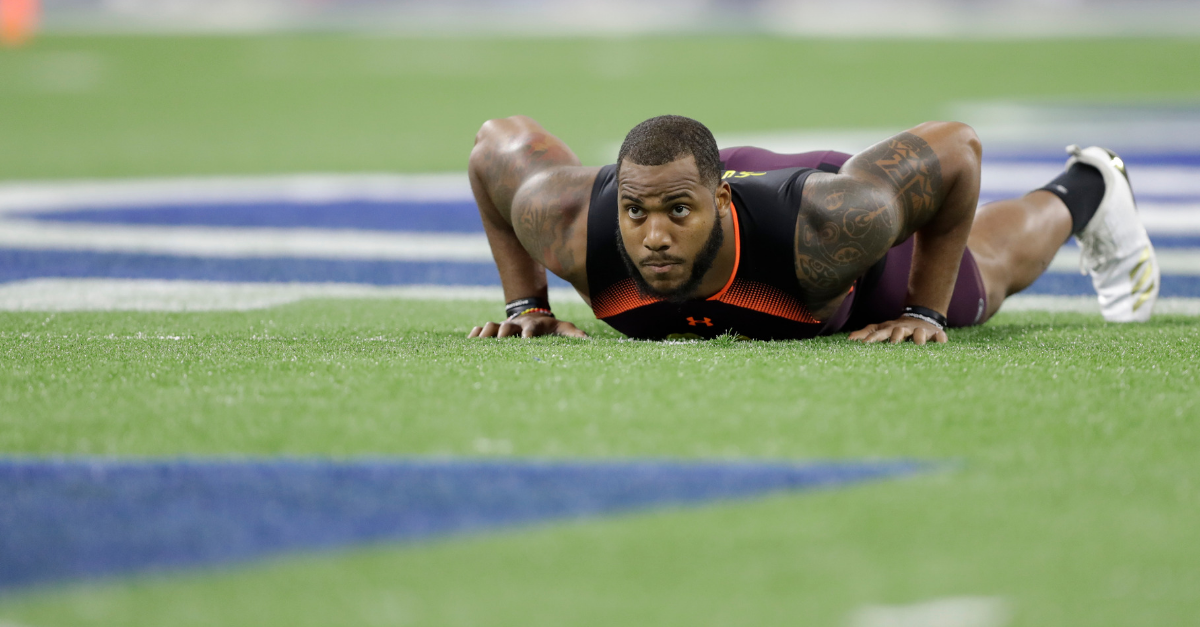 AP Photo/Darron Cummings
Back in 2015, Armwood High School defensive lineman Byron Cowart was THE player to target by every college football program. The 6-foot-4, 250-pound defensive end was the top-ranked high school prospect in the country by both ESPN and Rivals. If there was anything close to a can't-miss recruit back then, it was Byron Cowart.
Everybody wanted him, but it was Florida's Will Muschamp who made the strongest impression on a kid that grew up just two hours south of Gainesville. However, Muschamp resigned as the Florida Gators head coach in December 2014 and joined the Auburn Tigers as the team's defensive coordinator. Suddenly, Cowart flipped his recruitment and enrolled at Auburn the next year. The move didn't turn out like he thought on the Plains, though.
Before Cowart spurned Florida for Auburn, it was Armwood head coach Sean Callahan who saw the writing on the wall. At the time, Callahan believed that Muschamp's stay in Auburn would be short-lived because he'd take another head coaching job as soon as one opened.
"I think (Callahan) was trying to prevent what happened at Auburn from happening, because I think he knew Coach Muschamp… would want to be a head coach again," Cowart told the Tampa Bay Times.
"So he was just saying to be smart. But I had outside people thinking, 'Oh, (Callahan) just wants you to go to Florida because it benefits him.' I look back at it, I'm like, 'Yeah, I should've just listened.'"
As it turns out, Callahan was absolutely right.
After Cowart appeared in all 13 games and made six tackles as a true freshman, Muschamp left Auburn to become head coach of the South Carolina Gamecocks. Under a new coaching staff, Cowart struggled to make progress as a sophomore. He ultimately left Auburn midway through the 2017 season and returned to his hometown where his ailing mother was battling fibroid tumors.
He never returned to the Auburn Tigers.
"I had a (position coach) that was like, 'You need to catch on fast.' And being a fish out of water I'm like, 'I don't know what's going on.' And then I didn't do the extra stuff, because I'm thinking it just happens on Saturday. Practice a little bit, have success. But I didn't know about the preparation and all that stuff."

— Byron Cowart, h/t Tampa Bay Times
RELATED: The 2019 NFL Draft Has Arrived. Here's What Your Team Needs.
After spending a year at Hillsborough Community College taking what Cowart described as "eight classes at different times," he regained NCAA eligibility and enrolled at the University of Maryland.
There, Cowart finally found the success that avoided him to start his college football career. Thanks to the tutelage of position coach Jimmy Brumbaugh, Cowart started all 12 games in 2018 as a defensive tackle for the Terrapins making 38 tackles, recording 3.0 sacks and snagging two interceptions.
He earned invites to both the Senior Bowl and NFL Scouting Combine, and after a long road, Cowart is now projected as a late-round pick in the 2019 NFL Draft.
Cowart's college career is the ultimate "what if" story. Had Muschamp never left Florida, would the Gators have found a star right in their own backyard? If Muschamp didn't even get a job right away, could Cowart have attended Alabama, Florida State, Clemson, Georgia, LSU or any of the other dozens of schools that wanted him?
College football wasn't exactly his calling, but if raw talent is any indication, there's a chance that one NFL team gets a HUGE steal this weekend. This is a former five-star player who was once thought to be better than guys like Christian Wilkins, Minkah Fitzpatrick, Roquan Smith, and even Kyler Murray.