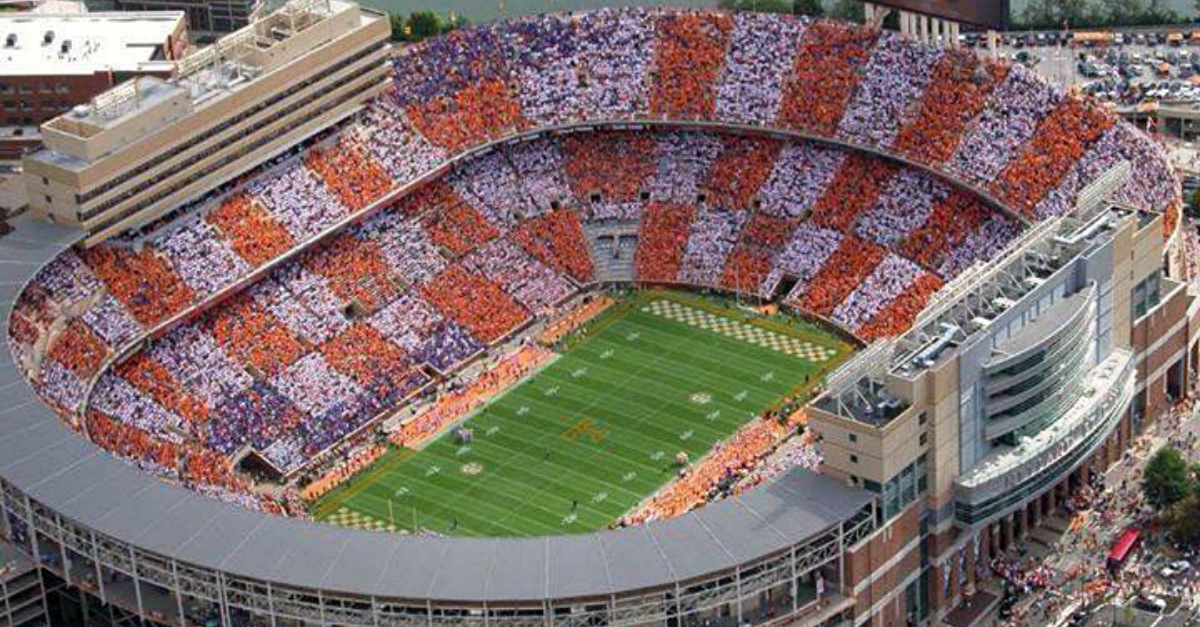 Wikimedia Commons
It's hard to imagine Saturdays in the fall without a heavy dose of college football. Whether you can be found outside your favorite team's stadium cooking on your grill of choice or sitting at home where the beer is cold and your gigantic television never misses a moment, the allure of the college game is unparalleled. Despite the wildly popular College Football Playoff being introduced in recent years, less and less fans ? both students and older adults ? are actually walking into stadiums to see most games.
According to initial attendance numbers from the NCAA, average attendance among the 129 FBS teams during the 2018 season was 41,856 fans per game. As reported by CBS Sports, that's the lowest mark since 1996, and it's the seventh time in the last eight years that attendance has declined.
The problem isn't the on-field product at all, according to Virginia Tech's Brad Wurthman, the school's senior associate athletic director and board member of the National Association of Collegiate Marketing Administrators. Wurthman says that the game day experience at stadiums across the country is failing to keep fans interested enough to leave their homes and show up for games.
"Winning is not a strategy," Wurthman said. "That's our general mantra. It's nice to win, but I tell our [marketing] staff all the time, 'Build the model [because], when coaches catch lightning, we take advantage of it.'"
The Hokies ? members of the ACC ? saw their conference be one one of only three at the FBS level to see attendance increases. However, the ACC, AAC and MAC attendance numbers went up by less than one percent from 2017 to 2018, so it's hardly a resounding victory.
RELATED: Bar Fights and Arrests: The Troubling Story of Georgia's Offseason
One reason for the attendance drop is that conferences place a premium on television money rather than game day experiences. The SEC Network, Big Ten Network, Pac-12 Network and newly-launched ACC Network focus on bringing conference games across all sports to local markets, something that wasn't available years ago when only major networks like CBS, ABC, NBC and ESPN carried college football action.
The game is now accessible by anyone, anywhere in year-round coverage, but that hardly means it's failing.
In fact, television ratings from 2018 remained stronger than ever across the board. Also, the biggest stadiums in the country continue to carry the relatively microscopic attendance of smaller schools across the country. For example, the Liberty Flames and new head coach Hugh Freeze will be a bowl eligible, FBS Independent in 2019, but their home stadium has a capacity of around 25,000 people.
Compare that to the top-10 schools and their college football attendance at home games last year:
1. Michigan – 110,736
2. Penn State – 105,485
3. Ohio State – 101,947
4. Alabama – 101,561
5. LSU – 100,819
6. Texas A&M – 99,844
7. Texas – 97,712
8. Tennessee – 93,022
9. Georgia – 92,746
10. Nebraska – 89,034
The difference in average attendance between 2008 and 2018 is about 5,000 fans. With millions pouring through the gates around the country, a few hundred fans staying home to watch television is not a concern at all. On average, we're talking about pennies on the dollar when it comes to attendance drops around the country.
This isn't a crisis. This is the result of the game changing for the better, bringing it to a broader audience, and expanding the field of competitive programs at college football's highest level.
Don't worry, fans. The college football game isn't planning on going anywhere any time soon.