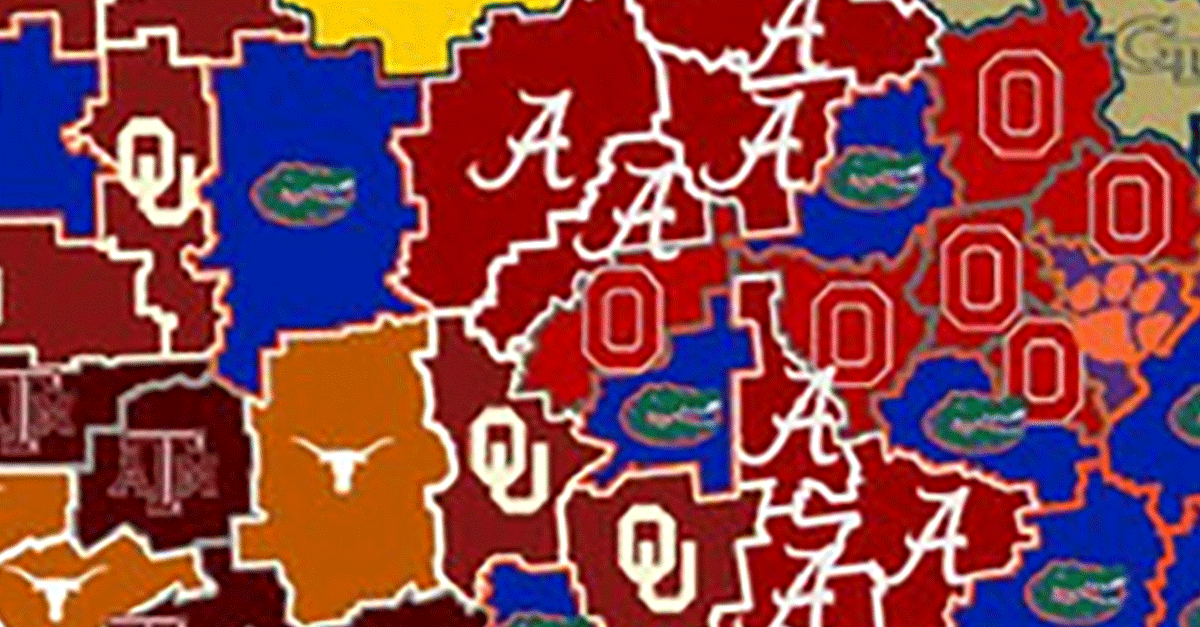 Twitter (@nicholasjervey)
The countdown clock to the start of the 2018 college football season has been watched for months now and it?s still not that close to kick off. Leave it up to the fans to pass the time in creative and competitive ways, though.
In the wonderful world of College Football Reddit, the regular posters have created a game where every member of the posting world can try to conquer the US for your team each day.
It?s basically a giant game of Risk, college football style, and originated from the Imperialism map concept on the website, which picked up a lot of traction last season.
Naturally, the rules are relatively extensive with teams being determined by your ?flair? on the website, and star ratings for attacking other opponents are determined by the contributions to the site.
A couple of months ago, the United States map was divided into 131 territories for each Football Subdivision Team for the 2018 season, and those without an allegiance or who lost their territory would join Team Chaos.
The game was designed to be very interactive and on a daily basis. You could strategize with teammates to make your team stronger, attack rivals, or simply go rouge and see how long you last.
The amount of possibilities seem endless.
This was randomly created. There was no telling where it was going, and luckily a man named Nick has provided a detailed map updating the game in the last week.
Just how popular did this game of Risk become? The thread has 2,000 comments following the initial post two months ago. Most of it has some form of trash talking about the upcoming season, which is always entertaining.
The game is all for fun. There is no real reward other than pride and bragging rights and website flair. It just goes to show how fans will go to extreme lengths to have some fun and pass the time before college football season begins.