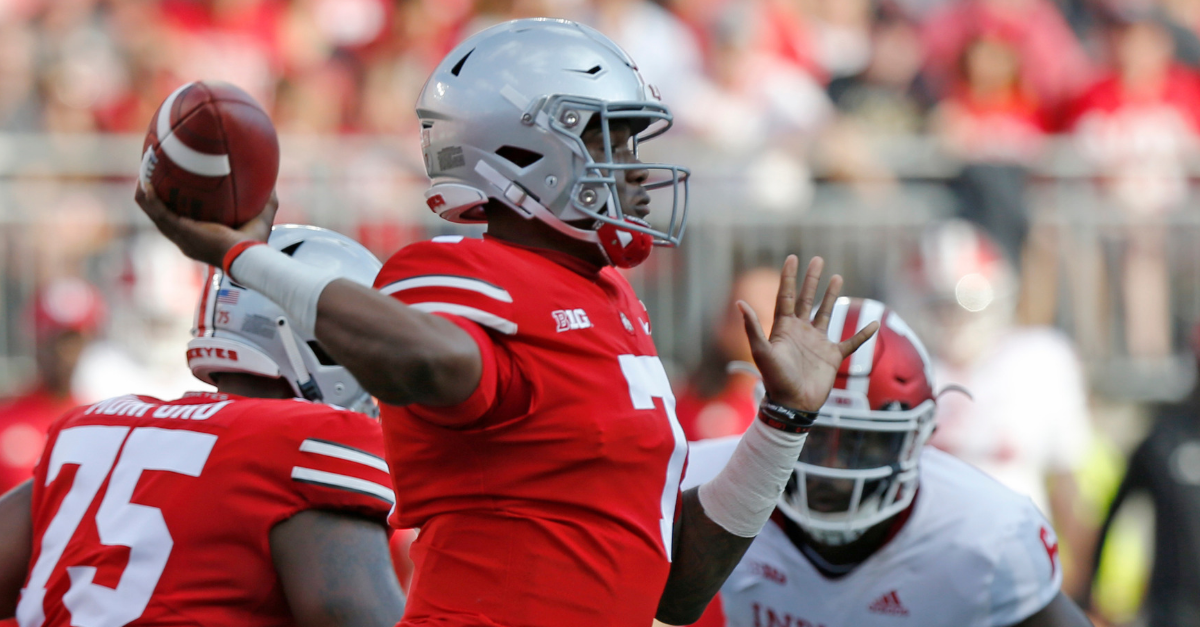 AP Photo/Jay LaPrete
Prior to the season, there were some belief Ohio State head coach Urban Meyer had unfair expectations for Dwayne Haskins to be the best quarterback in the Big Ten Conference. Turns out, the redshirt sophomore might actually need even loftier goals.
For the third time in six games, Haskins threw at least five touchdowns, which is a Big Ten record, and it?s only at the midway mark of the 2018 season. The Buckeyes are rolling, and Haskins is a big reason why they escaped a pesky Indiana Hoosiers team to remain undefeated.
The 6-foot-3, 220-pound Haskins wasn?t the only star on Saturday, however, and there is doubt the winners for FanBuzz College Football Players of the Week is one of the best yet.
Offense: Dwayne Haskins (Ohio State)
Statistics: 33-for-44, 455 yards, 6 touchdowns, 2 interceptions
Texas quarterback Sam Ehlinger was special against Oklahoma, and Tua Tagovailoa puts up so many ridiculous numbers that he doesn?t even need to play in the fourth quarter these days, but it?s hard not to give Haskins the nod here. Not only did he break a conference record, but he was also dialed in to make sure the Ohio State Buckeyes didn?t get upset at Indiana. Throwing for over 450 yards with six touchdowns are some video game numbers.
Defense: Julian Love (Notre Dame)
Statistics: 7 total tackles, 1 pass breakup, 1 interception, 1 fumble recovery, 1 touchdown
The Notre Dame Fighting Irish aren?t messing around this season. With wins over Michigan, Stanford, and now at Virginia Tech on Saturday, there is certainly reason to believe this team belongs in the College Football Playoff discussion and the defense is a big reason why. Nobody was bigger than Love, a 5-foot-11 junior defensive back who had a 42-yard fumble recovery for a touchdown and an interception in the fourth quarter.
Special Teams: Cameron Dicker (Texas)
Statistics: 2-for-2 field goals, 9 kickoffs, 6 touchbacks
Maybe there were some better performances here, some with more stats and fan fare, but it?s hard to deny what the Texas Longhorns freshman did in his first Red River Rivalry game. Having nine kickoffs average 64 yards each is solid. So is knocking in a 44-yard field goal in the first quarter. But with the game on the line, one with so much tradition, Dicker kicked in a game-winning 40-yard field goal to seal the win and gave us all a vintage Gus Johnson call. It doesn?t get much better than that.
Freshman: Brock Purdy (Iowa State)
Statistics: 18-for-23, 318 yards, 84 rushing yards, 5 total touchdowns (1 rush), 1 interception
The Big 12 Conference certainly has a strong list of outstanding quarterbacks right now, and it?s time to add Brock Purdy to the party. In his first game where he actually attempted a pass, the 6-foot-1 signal caller was electric on the road to help the Iowa State Cyclones upset the Oklahoma State Cowboys. Purdy?s talent at this level is definitely not a secret anymore.