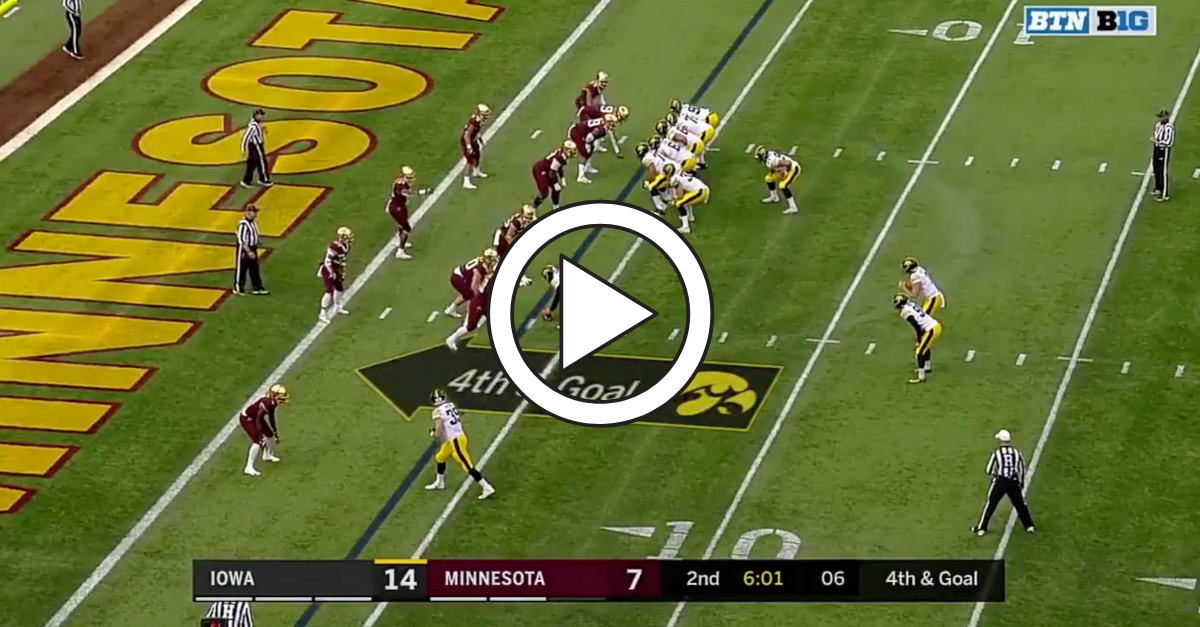 Screenshot from Twitter
Nobody said the Iowa Hawkeyes couldn?t be creative. Nobody said the formation couldn?t be wild. Nobody said a crazy trick play wouldn?t work on the road. This is what made that Saturday so great at TCF Bank Stadium in Minneapolis, Minnesota.
Perhaps a 48-31 win for Iowa over the Minnesota Golden Gophers was more offense than anyone saw coming in this Big Ten Conference clash, but nobody could have seen a trick play with 6 minutes, 1 second remaining in the second quarter coming, and it completely stole the show.
Facing 4th and Goal on the four-yard line, and with a 14-7 lead in the first half, Iowa head coach Kirk Ferentz, a generally conservative coach through the years, thought it would be a good idea to go for it and not kick a field goal. Not only that, the Hawkeyes took a page out of the playbook from the old days with the special teams unit on the field and ran it to perfection for a touchdown run on Big Ten Network.
Iowa Trick Play TD vs. Minnesota
RELATED: North Texas Owns the Meanest Fake Punt Return in College Football History
The formation is not completely absurd, but it certainly isn?t common. Having one receiver lined up to the left, the center by himself, two players in the backfield, and seven more players bunched to the right, including five on the line of scrimmage, made for wild, single wing look and one of the best plays in college football this season.
What?s even crazier is Hawkeye football quarterback Nate Stanley wasn?t even on the field. It was kicker Miguel Recinos and holder Colten Rastetter lined up well behind the line of scrimmage instead of in field goal formation.
So instead of long snapper Jackson Subbert hiking the ball to either Recinos or Rastetter, he threw an underhanded snap with his left hand to tight end T.J. Hockenson, who found the end zone.
The play is called ?Herky? and named after Iowa football?s mascot. Needless to say, it needs to stay in the playbook forever because ?New Kirk? on the sideline can use that against Ohio State, Penn State, Iowa State, Michigan State, or anyone else on their CFB schedule.
This post was originally published on October 8, 2018.