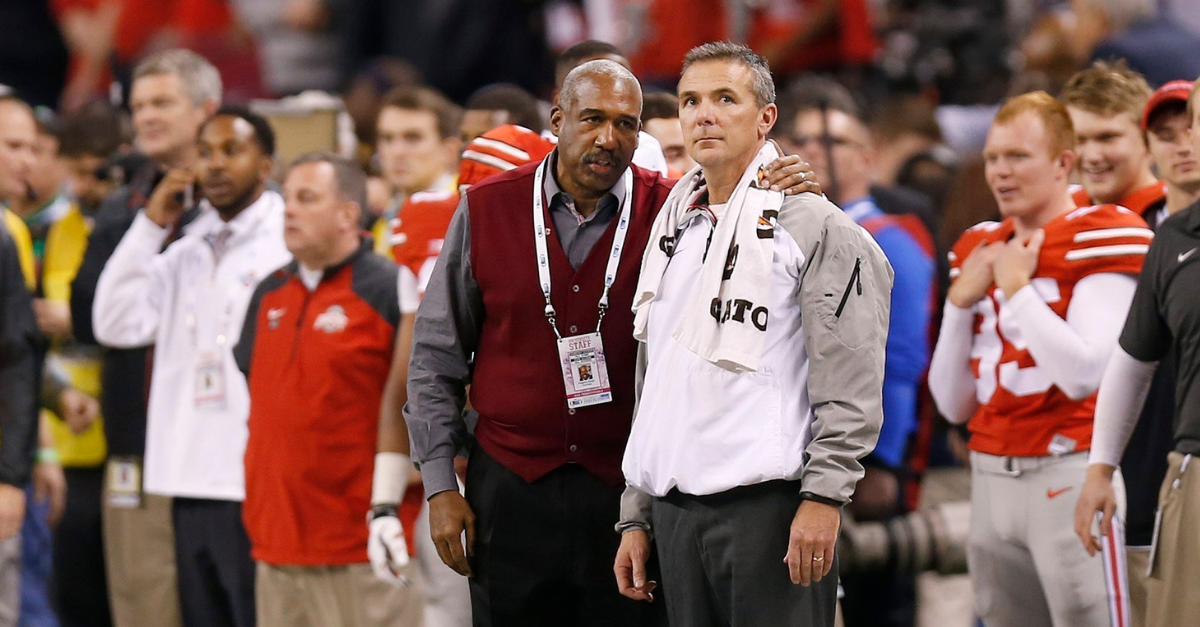 Jonathan Quilter/The Columbus Dispatch via AP
For one of the biggest non-conference games, with ESPN?s College GameDay on hand to give it even more hype, Urban Meyer couldn?t be there. The Ohio State head coach was serving the final part of his three-game suspension after the offseason?s top storyline in college football.
The No. 4 Buckeyes beat No. 15 TCU Horned Frogs, 40-28, with offensive coordinator Ryan Day at the helm at AT&T Stadium in Arlington, Texas, and Ohio State got a massive pay day for it. Now, with Meyer returning to his duties as the head coach, he released a statement with one final apology before getting back to work.
This was far from the first statement Meyer has made. Hopefully this is going to be his last regarding this matter surrounding allegations of domestic abuse involving fired wide receivers coach Zach Smith and his ex-wife, Courtney Smith.
?I want to thank Coach Day, the entire coaching staff, and especially the players for the great work they?ve done. Our team has performed well, and I couldn?t be more proud.

?With respect to Zach Smith and the events that led to his termination, it?s clear I could have done a better job. I should have done a better job, and I?ll always regret that I didn?t. My time away from the program in August gave me a chance to reflect and it gave me a chance to learn a great deal from these events.

"I want to be clear: I do not ? never have and never will ? condone domestic abuse.

?I?m working to make sure I do a better job every day as a leader.

?I sincerely regret my misstatement at Media Days, and my failure to adequately manage a troubled employee. It caused people to question my commitment to our core value of Treating Women with Respect. And it caused them to question my honesty. For that, I?m truly sorry.

?I reaffirm my commitment to that core value today. I will always be sorry for what Courtney Smith and her family have gone through. I also apologize to President Drake and my University colleagues, our players and our fans.

?What I?ve learned from this experience will make me a better manager and a better leader. I?m working to ensure I do a better job.

"As I resume handling all my regular duties as Ohio State?s Head Football Coach, I am mindful of the privilege I have been given and all the responsibilities that go with it. I commit to discharging them well as we move forward.? ? Urban Meyer
Whether you want accept the apology or not, it?s time to play football, and luckily the entire situation is in the rearview mirror.