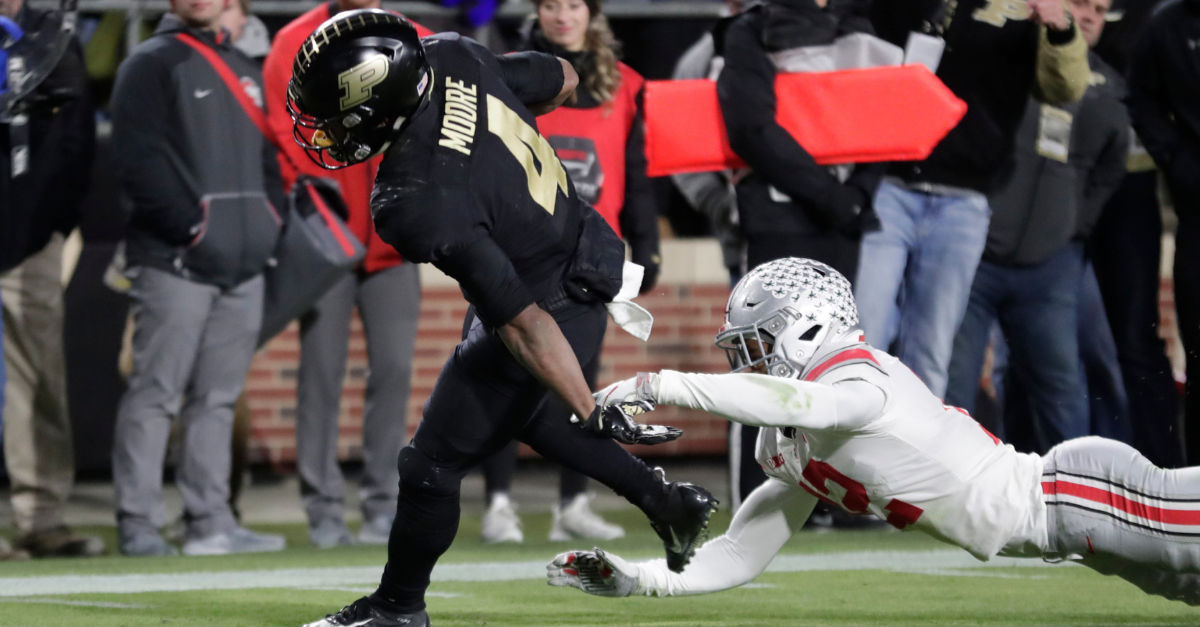 AP Photo/Michael Conroy
Purdue Boilermakers freshman wide receiver Rondale Moore posted a berserk mark on the squat rack this summer and then put college football on notice during his record-setting debut. The 5-foot-10 speedster has been dominating ever since and he just had a game to remember this past weekend.
Moore was magical in Purdue?s 49-20 upset of No. 2 Ohio State on Saturday, catching the ball a dozen times and letting his speed do the rest. The Big Ten Conference has a superstar in Moore and he?s just getting started.
Who else shined on the gridiron? Check out the FanBuzz College Football Players of the Week:
Offense: Rondale Moore (Purdue)
Statistics: 12 catches, 170 receiving yards, 24 rushing yards, 58 return yards, 2 touchdowns
Racking up over 250 total yards, including 170 receiving with 12 catches and two touchdowns is an impressive stat line at any level, but to do it against one of the best teams in the country? As a freshman? Now that?s special. Moore continues to be a defensive coordinator?s worst nightmare and the scary part is he?s only going to get better.
Defense: Grant Delpit (LSU)
Statistics: 10 tackles, 2 interceptions, 1 sack
There?s no doubt Delpit belongs in the conversation as the top safety in all of college football and the 6-foot-3 sophomore proved that again Saturday night against Mississippi State. He was all over the field making plays, picked off Nick Fitzgerald twice, and made a huge fourth-down sack midway through the third quarter to help the Tigers get another big-time win.
Special Teams: Matt Gay (Utah)
Statistics: 2-for-2 field goals, 5-for-5 PATs, 7 kickoffs, 459 yards (65.6 average), 5 touchbacks
In a game that was far from perfect, and a Pac-12 Conference that is rather inconsistent, Utah senior placekicker Matt Gay showed the nation how it?s done this week by nailing every kick and not allowing USC to return any kickoffs. Gay was definitely one of the most valuable players on the field Saturday, even if it isn?t the first thing you notice in the box score.
Freshman: Adrian Martinez (Nebraska)
Statistics: 25-for-29, 276 passing yards, 15 carries, 125 rushing yards, 4 total touchdowns (1 rush)
It took a lot longer than anyone could have predicted, but Nebraska finally has a tally in the win column in 2018, and the freshman signal caller is a big reason why. Posting over 400 yards of total offense has become the norm for the 6-foot-2 Martinez and perhaps this is the win that helps turn the Cornhuskers? season around.