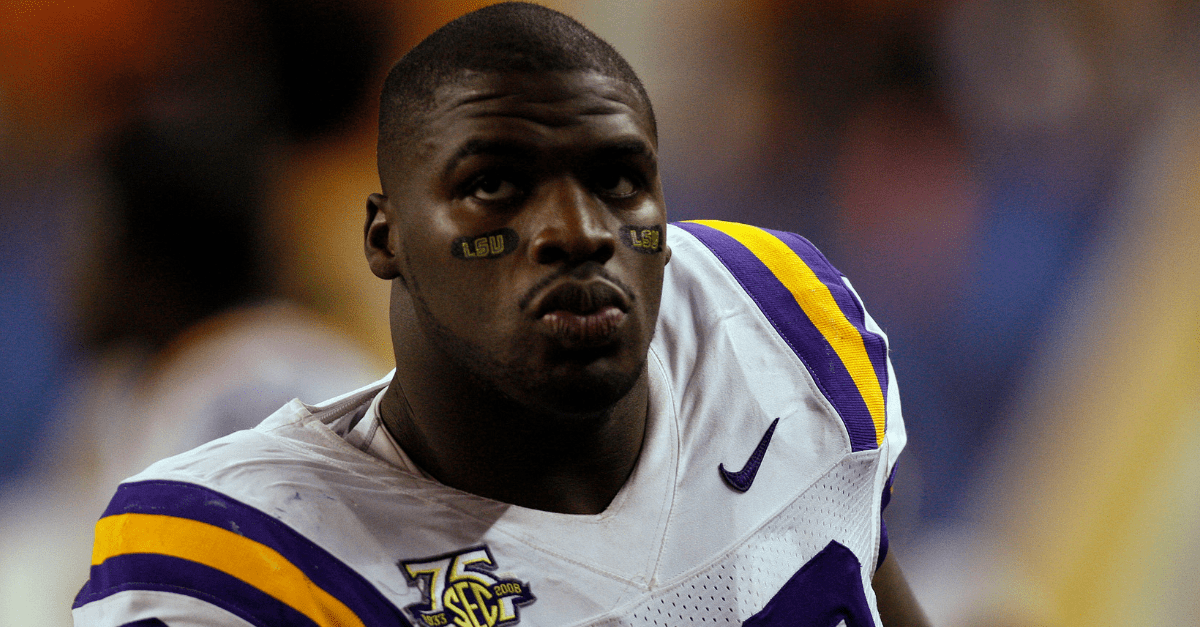 AP Photo/Dave Martin
These days in college football, it?s all about winning national championships and debating which team is the best right now in the College Football Playoff era. Very seldom do fans really just kick back and cherish the past, and the players who added countless memories to our lives. Luckily, the College Football Hall of Fame is around to remind us of those stars.
Each June, like clockwork, the National Football Foundation (NFF) and the College Football Hall of Fame release the names on the ballot for the next year. And to no surprise, it?s loaded with some of the greatest players of their generation.
In the 2020 College Football Hall of Fame ballot, there are 76 players and five coaches from the Football Bowl Subdivision (FBS) and 101 players and 33 coaches from the divisional ranks, according to the press release.
The Hall of Fame class will be announced in January before the CFP national championship game in New Orleans.
The college Hall of Fame is not for everyone. Being just a good player doesn?t cut it. Neither does being a great NFL player later in life. The player has to be elite in the NCAA for the NFF?s Honors Court, which is comprised by the FBS Honor Court, chaired by Hall of Famer Archie Griffin, and the Divisional Honors Court, chaired by former Marshall head coach Jack Lengyel, to be considered.
Some of the criteria includes: First-Team All-American status. Done playing for 10 full seasons. Be a good man in the community.
So whether you were a Heisman Trophy winner, defensive player of the year, three-time all-conference selection, having an amazing winning percentage, whatever, there?s definitely some factors that play into the decision.
Here is a look at the potential members of the 2020 College Football Hall of Fame class:
SEC STARS
Lomas Brown, Offensive Tackle (Florida Gators)
Gregg Carr, Linebacker (Auburn Tigers)
Kevin Carter, Defensive End (Florida Gators)
Marco Coleman, Linebacker (Georgia Bulldogs)
Tim Couch, Quarterback (Kentucky Wildcats)
Brad Culpepper, Defensive Tackle (Florida Gators)
Glenn Dorsey, Defensive Tackle (LSU Tigers)
Kevin Faulk, Running Back (LSU Tigers)
E.J. Junior, Defensive End (Alabama Crimson Tide)
Bobby Majors, Defensive Back (Tennessee Volunteers)
David Pollack, Defensive Lineman (Georgia Bulldogs)
Chris Samuels, Offensive Tackle (Alabama Crimson Tide)
Larry Seivers, Wide Receiver (Tennessee Volunteers)
Al Wilson, Linebacker (Tennessee Volunteers)
OTHER NOMINEES
Flozell Adams, Offensive Tackle (Michigan State Spartans)
Morten Andersen, Placekicker (Michigan State Spartans)
Aaron Beasley, Defensive Back (West Virginia Mountaineers)
Eric Bieniemy, Running Back (Colorado Buffaloes)
Jerome Brown, Defensive Tackle (Miami Hurricanes)
Larry Burton, Split End (Purdue Boilermakers)
Keith Byars, Running Back (Ohio State Buckeyes)
Mark Carrier, Defensive Back (USC Trojans)
Matt Cavanaugh, Quarterback (Pittsburgh Panthers)
Dallas Clark, Tight End (Iowa Hawkeyes)
Eric Crouch, Quarterback (Nebraska Cornhuskers)
Eric Dickerson, Running Back (SMU Mustangs)
Tim Dwight, Kick Returner/Wide Receiver (Iowa Hawkeyes)
Jumbo Elliott, Offensive Tackle (Michigan Wolverines)
David Fulcher, Defensive Back (Arizona State Sun Devils)
Moe Gardner, Defensive Tackle (Illinois Fighting Illini)
Tony Gonzalez, Tight End (California Golden Bears)
Dan Hampton, Defensive Tackle (Arkansas Razorbacks)
Jason Hanson, Placekicker (Washington State Cougars)
Bryan Hanspard, Running Back (Texas Tech Red Raiders)
Marcus Harris, Wide Receiver (Wyoming Cowboys)
Marvin Harrison, Kick Returner/Wide Receiver (Syracuse Orangemen)
Jeff Hartings, Offensive Lineman (Penn State Nittany Lions)
Mike Hass, Wide Receiver (Oregon State Beavers)
E.J. Henderson, Linebacker (Maryland Terrapins)
Josh Heupel, Quarterback (Oklahoma Sooners)
Craig Heyward, Running Back (Pittsburgh Panthers)
Steve Hutchinson, Offensive Lineman (Michigan Wolverines)
Larry Jacobson, Defensive Tackle (Nebraska Cornhuskers)
Ernie Jennings, Wide Receiver (Air Force Falcons)
James Laurinaitis, Linebacker (Ohio State Buckeyes)
Greg Lewis, Running Back (Washington Huskies)
Ray Lewis, Linebacker (Miami Hurricanes)
Todd Lyght, Defensive Back (Notre Dame Fighting Irish)
Ed McCaffery, Wide Receiver (Stanford Cardinal)
Cade McNown, Quarterback (UCLA Bruins)
Mark Messner, Defensive Tackle (Michigan Wolverines)
Pete Mitchell, Tight End (Boston College Eagles)
Corey Moore, Defensive Lineman (Virginia Tech Hokies)
Dan Morgan, Linebacker (Miami Hurricanes)
Ken Norton Jr., Linebacker (UCLA Bruins)
Leslie O?Neal, Defensive Tackle (Oklahoma State)
Carson Palmer, Quarterback (USC Trojans)
Julius Peppers, Defensive End (North Carolina Tar Heels)
Anthony Poindexter, Defensive Back (Virginia Cavaliers)
Antwann Randle El, Quarterback (Indiana Hoosiers)
Simeon Rice, Linebacker (Illinois Fighting Illini)
Ron Rivera, Linebacker (California Golden Bears)
Rashaan Salaam, Tailback (Colorado Buffaloes)
Kenneth Sims, Defensive Tackle (Texas Longhorns)
Justin Smith, Defensive Lineman (Missouri Tigers)
C.J. Spiller, Running Back/Kick Returner (Clemson Tigers)
Aaron Taylor, Offensive Tackle (Notre Dame Fighting Irish)
Dennis Thurman, Defensive Back (USC Trojans)
Andre Tippett, Defensive End (Iowa Hawkeyes)
Troy Vincent, Defensive Back (Wisconsin Badgers)
Chris Ward, Offensive Tackle (Ohio State Buckeyes)
Michael Westbrook, Wide Receiver (Colorado Buffaloes)
Zach Wiegert, Offensive Tackle (Nebraska Cornhuskers)
Roy Williams, Defensive Back (Oklahoma Sooners)
Steve Wisniewski, Offensive Guard (Penn State Nittany Lions)
Elmo Wright, Wide Receiver (Houston Cougars)