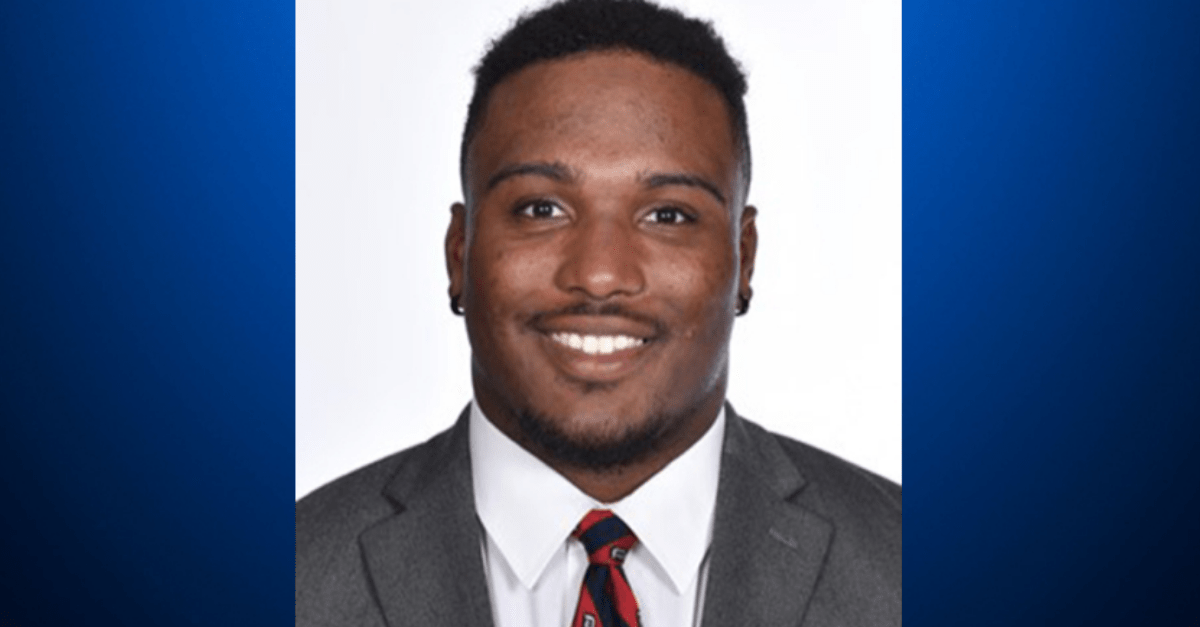 CBS Pittsburgh, via Duquesne University
No matter if it's an injury from the playing field, some senseless act of violence, or a battle with cancer, there is nothing more tragic than a young athlete passing away. The Duquesne Dukes football program is now grieving a loss of their own.
According to a letter sent by University President Ken Gormley, running back Marquis Brown "jumped out of a 16th floor window of Brottier Hall after campus police arrived in response to a reported disturbance" on Thursday night.
Brown was taken to Mercy Hospital in Pittsburgh, Pennsylvania in very critical condition, according to police, where he later died.
Although Gormley's letter identified Marquis "Jaylen" Brown as a junior football player, he is listed as a sophomore from DeMatha Catholic High School in Washington, D.C on the school's online roster. The 6-foot, 245-pounder had three carries for seven yards in one game against Lock Haven in 2018.
Brown's family arrived on Friday, while members of the university's leadership team, staff counselors, priests and Campus Ministry were all on hand to help students deal with this tragedy, according to Gormley.
"There was also an opportunity for students to gather in the Chapel on campus for prayer, and many did so. University staff are continuing to assist in every way possible. Counselors have been made available at our Counseling and Wellbeing Center for any student, faculty or staff member in need of support. Spiritan Campus Ministry staff has also been made available. Additionally, counselors are reaching out to students around the campus.

"A Memorial Service for Marquis is being planned on campus, likely on Sunday evening. Further information will be sent to you as it is available. Please join me in praying for Marquis, his family, and his many friends and teammates during this time of great sadness for the entire campus community. May he rest in peace." — Duquesne University President Ken Gormley
The Pittsburgh Police Department issued a statement Friday that investigation is underway for the event that happened at approximately 10:30 p.m. Thursday night.
The Duquense football team is scheduled to play Bryant on Saturday at Rooney Field.
"The team met early this afternoon as a group and decided that the best way to honor JB's memory is to play Saturday's game as scheduled. We left the decision purely up to the team and made it clear that we would support them whether they chose to play or not," head coach Jerry Schmitt said. "This has been a difficult day for everyone associated with our football program and the University as a whole. Above all, we continue to offer our thoughts and prayers to the Brown family."