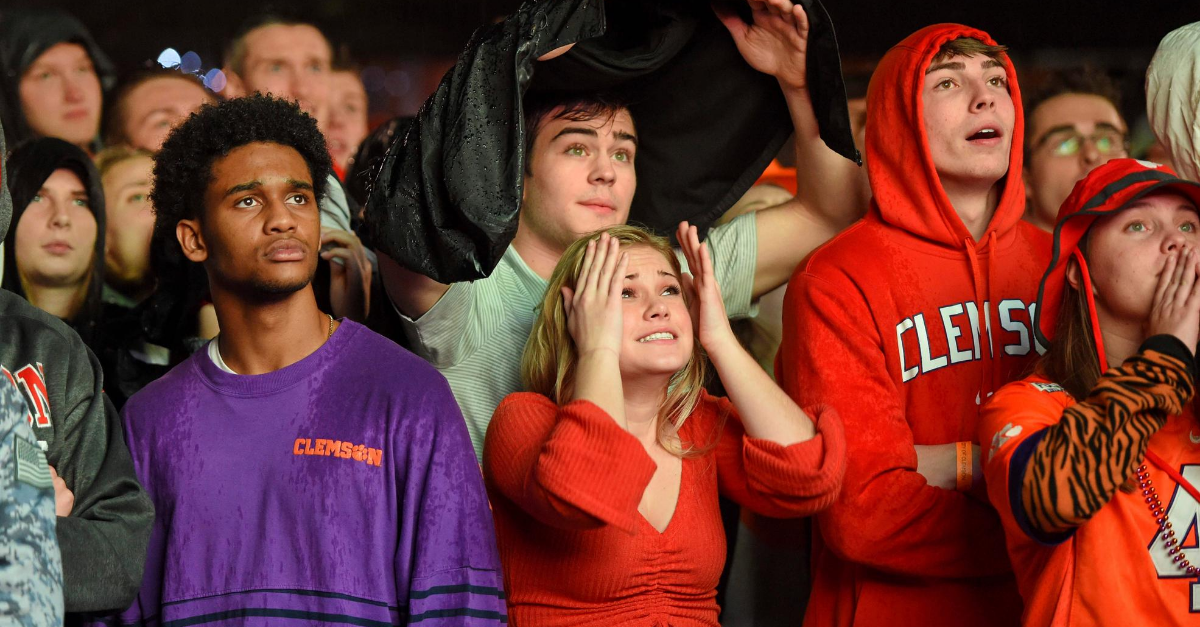 AP Photo/Richard Shiro
A new college football season is upon us, and it?s honestly one of the most exciting things to happen this year. Fans across the country have been waiting for this moment. Although it might have a different look and feel than ever before, some things never change.
It all started on August 29. A Saturday night showdown between Austin Peay and Central Arkansas ushered in the 2020 campaign with the seventh annual Guardian Credit Union FCS Kickoff. Matt Barrie and Mike Golic Jr. were on the call. Sideline reporter Lauren Sisler was there at the Cramton Bowl. It finally filled the void fans were missing for months.
The Week 0 game on ESPN meant even more football is on the horizon and it also introduced everyone to a new college football anthem this season.
ESPN?s 2020 College Football Anthem
RELATED: Kirk Herbstreit Explains Why 2020 Champ Will Have An Asterisk
ESPN?s college football anthem for 2020 is called ?Come & Go? by Juice WRLD & Marshmello. Much like past songs by Fall Out Boy and Imagine Dragons, this will undoubtedly be played so much that you know the entire song by the end of the season, especially during the coronavirus pandemic and COVID-19 outbreak.
The theme song is from Juice WRLD?s posthumous album, "Legends Never Die," which debuted at No. 1. His 2019 album, "A Death Race for Love," was also No. 1 on the Billboard 200.
?Juice was like no other and was one of the most talented individuals I?ve ever met,? Marshmello said, via ESPN. ?Musically we connected so well and working with him was some of the most memorable moments of my life. ?Come & Go? is a track that represents both of us and proves that he lives through his music forever! Legends Never Die.?
From opening kickoff until the College Football Playoff National Championship Game, the ESPN college football anthem will be played.
ESPN?s New Graphics
In addition to a new theme song, ESPN has also unveiled a new graphics package for the upcoming season.
Fans will get a big glimpse of them during Labor Day Weekend. The schedule features games such as Central Arkansas at UAB, Eastern Kentucky at Marshall, SMU at Texas State, Louisiana-Monroe at Troy, Houston Baptist at North Texas, Arkansas State at Memphis, Stephen F. Austin at UTEP and BYU at Navy.
The BYU-Navy game on Monday night will feature Rece Davis, Kirk Herbstreit and Allison Williams.
Whether it?s an SEC game between LSU and Alabama, an ACC game with Clemson, or any other NCAA matchups on ESPN, new graphics and the CFB theme song will be right there, too.