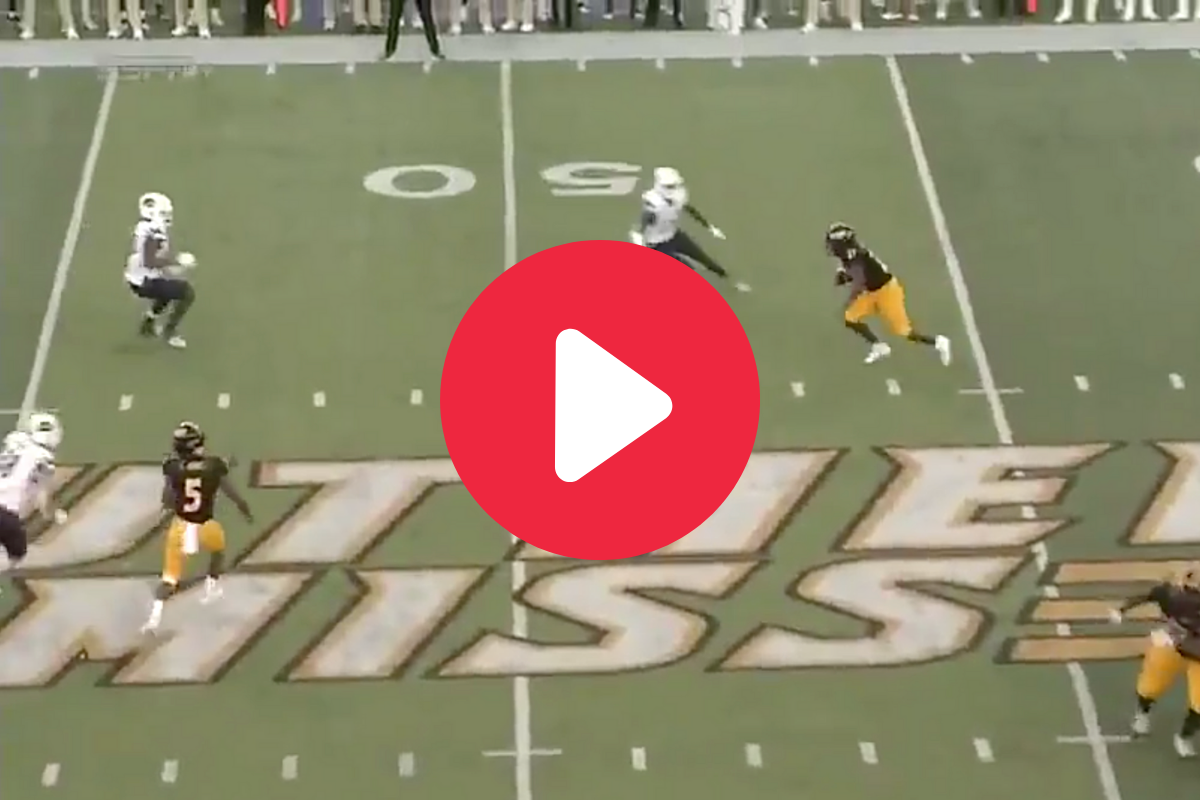 Screenshot from Twitter: ESPN
For as long as Frank Gore Jr. has been alive, his father has been dominating on the gridiron. Whether it was for the Miami Hurricanes or in the NFL, the blueprint for greatness was mapped out to perfection. Now, it?s just up him to carry on the family name and legacy.
Gore Jr., the son of NFL great Frank Gore, is set to tear up college football with the Southern Miss Golden Eagles. He will be a true freshman next season and already has his dad?s instincts to find the end zone. It?s only a matter of time before the rest of the world finds that out, too
So get ready. He?s up next.
RB Frank Gore Jr. Recruiting
RELATED: Antonio Gates? Son Racking Up Touchdowns and College Offers
A three-star prospect, according to 247Sports, running back Frank Gore Jr. originally committed to play for the Florida Atlantic Owls. Just before head coach Lane Kiffin left FAU to take the Ole Miss job, however, Gore decided to take his talents to Southern Miss and signed his letter of intent during the Early Signing Period.
Gore Jr. also fielded offers from Chattanooga and Kentucky and interest from the University of Miami, where his father ran wild from 2001 until being a third-round pick in the 2005 NFL Draft.
At the end of the day, though, Southern Miss was the place he wanted to be, and Conference USA football teams will soon have to come up with a game plan to stop him.
RB Frank Gore Jr. Highlights
At 5-foot-8 and 170 pounds, Frank Gore Jr. isn?t the biggest guy in the world, but he?s still an effective rusher. He started out at Coral Gables Senior High School before transferring to Miami Killian High School, where he rushed for 1,111 yards and 13 touchdowns as a senior last season.
There?s no doubt he has some major shoes to fill, fairly or not. Frank Gore Sr. has put together a long and incredible career with the San Francisco 49ers, Indianapolis Colts, Miami Dolphins, Buffalo Bills and now the New York Jets. He passed Barry Sanders for third on the all-time rushing list in 2019.
While nobody expects his son to put up those kinds of numbers right now, or whenever the coronavirus pandemic and COVID-19 outbreak slows down, Gore Jr. will be looking to make a big impact in every football game he plays.
Frank Gore Jr. College Career
It hasn't taken Frank Gore Jr. to showcase his skills.
Through nine games at Southern Miss, he's racked up 597 rushing yards and two touchdowns, including a crazy 51-yard reception touchdown against UTSA. If you can't see shades of his dad here, you need to open your eyes.
"Like father? Nah, it's like son!" the broadcaster said as the younger Gore rushed into the end zone after juking about five defenders on one cut.
Keep an eye out for this kid. He could be playing his way to the NFL.
This post was originally published on June 23, 2020, but has been updated since Frank Gore Jr. began playing college ball.