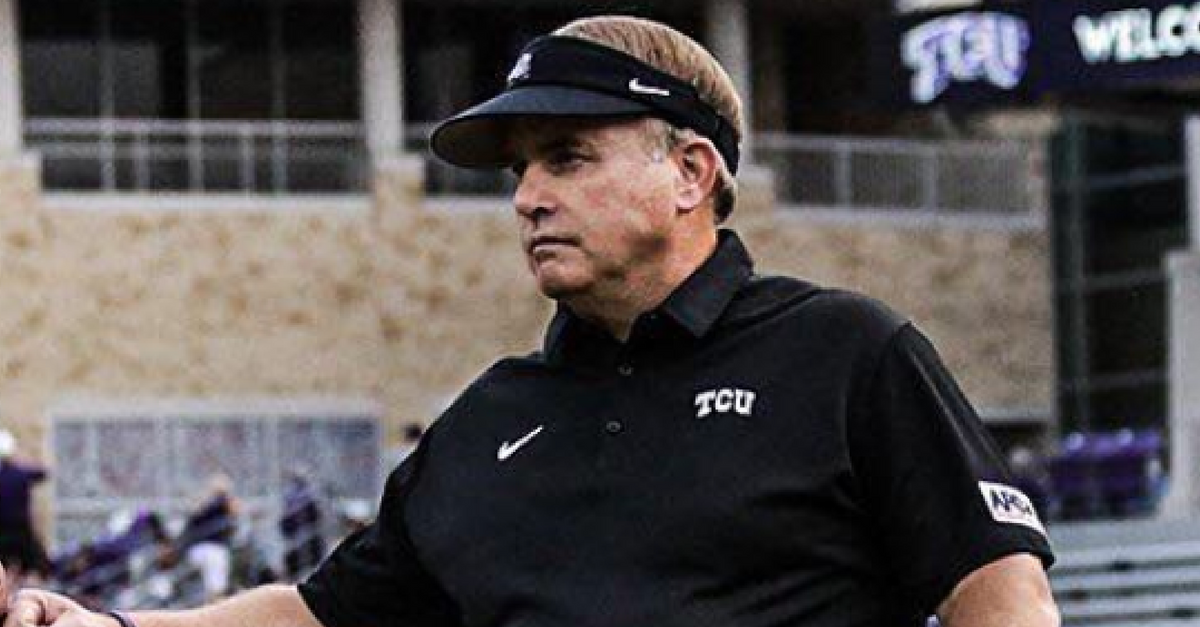 Instagram: @tcufootball
It?s one thing for a fan to disagree with a new rule and yell from the couch. It?s a completely different ball game when a head coach goes on record to put it on blast. Everyone can certainly appreciate the latter, and we can all thank TCU head coach Gary Patterson for speaking his mind on one of the NCAA?s new regulations.
Beginning this fall, players will no longer have to be granted permission from a coach to transfer. All the player has to do is inform the school of the intent to transfer, and then the school is required to enter the player?s name into a national database within two business days.
After that, coaches from across the nation may contact the player.
Patterson, speaking to The Star-Telegram, calls the new rule ?stupid.?
?Here?s what?s going to happen ? players from other teams are going to start recruiting people and you can?t stop them from going wherever they?re going to go,? Patterson said. ?Then it?s like what we?ve been trying to stop for a long time ? it?s going to become the highest bidder. The people who are going to get hurt most by this is the non-Power Five schools.
?Schools right now, they?ve got a list of who all grad transfers are. Now, they?ll look at film and see who all the best players are [not just grad transfers] and then somebody is going to reach out and find them.
?Everybody will say nobody will do that. … OK ??
Patterson definitely didn?t stop there, and took it one step further when talking about freshmen being allowed to transfer under that same rule.
?What we?re teaching our kids to do is quit. I?m not starting. I?m not getting my playing time. Every freshman I?ve ever known wants to transfer because it?s harder than anything else he did in high school.
?As I tell people all the time, at your house you?re going to allow your 17-year-old, 18-year-old to run your household? Let them pay your bills, that?s what you do? No. You don?t do that. So why are we putting our jobs in jeopardy because of an 18-year-old? That?s stupid.?
Patterson didn?t hold back, and you better believe somebody in the NCAA office took notice.