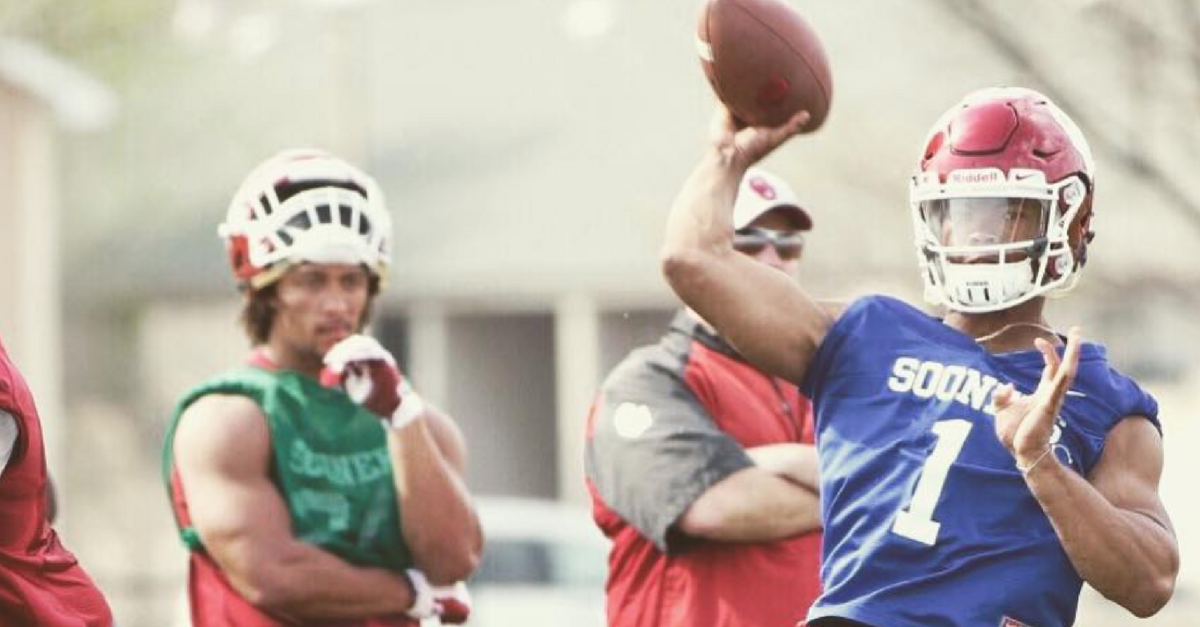 Instagram: @kyler1murray
For Oklahoma, replacing Baker Mayfield was never going to be easy. After all, he led the Sooners to the College Football Playoff, won the Heisman Trophy, and was the No. 1 overall pick in the 2018 NFL Draft. There are great options at quarterback, but the race is closer than you might think.
Despite Kyler Murray shining in the backup role in 2017 ? completing 18 of 21 passes for 359 yards with three touchdowns and amassing 142 yards in seven games ? second-year head coach Lincoln Riley hushed any assumptions that it was Murray?s job to lose at Big 12 Media Day in Frisco, Texas.
?Kyler is not the quarterback yet. There is good competition going on and Kyler is going to have to fight like crazy to win this job,? Riley said. ?It?s a different competition.?
Yes, Murray, a junior, is ready to be Oklahoma?s starting quarterback, according to Riley, but so is redshirt sophomore Austin Kendall, who was named one of the Sooners? Offensive Scout Team Players of the Year in 2017.
Both have been in the system and each definitely brings their own unique style to the Sooners, who were picked once again to win the Big 12.
?Austin is a great pocket passer, very, very smooth, he's really good with his progressions. He has really progressed in a lot of ways there and he's a sneaky good athlete. He's not as flashy of an athlete as Kyler is, but he's got enough athleticism to hurt people and make people pay,? Riley added. ?Kyler?s athleticism jumps off the screen pretty quickly. You don't see that often in his position, but kind of like Austin, he's a better thrower than he gets credit for.
?Both guys have the skill set to run it, not only when you talk about tailoring an offense to a quarterback's strengths, sometimes you're talking physical strengths. But a lot of times it's mental strength. What do they process, what do they like, what is their thought process, their mind-set so there is a lot more that goes into it besides how well do they throw it, how fast do they run.?
There is also another wrinkle to the situation, too. Murray was also selected ninth overall by the Oakland Athletics in the recent 2018 MLB Draft, yet Riley doesn?t think it will change the approach in how they use the talented dual-threat signal caller.
?It won't affect it at all, and I like baseball but I don't know a whole lot about it. So I'm not going to be helping him that way. When he plays I will watch him and cheer for him. I'm going to continue to try to grow him as a competitor and as a young man, help him get ready for the things that are going to be in front of him because that's a big part of my job as well,? Riley said. ?It's not just about the football field. I don't know that anything I'm going to teach him is going to directly carry over. He's a talented athlete. He's put himself into a position to be able to choose, have a chance to do both and happy for him to be drafted how he was and the opportunity that has been presented to him and his family.?
There?s no doubt both will be different than Mayfield, and there?s no guarantee either Murray or Kendall can match that kind of production. The goal now is to make sure they are ready for when the Sooners open up their season against Florida Atlantic on Sept. 1 in Norman.
?I think the most important thing or at least most important thing early for us is let's make sure we get the right guy, put them through this competition and test these guys,? Riley explained. ?Let's really put them through it because we've got two guys that are more than capable of getting this team where we need to be.?
Realistically, that player should be Murray, but it appears the race to start might be closer than anyone expected at this point.